Using technology at work is a sign of flexibility and proactiveness for project managers. Research by the Project Management Institute, as part of their annual global survey called the Pulse of the Profession, proves that 60% of PMs are always interested in exploring new ideas and approaches and trying out innovative technologies, while 29% of "PM Laggards" watch their projects fail because they aren't as forward-thinking [1]. Technologies have already proved their worth; in fact, 60% of business leaders increased their investment in AI in recent years [2]. Here are the trends you need to follow in 2019 to be among the PM leaders.
Artificial Intelligence
Gartner says that artificial intelligence (AI) is gaining so much power and influence that by 2030, 80% of all project management tasks might happen autonomously [3]. This includes routine and repetitive tasks such as collecting data, tracking progress, and preparing reports and schedules. AI is able to process and analyze data faster than humans, which means it can help us improve performance and results. Almost 85% of business executives agree that AI will help them achieve more and get a competitive advantage; yet for now, only one in five companies has integrated AI into its work [4].
What's more, AI can also be helpful in complex data analysis: It draws a lot of data and analyzes it fast, conducts risk analysis, and informs about the results in a timely manner. Technology-empowered companies have witnessed a 20% increase in performance and a 35% reduction in losses [5]. Technology is a great way to improve your company's performance. For example, the right project management app can help you stay on time and within budget. Given the benefits, it's quite inexplicable why, according to PwC, 44% of project managers still don't use any project management software [6].
Read more: How AI Will Change the Future of Project Management
Analysis-Based Prioritization
Having a strategy means being able to prioritize the tasks that are most important for a project's success. Projects have a 57% greater chance of succeeding when the project manager has a strategy and sticks to it [7]. Furthermore, they're 45% more likely to meet the primary budget and 50% more likely to meet the primary time frames. According to the Harvard Business Review, analysis-based task prioritization raises success rates, clears project doubts, helps with decision requests, and builds a culture of execution within the company [8].
At the moment, there are several ways to do analysis-based prioritization, the Analytic Hierarchy Process and the Eisenhower Matrix being two popular choices. The Analytic Hierarchy Process is useful for setting strategic goals and selecting and prioritizing projects; it helps you make decisions [9]. The Eisenhower Matrix helps to organize tasks by urgency and importance, which is good for managing your project and its timeline [10]. The only problem with these methods is that they take away precious time. As a solution, project managers can automate prioritization using innovative project planning tools. Epicflow is a recognized PM solution for multi-project management that provides you with automated analysis-based prioritization, which means you can manage your project performance like a word-class business leader.
Read more: How to Prioritize Like World-Class Leaders
Real-Time Data
Knowing what's going on with your projects at any moment is fundamental for business success. For example in construction, many problems can emerge during project execution. Workers need to receive immediate notifications if something unpredicted happens so they can inform their supervisors. When an issue appears, you need to take rapid action to save the project. This is why real-time data is crucial for success. Epicflow can dramatically contribute to the success of your projects by providing non-stop real-time data. One feature it offers is a Bubble Graph that provides information on project flow and detects potential bottlenecks that require urgent attention. This graph visualizes the flow of multiple ongoing projects, giving project managers an opportunity to be in total control of the situation. Another useful feature is the Pipeline, where project managers can see all projects and possible future constraints in one place.
Read more: Real-Time Project Risk Management
Prediction and Simulations
Leading IBM experts say that predictive analytics is a way to explore new patterns of data and anticipate what's likely to happen rather than analyze what's already happened [11]. According to MathWorks, predictive data analytics can help companies resolve long-standing problems [12]. Having a tried and tested forecasting approach helps you calculate the optimal quantity of resources, time, and money needed to make your project successful. Having a tool that makes predictions can also let you know if there's a shortage or excess of resources on certain projects. Predictions and simulations help you identify and avoid risks before they materialize. Epicflow can make you a proactive manager who's informed about bottlenecks before they happen. It creates what-if scenarios and simulations, preparing you for unwanted surprises even if there are multiple projects under your charge.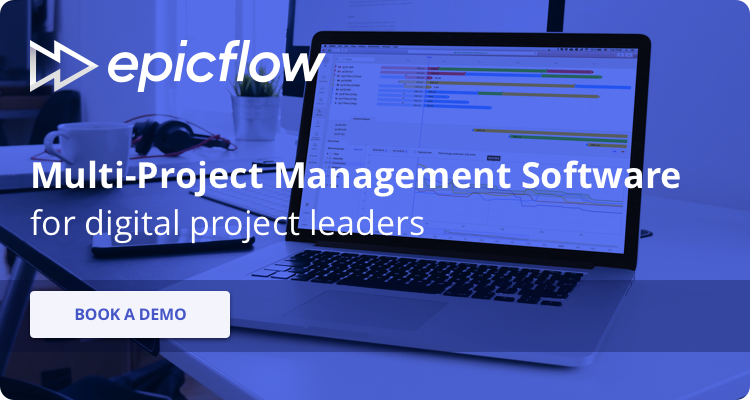 At Epicflow, we know how important it is to keep up with the latest PM trends in order to secure the success of your projects. That's why our researchers designed project management software that includes the latest innovations in the world of project management. If you're interested in cutting-edge software for managing your projects, make sure to request a demonstration in the form below or email us at epicflow@epicflow.com.
References