Tired of time-consuming and cumbersome resource scheduling? 
Probably, you are: it typically involves coordination of all the people, equipment, and facilities involved in project delivery, taking into account possible contingencies, and making sure that all the tasks are completed on schedule without delays. In addition, some factors are difficult to predict at the outset of the project, which creates additional uncertainties in the scheduling process.
How to make this process easier, more informed, and efficient? Let's figure it out.   
What Is Resource Scheduling and Why Do You Need It?
First, let's define the essence and importance of this phenomenon. Resource scheduling is one of the essential elements of the resource management process that involves determining each task's start and finish dates depending on the availability of resources needed for their delivery and scheduling them accordingly. It allows you to monitor the project's workflow from start to finish and make sure that the project resources (employees, equipment, facilities, etc.) are utilized efficiently. 
Scheduling the resources is important for the following reasons.
It provides the basis for more effective resource distribution among the project tasks. 

It allows you to analyze employees' utilization rate and adjust it to the optimum level. 

Employees will have a clear view of how much work they are expected to deliver and be aware of the timelines. 

It will be easier for a project manager to monitor the general project timeline to make sure that the project's due dates won't be missed.

A resource manager will be able to monitor the capacity vs. demand and take corresponding measures.

Finally, it improves employee's productivity and overall workflow organization.  
  All of these advantages contribute to achieving better project outcomes. 
Now, let's look into the resource scheduling process itself and different methods of its implementation. 
Resource Scheduling Methods
In a nutshell, a typical resource scheduling process can be represented as a series of the following steps. 
Creating the list of tasks that must be completed and their estimated duration (can be expressed in days, hours, man-hours).

Identifying constraints for each task: a deadline, certain skills required to complete the task, employee availability, etc.

Determining the resource demand: the types and number of resources required for completing each task. 

Analyzing resources' capacity: the amount of work they typically perform each day, their current and forecasted workload, any planned days off, new hires, etc. 

Matching available resources with the listed tasks – assigning each resource to perform a specific task at a specific date. If a certain resource has no capacity for completing the task, and there are no alternatives, this task will be postponed and scheduled for the dates when this critical employee is available. 
Let's take a look at different variants of resource scheduling. 
Resource Loaded Schedule
Similarly to the Critical Path Method for project scheduling, a resource loaded schedule is a representation of the available resources' allocation to scheduled project activities. It consists of a timeline with the information on allocated resources, planned activities and milestones. In other words, it's a time-management document that shows how project resources (both human and material) are supposed to be consumed throughout the project. Thus, this method combines resource loading, resource leveling, and project timeline in one schedule. It also involves prioritization of tasks depending on resource utilization strategies. There are two types of resource loaded schedules: time-constrained and resource-constrained depending on which of the constraints matters most for a project [1].
However, traditional resource scheduling can be accompanied by certain challenges.
It's time consuming: you have to gather and analyze lots of data concerning employees' availability.

It's hard to keep it flexible: there are plenty of reasons why changes will have to be made to this schedule, which cannot be predicted at the time of scheduling.

They don't take into account uncertainties that usually accompany projects, especially when a great number of people are involved.

Inaccurate estimation of time required for tasks: you cannot be sure how much time exactly it will take for a team member to complete the task. 

It's not suitable for a multi-project environment with numerous dependencies between projects and lots of people working on multiple projects at the same time. 
To make resource scheduling easier and efficient, it's a good idea to make use of resource management software. The example of how Epicflow, a multi-project resource management tool, enhances resource scheduling is presented below. 
How Epicflow Optimizes Resource Scheduling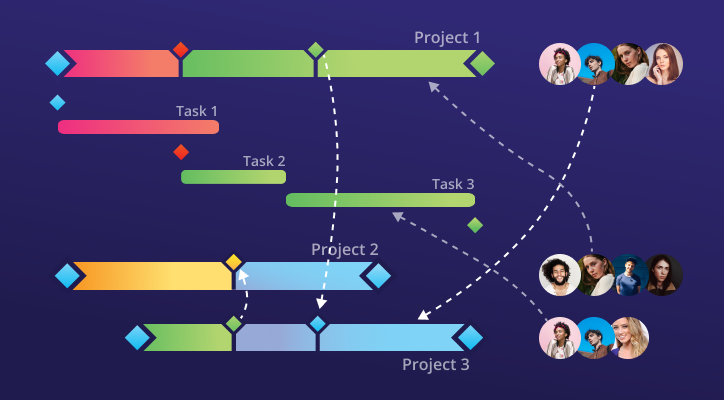 Task priorities instead of deadlines
In our system, there are no deadlines for each task; instead, Epicflow shows the most important tasks for completing them as soon as possible. It automatically determines constraints for each task and prioritizes them accordingly. What's important is that the tasks are reprioritized automatically each time any changes occur to the project flow. 
The list of prioritized tasks is visible to both team members and a project/resource manager, so none of the high-priority tasks will be missed.
Predicting probable resource bottlenecks
Epicflow is capable of predicting employees' capacity and workload in the future due to predictive analytics capability. So, you can adjust your work on a project (or add and remove projects if we talk about a multi-project environment) in such a way that there won't be any overloaded or idle resources. 
Updated information on resources' availability 
Epicflow integrates with human resource management systems, so all the employees' days off, vacations, sick leaves or other similar changes will be taken into account in the process of resource scheduling. 
Competence matching advisor
Finally, the system automatically matches the task with an employee who has necessary skills and capacity for completing it. When there are no available employees in a certain group, they can be taken from the other department of an organization if they are available and have corresponding skills. Such an approach can prevent the project from delays. 
The most important difference of Epicflow is that resources are scheduled not according to the tasks' start and finish dates, but according to their priority. At the same time, the project's important milestones and due dates are protected against uncertainty and unexpected events with a buffer. Scheduling resources according to the task priorities will ensure that whatever happens, the most important project tasks will be completed.
As a conclusion, we'd like to say that smart resource management systems provide resource managers with great help when it comes to scheduling resources. When numerous functions are automated, you have all necessary information about your employees' skills, capacity, and availability at hand, an advisor for making important decisions as to resource allocation, you can do resource scheduling with ease and achieve much better results.      
References
Matthews, M. D. (1994). Resource scheduling: incorporating capacity into schedule construction.

Project Management Journal, 25(2),

44–54.