You probably already have a new project management system in mind or are at least considering choosing one to improve team productivity and take your project planning achievements to the next level. However, there's one key factor you can't afford to forget: the people who will use the software and determine how effective it is in your work environment. Having made a decision to change, analyzed the market, and chosen the best project management software for your company, you might still notice that something isn't right: people are unwilling to accept the system. If you find yourself in this situation, you need to learn more about the best practices for adopting project management software.
What Makes for Successful PM Software Onboarding?
Being a good manager requires you to introduce change with as little stress for employees as possible. Naturally, you can't fully predict your employees' reaction to new software. But there are some steps you can take to prepare people :
Plan the process well
Communicate effectively
Be available for requests
Give follow-ups
Listen to demands and expectations
Most people prefer predictability and stability in both their personal and professional lives. They're concerned about change because it has a direct impact on their work. These are some of the questions you should be able to answer before introducing a change:
What value will this technology bring to the company?
What work challenges will the new system solve?
What benefits will this PM tool provide for my team?
How can I properly communicate the change?
What will it take to make this adoption successful?
Who will resist the most?
When looking for a new PM system, look for a software vendor that has experience successfully onboarding teams and can provide support as you implement the new software. Let's take a look at the software adoption steps our team has highlighted as the most important.
Project Management Software Adoption Checklist
1. Explain the Value of the New Software
Setting up software may be a challenge if employees don't see its value and the difference it can make in their work. What's the best way to show the improvements that new tech will bring? When our PM consultants do online or onsite onboarding for teams, the very first step they take is explaining the concept of Epicflow and its value to the company. What's important about Epicflow is that it's built specifically for multi-project environments to help teams stop struggling from overload and unclear priorities.
Based on our observations, many companies face such issues, since managers don't have a clear vision of the progress of their multiple projects and do firefighting instead of resolving potential bottlenecks in advance. As a result, teams suffer from stress and face burnout. In contrast, a PM tool like Epicflow gives project managers a clear overview of all projects and the feasibility of milestones in a single platform. It also helps them secure optimal workloads and clear priorities for their teams. Read more information about how Epicflow works.
Takeaways: The best practice is to focus on the value of the new product – i.e. to communicate how much your team's work lives will be improved with the new software – before you get into the nitty-gritty of how it works. Cooperate with your software vendor and explain the value of your new project management system at onsite presentations or during online workshops.
2. Walk the Team Through the Software
Even if you choose an easy-to-use PM system with a user-friendly interface, you still need to walk your team through possible use cases. In her article for the Wall Street Journal titled "Do You Resist New Tech at the Office?" Sue Shellenbarger points out that people resist change because they're scared of making a mistake. With the old system, they know how to do their job well even if the software is inefficient. You should show your employees how they'll be doing their job with the new technology and how it fits their current workflow.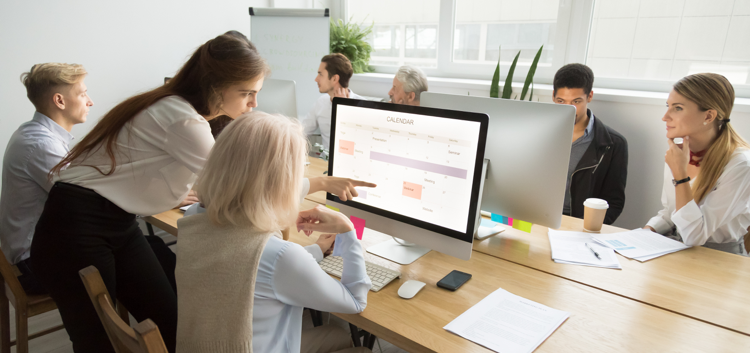 To make things easier for your employees, allow them to practice with the software and devote several hours to workshops. This will save you a lot of time in the future. The main purpose of your workshops should be to ensure that everyone knows how to get the most out of the new system. Epicflow software comes with a training plan that combines "serious gaming" and simulation. All materials needed for learning are provided, along with training for trainers. We provide live support, calls, and a wiki, which is a learning center where your employees can get more information about Epicflow.
Takeaways: Take time to train your employees so they're confident about their skills with the new technology and adopt it faster.
3. Find Your Inner Software Adopters
Teams usually prefer sticking to the old way of project management even when they know that new software might make things easier. According to PwC, 49% of employees still are not open to innovative digital technologies. Everyone is different in the way they adjust to changes, which is why all employees react differently to new software. You should first focus on the people that are good at adapting to change and only later on the ones who aren't.
Let's take a look at the technology adoption cycle. People adjust to innovation at different rates: innovators and early adopters do it quite fast, while others take time. Your expectations about the adoption rate need to be realistic based on your employees. Considering the technology adoption cycle might be helpful when you set project milestones and expectations.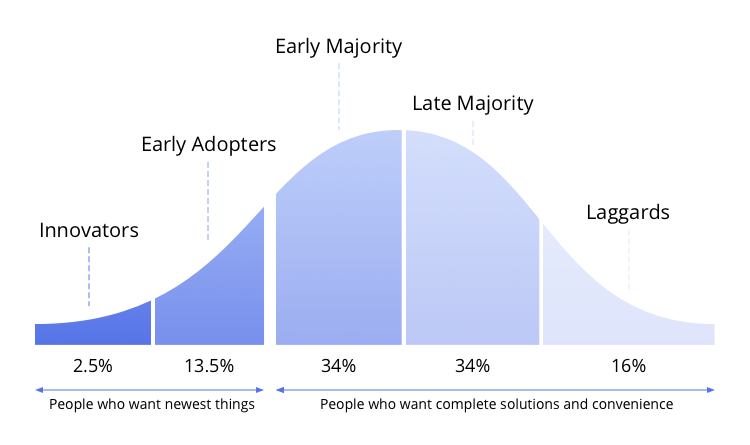 When creating a software implementation plan, it's quite reasonable to determine who your potential champions are since they will later act as cheerleaders, motivating the whole team. Here's a solution Rob Bernshteyn offers in Forbes:
"Deploy your solution in phases, and start with the people or departments you know are most likely to adopt and succeed with the software. Select people who are visible and carry influence inside the organization and, before you go broad, pour all your resources into making these early adopters wildly successful. They will be your references and internal case studies when you move forward to subsequent phases of deployment."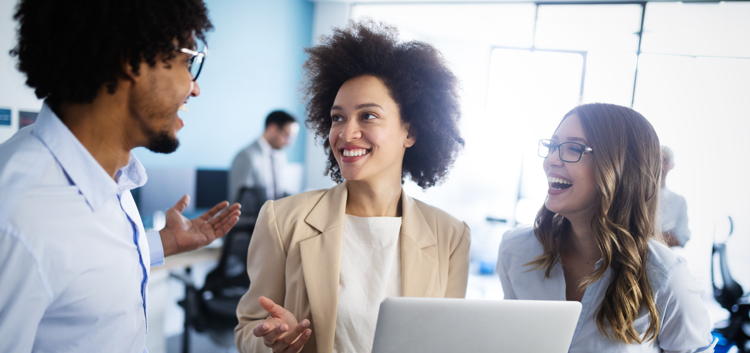 Takeaways: Be ready to face resistance to change from many employees and to manage such attitudes with the help of early adopters who hold influence and popularity among your teams.
4. Encourage Employees to Use the Software
Once your new software is implemented and you feel good about the level of training provided, your biggest challenge will simply be making sure people routinely use the technology the way it's meant to be used. You should also answer the question, What's in it for me? and help employees see how much they'll benefit from using the new system on a daily basis. That's why it's best to emphasize what's in it for each employee based on their role.
Here are the benefits of Epicflow for each role: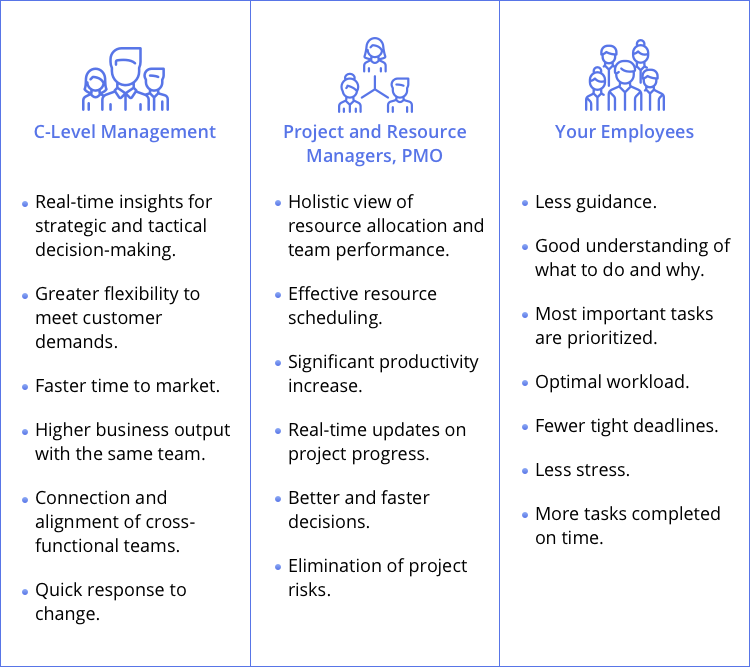 Read more:
In an article for the Washington Post, John Kotter mentions the power of socialization in adopting change. According to his article, you can implement change effectively if you find a group of volunteers with a good reputation and relationships across departments. These volunteers can set an example by showing how well the new system works and thus encourage those who are skeptical to be more flexible and supportive of the new software. You can also publicly recognize people who have improved their performance with the help of the system. Global studies prove that recognition is still the number one thing employees say their manager could give them to inspire them to do their best at work.
Tips: Sometimes these steps might not be enough to get your people to use the new system. If that's the case, gather your influencers and volunteers to brainstorm more ideas on how to make employees excited about the technology.
Takeaways: Make sure you know what benefits the new system brings not only to the company in general but to individual employees. Find a group of thought leaders and influencers that will help you make the new system more popular among those who are skeptical about the change.
5. Share Your Experience with Your Software Vendor
Effective two-way communication helps you with technology adoption. When employees see that their voices are heard, they become more committed and engaged with the work they do. You should be attentive to the feedback they provide on the new system and give it to your software vendor so they can make further improvements.
At Epicflow, our PM researchers provide extended support to ensure you can use Epicflow in the best possible way. We also give regular consultations and build strong relationships with our clients. Once every three months, we meet with our clients (usually PMs and the PMO) to discuss their experience, needed improvements, desired features, etc. Then we take that feedback to the Epicflow team and use it to plan our future development. For this thorough approach, G2 Crowd has named us a High Performer.
The Epicflow software onboarding process consists of several phases:
Preparation phase – Analyzing your data and specific project cases after signing an NDA
Kick-off phase – Explaining the value of Epicflow and defining desired goals
Standardization phase – Training employees, designing project scenarios, and learning how to work with Epicflow
Modeling phase – Applying the software to real client projects
Stabilization and support phase – Continuous monitoring of resource groups, further feedback sessions between your team and our support team, additional consultations upon request, online support through live chats
Are you interested in finding good project management software and fostering a culture of change adoption at your company? Consider Epicflow, a better way to manage your shared resource pool across multiple projects using priority-based scheduling and leveling. Epicflow comes with a well-thought-out onboarding process and highly responsive client support.
We're keen on becoming your best supporter during this change management journey and empowering you with Epicflow software combined with the expertise of our PM researchers. Leave your contact info below to request a demonstration and one of our consultants will contact you to arrange an online meeting and show you how to achieve the best results with Epicflow.