The Fourth Industrial Revolution revolves around technology, smart sensors that collect real-time data, artificial intelligence that increases production efficiency, and better manufacturing quality, security, and transparency. Developments in computing ensure seamless connectivity and large-volume data processing. Acting as a powerful economic driver, Industry 4.0 is expected to add between $500 billion and $1.5 trillion to the global economy between 2018 and 2022. However, despite all the positive trends, industrial manufacturers can no longer rely on stability and cost advantages from manufacturing in a certain country or sourcing from particular suppliers. Continue reading to learn about project management trends that have proved efficient at tackling existing challenges in global industrial manufacturing. 
1. Increasing Operational Efficiency 
To compete in a rapidly developing environment, manufacturers have no choice but to work smarter and faster. According to a recent PwC survey, 81% of CEOs in industrial manufacturing plan to improve efficiency – and thereby competitiveness – in order to grow. At the dawn of Industry 4.0, operational optimization, predictive maintenance, robotics, additive manufacturing, safety improvements, inspections, and testing are what manufacturers are focusing on.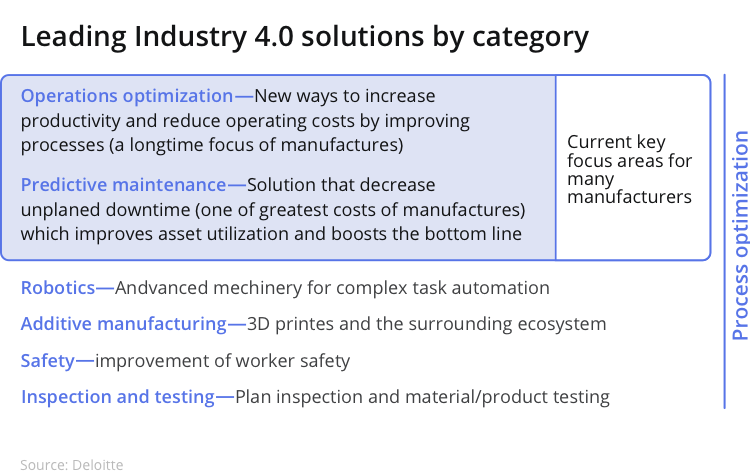 The International Data Corporation (IDC) claims that by 2021, 20% of clothing production by G2000, a multi-brand retailer of men's and women's apparel and accessories, will have switched to smart manufacturing, helping the company speed up manufacturing by 25%. Smart manufacturing presupposes combining machines and self-monitored manufacturing processes, getting automated quality assurance and insights from outside the manufacturing process. Predictions say the global smart manufacturing market will reach $436.89 billion by 2025.
Takeaway: A good way to increase operational efficiency is by using resource planning software that helps you achieve better results with the same number of resources. For example, Epicflow is a multi-project management solution that boosts operational efficiency by effectively organizing a shared pool of resources. As a result, Epicflow clients have achieved impressive results: After less than one year of cooperation, they have seen on-time delivery go from 18% to 80%, efficiency rise by 21%, and lead times be halved.
2. Agility and Hybrid PM Methods
Nearly half of the business leaders who participated in a recent Global CEO Survey by PwC feel there is more uncertainty around their companies now than there was three years ago. The Association for Project Management points out that the landscape for delivering projects is changing, highlighting that changes are happening faster and faster. The world now is characterized as VUCA: volatile, uncertain, complex, and ambiguous. In more and more cases, project managers and organizations are looking for methodological flexibility when trying to adjust to quickly changing project environments. In the image below, KPMG International highlights the percentage of CEOs who believe that agility is the new currency of business: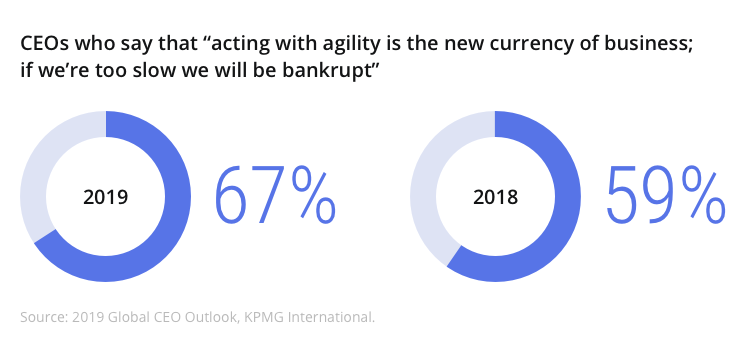 This is another proof to the increasing popularity of agile project delivery approaches, which prioritize speed to market and readiness over processes, plans, and documentation.
Takeaway: Successful project managers are dynamic, not static. They show flexibility and consistency at the same time. They are able to combine traditional methods with innovative approaches. They know when and how to apply novelty and are able to analyze a situation and choose a method that will bring value to the company. To be that kind of manager, take a look at top agility tips from McKinsey and learn how to blend agile principles into your methodology. 
3. Data – Good; Real-Time Data – Even Better
The ability to collect, combine, and analyze the data generated by new technologies to return actionable insights to consumers and businesses is vital for project effectiveness and the efficiency of factories of the future.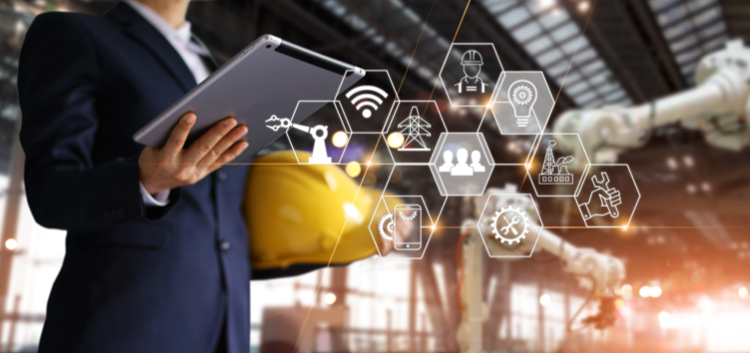 Knowing the impact real-time data makes on projects, manufacturing leaders have come up with several ways to benefit from it:
Developing cross-company collaboration:

IT and OT (operational technology)

departments can collaborate in real-time and thus switch to intelligent manufacturing, which secures production efficiency and offers better visibility of operational performance. 
Going digital:

More companies are getting into automation and AI, giving project managers an opportunity to manage projects more effectively. Digitalization also brings transparency to bottlenecks and tackles project inefficiency. With PM systems like Epicflow, you can

be aware of potential resource constraints in real-time

and have time to fix them. 
Creating digital twins:

Creating digital replicas of actual factories and processes helps to monitor factory operations, dispatch fleets, forecast loads, anticipate delays, and manage many other aspects of production.
Introducing industrial IoT devices:

Companies look for devices that provide real-time updates on project progress. Having realized how much money gets lost because of unplanned downtime, business leaders have started adopting such devices to gain insights into unplanned downtime, get warnings, and save money. 
Takeaway: If you're dealing with a multi-project environment, consider using an innovative PM solution like Epicflow that will give you real-time insights into project progress, identify the projects that require your urgent attention, and perform risk analysis to predict potential bottlenecks.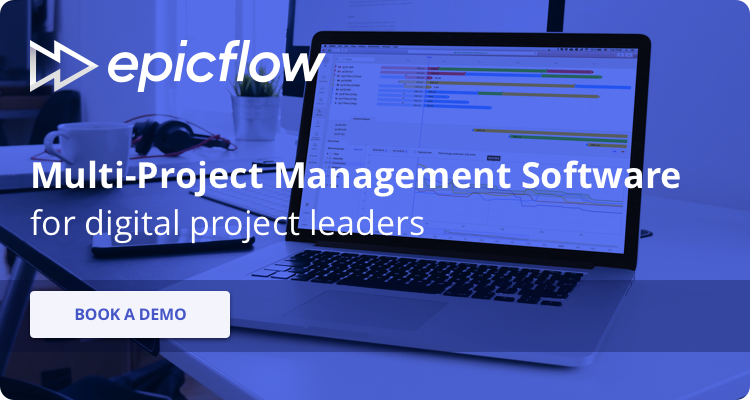 4. Prediction and Simulation
Manufacturing projects fail in 40% of cases due to inaccurate requirements and undefined risks and opportunities. New technology such as predictive analytics, AI, and simulators give an opportunity to dig deeper before responding to a concern, get the best advice before acting, and predict the potential impact of actions. PM systems with What If analysis can be used to conduct probability analysis. These tools give managers the ability to run faster, more accurate data models. This enables them to quickly test how changes to specific variables will impact outcomes.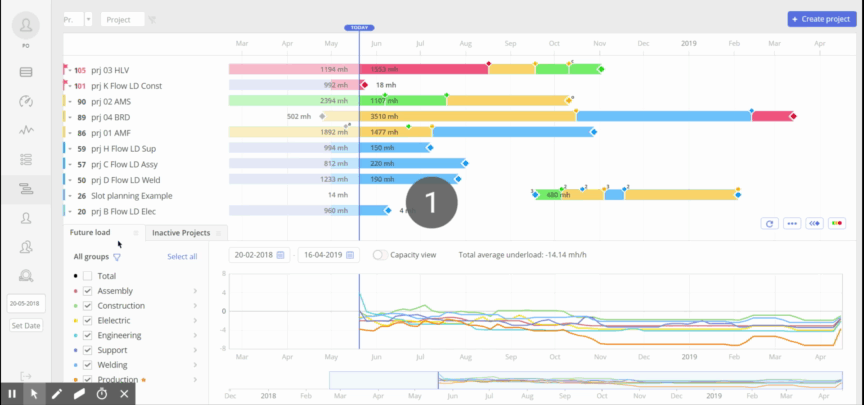 Epicflow's What-If Analysis Feature 
According to predictions by IDC, by 2021, 40% of manufacturers will have gone through a complete factory-wide digital makeover, whereas by 2022, 35% of companies will have created a brand-new digital ecosystem that uses the benefits of AI, blockchain, and robotics. By 2024, companies that have recognized the power of intelligent manufacturing will have witnessed seven times higher annual efficiency improvements than the average since 1990.
Takeaway: To perfect decision-making, digital leaders are introducing AI systems that can conduct probability analysis. Such tools give you the chance to create faster and more effective data models; they also make it possible to test how certain variables can impact project outcomes in order to make required adjustments. One of these digital leaders is a company called Lightyear, a self-charging solar car producer that uses Epicflow to effectively manage multiple projects, get project predictions, and run simulations. 
5. The Rise of Multi-Project Management
As you can see, 2019 is bringing a wave of dynamically changing environments and potential Murphy's law situations. Moreover, there will no longer be a "standard project size," as even single-project environments are transforming into multi-project environments. Although project leaders have historically relied on software like Microsoft Project, today there are far more powerful tools on the market. These tools can automate repetitive tasks, test tactical project decisions before making adjustments, and track potential risks in real-time.  
Read more: Why Multi-Project Management Is Becoming a Necessity
Considering the trend of multi-project management and resource optimization, tools such as Epicflow can be of great help if you have to make use of shared resources, foresee risks, and promptly respond to unpredictable situations. Epicflow will considerably improve operations. Its effect on your projects will be multifold: 
Streamline operations:

You'll get insights into all of your projects, giving you an opportunity to control delivery times and see project progress.

Greater visibility:

You'll be able to track all of your projects within a single platform, oversee task execution, and control risks.

Proactiveness:

Instead of reacting to unpredictable situations, you'll get a chance to be proactive, predicting and eliminating potential bottlenecks before they become a reality.
Read more: How to Overcome 3 Major Challenges in Multi-Project Environments
Wondering how to keep up with the trends and make sure your projects get the best rates in the manufacturing industry? Consider scheduling an Epicflow demonstration to see how Epicflow can empower you to embrace the upcoming transformation and be a digital leader.