Wellingtone's researchers annually investigate the state of project management across UK companies. The fact that in 2017 more organizations from different industries participated in the survey suggests growing attention to project mechanisms. We encourage C-levels and project managers to look at the most critical moments of the survey to reach higher levels of project maturity.
The Good News

In comparison with 2016, this year's results show that project performance has improved in terms of delivery rates – up to 40% of projects are delivered on time and qualify for benefits, while 42% stay within initial budget expectations. This means project experts are on the right track, but let's not forget about the more than half of respondents whose projects continue to derail. The numbers that follow are a bit disappointing, but they can help us figure out what the actual challenges are to successful project performance.
Also explore: 5 Project Management Tips from Gartner and Forrester Research
10% Decrease in PM Maturity Satisfaction
First among multiple concerns, project experts are not satisfied with their level of PM maturity, which has suffered a downturn recently. Last year, 45% of participants were dissatisfied with PM practices in contrast to this year's 50%. This outcome is due to the lack of consistent methodologies to help PMs baseline their projects and track progress against the baseline plan. According to Wellingtone's survey, PMs spend one day or more collating project reports each month. Weekly and monthly summaries tend to be quite useless if you don't have a real-time overview of your projects. Why not use modern project planning tools that can show you milestones in advance? Tracking historical progress is essential, but you should strive to achieve more – to trust your plan and data in the end.
PMs should not only know where they are in the plan, but also where they are compared to where they should be! – The State of Project Management Annual Survey 2017
Lack of Access to Real-Time Project KPIs
55% of organizations say they can't track their performance in real time. This means that every day, 55% of organizations ignore a portion of information that could keep their projects from failure. Without access to real-time project KPIs, you can't know whether employees have spare capacity or are overworked. The lack of actual project information signals chaos in the workplace and expectations that differ across all staff levels, beginning from employees and ending with C-level executives. What matters most in project management is the ability to check your current project status and monitor the workloads of your teams to prevent them from overcommitting.
Read more: Top 2017 PM Trends You Shouldn't Miss, in Numbers
Running Too Many Projects in Parallel
Though we expect our projects to be perfectly in sync, chaos, management overhead, and overworked employees are the outcomes that we consequently get from the ambition to lead many projects. Planning and delegating thousands of tasks simultaneously is not within the power of the human brain, but it is within the capacity of intelligent project management software. Having noticed that current business environments call on us to undertake multiple projects at the same time, our experts developed smart algorithms to achieve better workflow and planning stability. The Epicflow multi-project management tool has been built to identify dynamic bottlenecks and with a mission to predict resource constraints. This way, there's no chance you'll lose sight over the connections between parallel projects.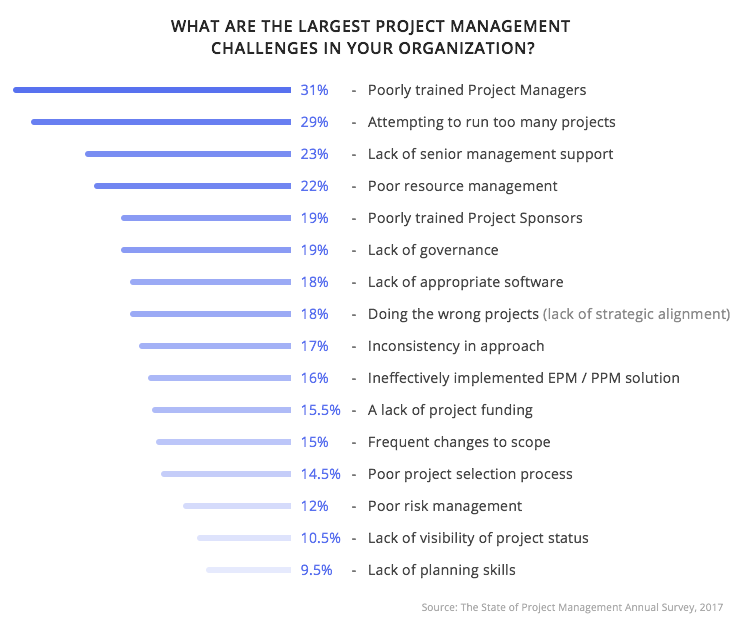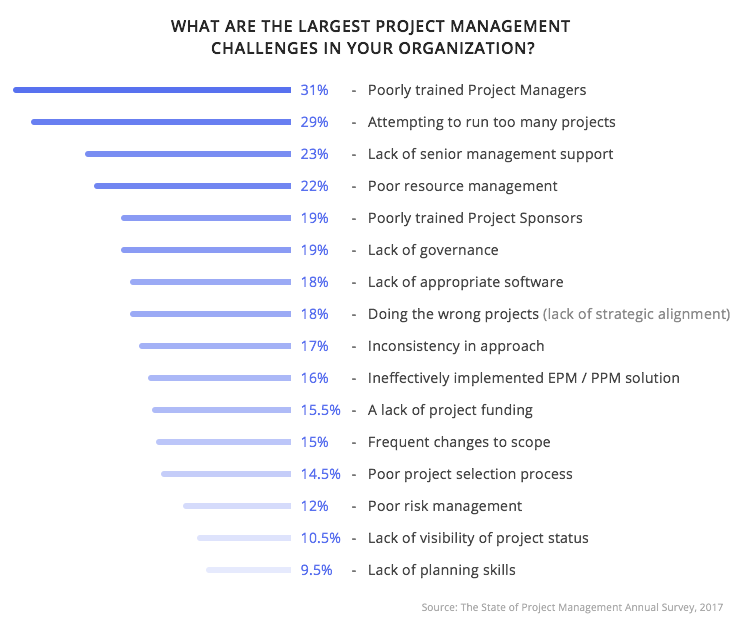 Lack of Support from Senior Management
There's a heated debate about micromanagement in project management circles. Two clans with differing opinions are now dominant on the web – the clan of experts who oppose micromanagement as an unnecessary kind of control, and the other clan who is convinced that micromanagement is unethical but who still use high-end monitoring systems. Then there's Wellingtone's survey, which pins the lack of support by senior management as the top PM challenge in 2017. Employees lack assistance, and to provide them with it, senior managers have to know where each employee stands in order to find bottlenecks and address them. We suggest shifting the debate to nano-management, practiced by Elon Musk, to be able to manage thousands of tasks with one epic flow.
In fact, researchers point out that many projects are not run by a recognised "professional" Project Manager, but rather by a Subject Matter Expert (SME). We're hosting webinars and welcome both PMs and SMEs to join our product demonstrations to learn how to resolve the issues mentioned in this article and reach the next level of PM maturity. Please sign up for Epicflow below and let us know when you're available to visit our webinar.