Working with the budgets
The most important information about projects' budget can be found on Dashboard and Burnup Chart, where you can toggle the budget view.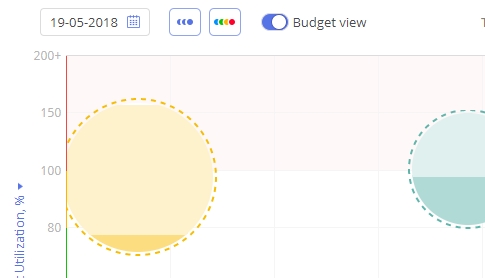 1.Task list
You can filter tasks in the task list by Budget Name and see the budget tasks in all of your active projects.
You can also see the tasks, linked to specific budget by clicking on the budget ticket in task card.
2. Dashboard
Budget view is a visualization mode for the dashboard which contains Budget Utilization % (men hours) of the Projects in accordance to Lead time %. Here you can monitor dependency between Project Priority and Budget buffer
3. Burnup
The main strategy here is to have a periodic overview from Project Manager side to control budget and flow of the project. You need to control the situation and do not allow running out of the estimated Budgeted area and furthermore fit into Approved expenses.