Chase Constraints with
TOC-Inspired 
Project and Resource
Management Tool

Designed for Multi-Project Environments 
with a Shared Resource Pool
Change your multitasking nightmare into a

feasible priority-ruled multi-project reality with Epicflow

 
We're guided by the Theory of Constraints approach to project management, according to which there's always a constraint in any system that limits its output. 
With Epicflow, you can avoid project constraints, and if you start using the tool when you already have some, you can apply a "5 focusing steps" approach and follow the steps together with Epicflow by using its functionalities.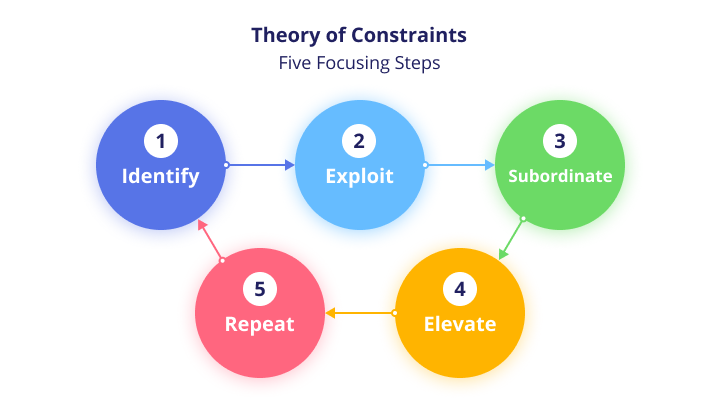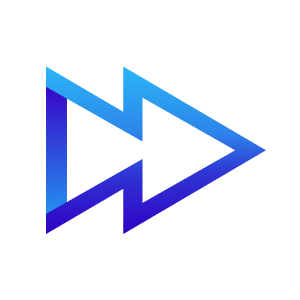 Epicflow is designed to help you predict project constraints,
and if you already have some, win the battle.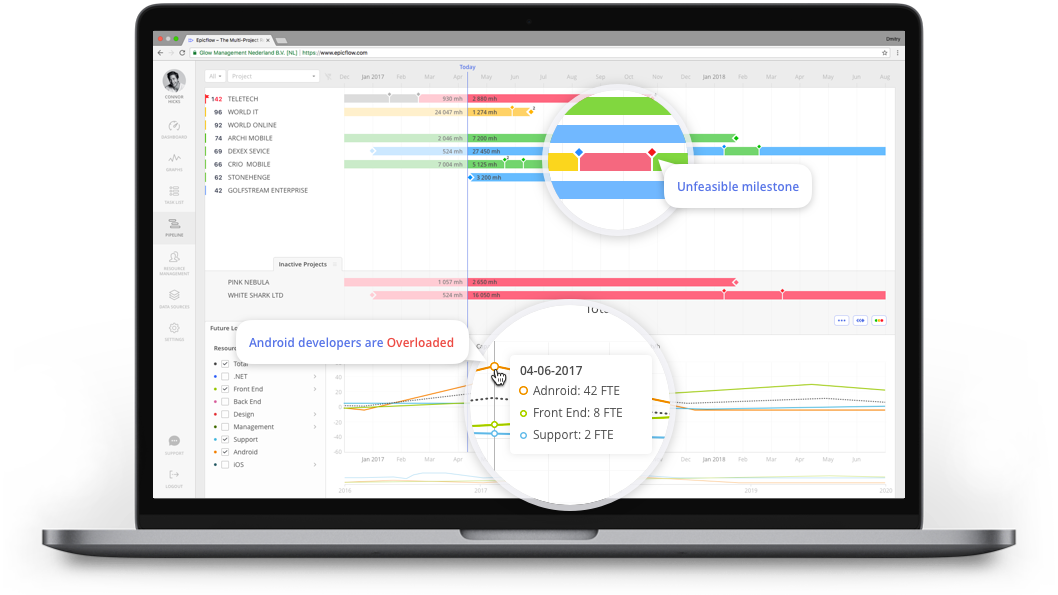 Real-time project data
Pipeline provides a clear view of all your projects with an immediate display of any transformations and their impact on the workflow.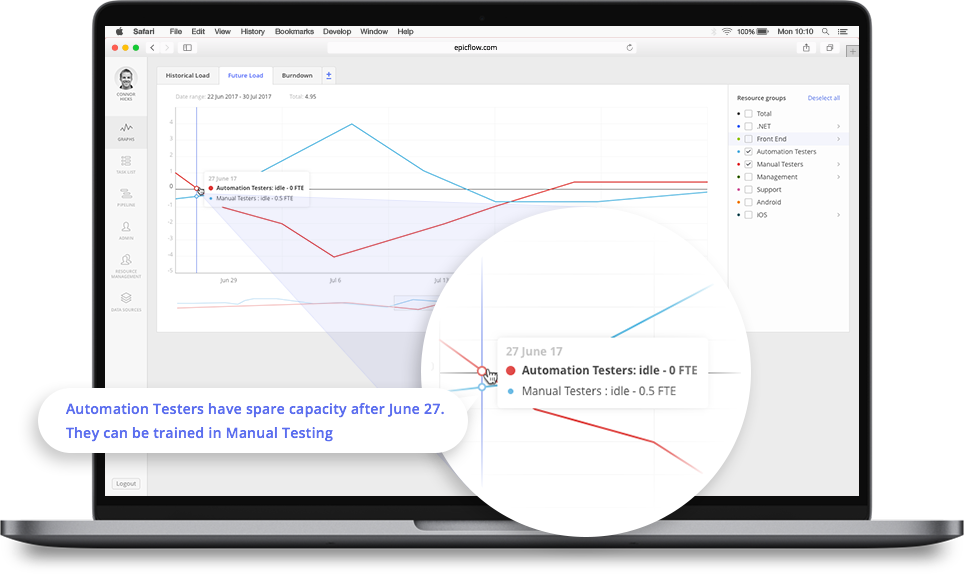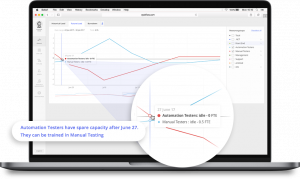 Insight into the future
Check out how busy your resources will be in the future. Future Load graph lets you easily identify potential bottlenecks and avoid them.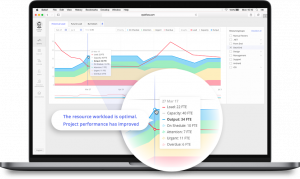 Progress control for better results
Historical Load graph shows how resource load, capacity, and output (amount of work done) have changed over time.
Not a single urgent task anymore
Task List is a catalogue of all project tasks ordered by their priorities taking inter-project relations into account. The priorities get changed automatically if some transformations happen.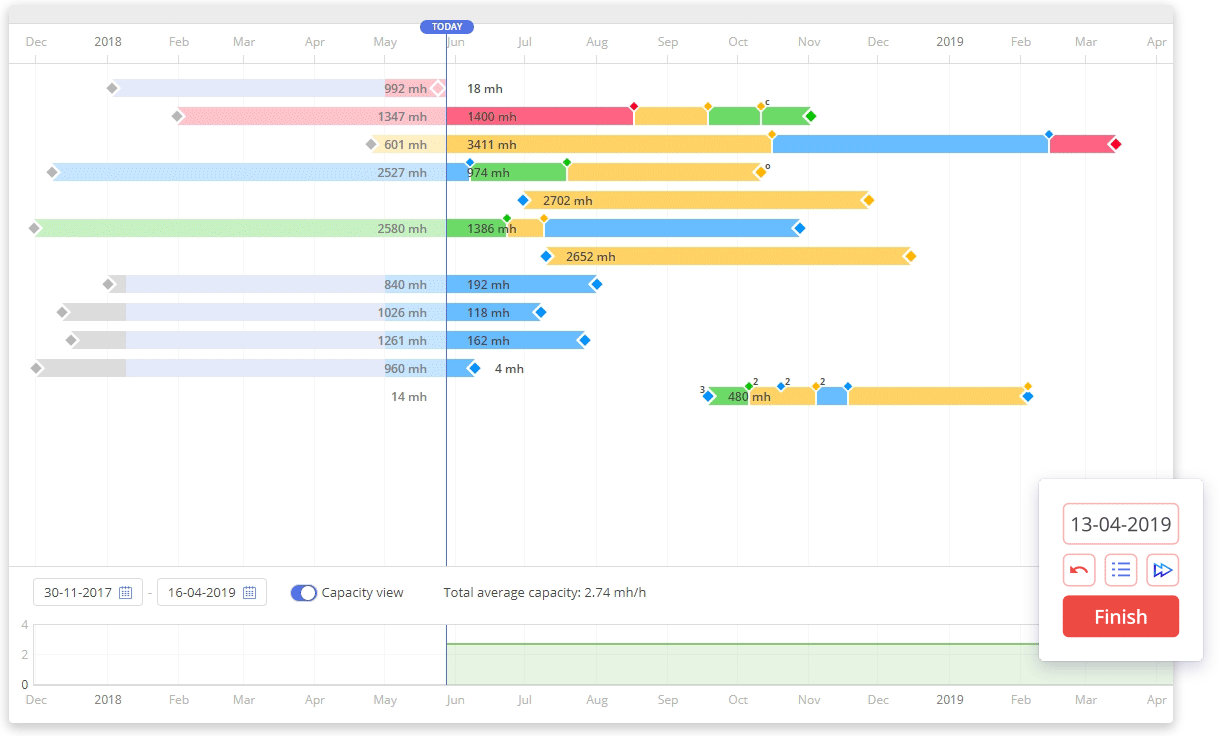 What-if simulation for flawless project decisions
What-if analysis lets you check out the reasonableness of any project changes without implementing them into the reality. Try your decision without any harm to your projects. Only right actions for flawless project delivery with Epicflow.
Macro and micro project views against time and budget constraints
Control the constraints with Dashboard – Bubble graph with Project and Budget views lets you control the flow, stay within time and budget frames, and avoid constraints.
The Way You Follow TOC's 5 Focusing Steps with Epicflow
1. Identify the constraint
2. Exploit the constraint
3. Subordinate Everything Else to the Constraint
4. Elevate the Constraint
For a single-project environment: 
Find a critical chain
Features Used: Gantt Chart.
For a multi-project environment: Recognize the resource overload.
Features used: Pipeline, Bubble Graph, Task List, Future Load Graph, Timesheet.
For a single-project environment:
Use the Priority List to control the progress on the critical chain.
For a multi-project environment:

Maximize the output of your current constraint by comparing the capacity and output and taking actions to improve the situation.
Features used: Historical Load Graph, Future Load Graph, What-if simulation, Pipeline, Bubble graph, Task List. 
Protect the progress on the critical chain by using the following features of Epicflow:
Use Task List and Task Card to see that the resource has an adequate amount of work (they're not underloaded or overloaded) and that tasks are performed based on the priority coefficient. 
Then, if you decide to apply any resource allocation changes, test them with What-if simulation and check the resource load changes in the future with the Future Load Graph.
Be flexible when it comes to work organization. Consider the load of all groups and then check out what you can do to balance the workload.
If a resource from group A is overloaded, and the one from B group is underloaded, you can put them in charge of the current tasks of the A-group constraint. 
Epicflow provides you with all necessary real-time information about the state of things as well as the data taken prom the past and the future to make the best project decisions possible.
Don't let inertia rule your world but go back to step 1.
Remember that the best way to address the constraint is to avoid it. Epicflow is a great assistant to reach this goal.
Integration Opportunities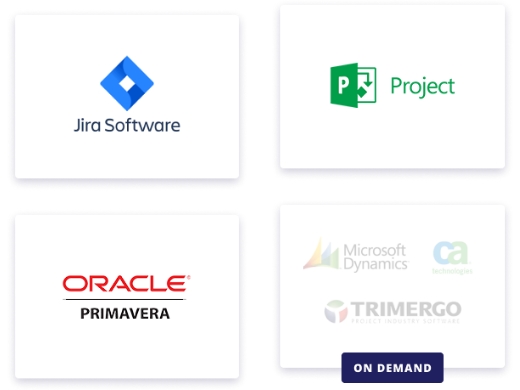 Also, you can set up integration with a human resource management system to get real-time updates on any resource availability changes.
Fill in the form to get access to a free trial of Epicflow