A recent report by the Project Management Institute (PMI) (1) states that "organizations are wasting an average of $97 million for every $1 billion invested, due to poor project performance." It turns out that champions have higher project success rates than underperformers, with a striking difference in the percentages – 92% for champions versus 33% for underperformers. It is logical to assume that project champions enjoy more successful business outcomes and waste significantly less money. At the heart of these findings lies a suggestion that all organizations are becoming more mature in their project management practices.
But what are the factors that improve project performance and increase business potential and are therefore worth investment of time and money?
Why is your project manager your best partner?
Organizations that invest in proven project management practices waste 28 times less money because more of their strategic initiatives are completed successfully. – The Pulse of the Profession, 2017
In fact, organizations competing in today's volatile environment prove that it's no longer sufficient to measure scope, time, and cost. Unless you pay attention to the ability of projects to deliver expected benefits, a thousand tricks on how to improve business performance will be of no avail. This year's statistics reveal a positive correlation between mature PM practices and improved business performance. In short, there are reasons to believe that by focusing on the value of project management – in other words, approaching your project expert as a strategic partner – you'll be able to streamline benefits realization management.
Is it necessary to migrate to Agile in 2017?
71% of organizations in diverse industries now report that they use Agile approaches to their projects sometimes or more frequently than in the past. – The Pulse of the Profession, 2017
Changing customer demands and a desire to innovate drive business experts to seek agility in their PM practices. Enterprises can no longer afford sticking to project plans that have been prepared years ahead. Business experts and senior managers can improve business performance only by catching up with current market demands that call for innovation. In fact, 55% of project champions prefer using Agile to other PM methodologies. Businesses that commit to Agile can optimize their teams' work in the most effective way based on continuous improvement.
What is the skill most lacking in PM professionals?
Whilst organizational change management activities are being undertaken, leading change in the organization was rated as the most lacking skill in project management professionals in this year's results. – 2017 New Zealand Project Management Report
The results of a PM survey conducted by KPMG's Advisory Group in New Zealand (2) show that almost 50% of respondents achieve moderate effectiveness after managing organizational change, which means that project managers do not associate organizational change with better business outcomes. Project managers need knowledge on how to transform a business to its desired future state. Additionally, KPMG's Advisory Group has collected information that suggests useful practices business experts can follow to improve benefit realization: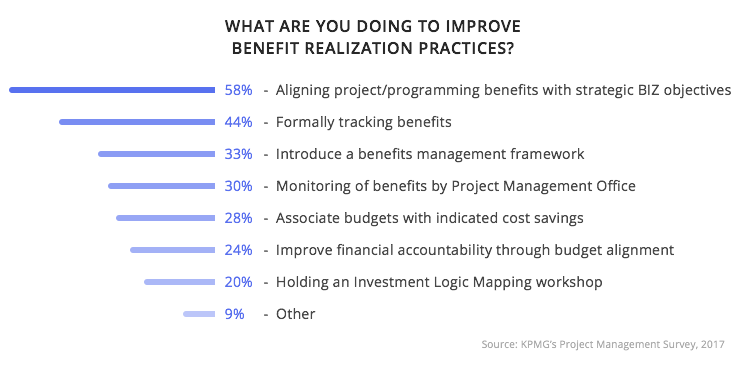 How can I meet this year's largest PM challenges?
Poorly trained project managers, attempts to run too many projects simultaneously, and lack of senior management support comprise three biggest challenges in project, program & portfolio management. – The State of Project Management Annual Survey 2017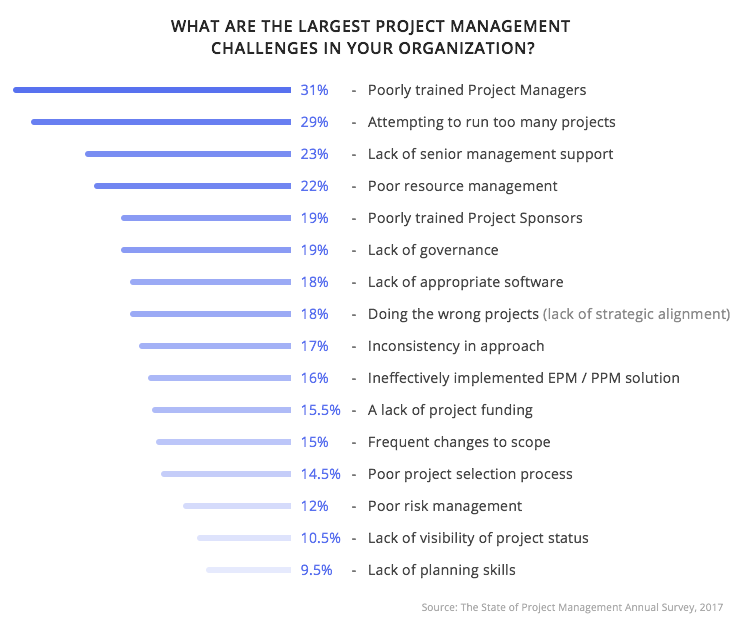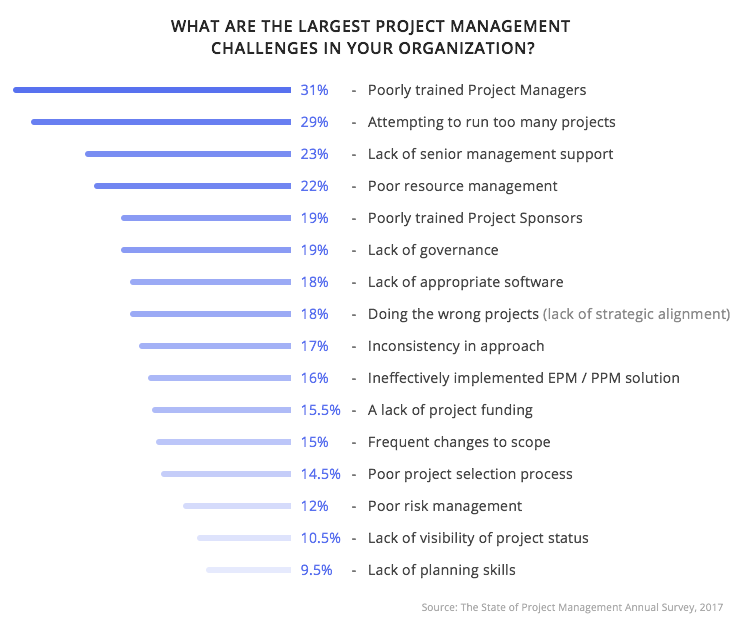 A project management survey conducted in the UK (3) encourages business owners to invest in project management training, as 31% of respondents indicate that their greatest challenge in 2017 is poorly trained project experts. Here's why a lack of PM maturity can be troublesome for your business. Insufficient competence in project management means an inability to track and measure the progress of your projects and align project performance with business goals. When organizations don't have access to real-time KPIs, it also results in poor resource management. If in a single-project environment your project managers can survive without additional support, in a multi-project environment they'll only be able to survive with a project planning tool.
Eight years ago, our researchers Albert Ponsteen and Jan Willem Tromp noticed there was much room for improvement in the new multi-project game businesses had started playing. It's a surprise to them that in 2017 project managers are still likely to fail while attempting to run too many projects simultaneously. After all, there's a tool designed to help them juggle projects – it's been almost a decade since Flow MPM (now rebranded as Epicflow) entered the market. Here's a description of how this project management software came into being, what problems it aims to fix, and what project management tools it integrates with.
Having carried out interviews with almost 4,000 business experts, CEOs, and project leaders, Ponsteen and Tromp came to the conclusion that the PPM market lacked a solution based on the multi-project philosophy – that is, new project planning paradigm for managing large numbers of projects at once with perfect flow, sorted priorities, minimum overhead, and optimized workloads. 
Epicflow is the next generation of critical chain project management software that helps to achieve expected benefits through proper resource management.
Sign up below for a demo to find out more about its features, and we'll discuss how we can solve your multi-project issues.
Sources:
KPMG's Project Management Survey, 2017: Driving Business Performance