Deliver Multiple Projects in Your Portfolio on Time and within Budget
Epicflow will help you to achieve business objectives faster thanks to
project synchronization, clear focus, and smooth workflow across all the project environment.
Book a Call






With Epicflow, the right talent works on the right project at the right time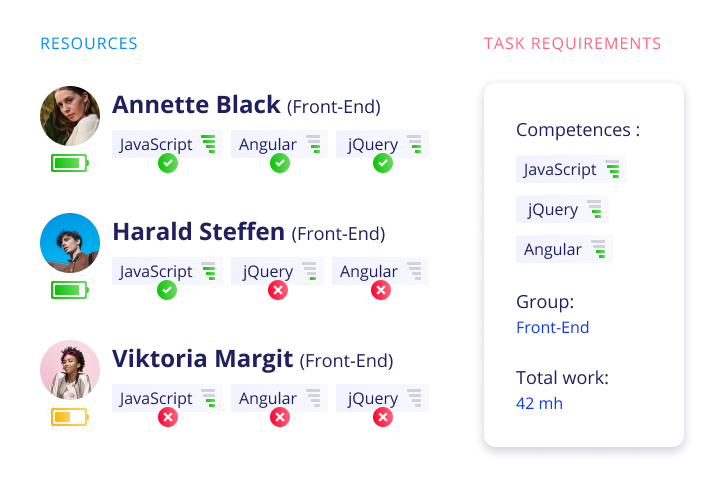 Always the right resource
With Epicflow, your resources always work on the tasks that correspond to their competence levels.
Competence Management feature helps to find a perfect match between the team members' competences and the competencies required for the task completion.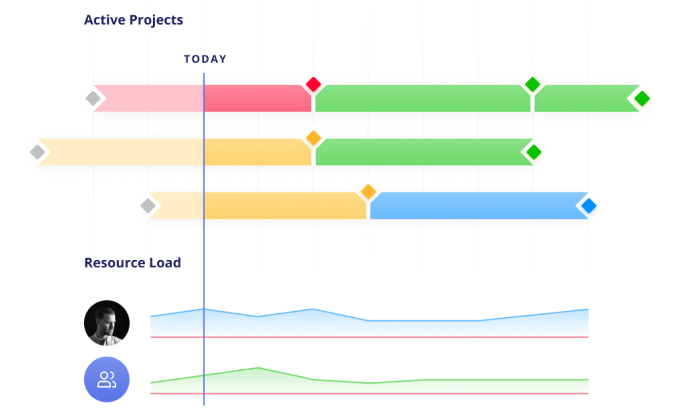 Pipeline
Epicflow helps you prioritize projects and tasks, quotes feasible due dates, shows you resource load and performance of your teams.
The solution provides you with unique flexibility to deal with uncertainties and constraints that appear in your day-to-day business.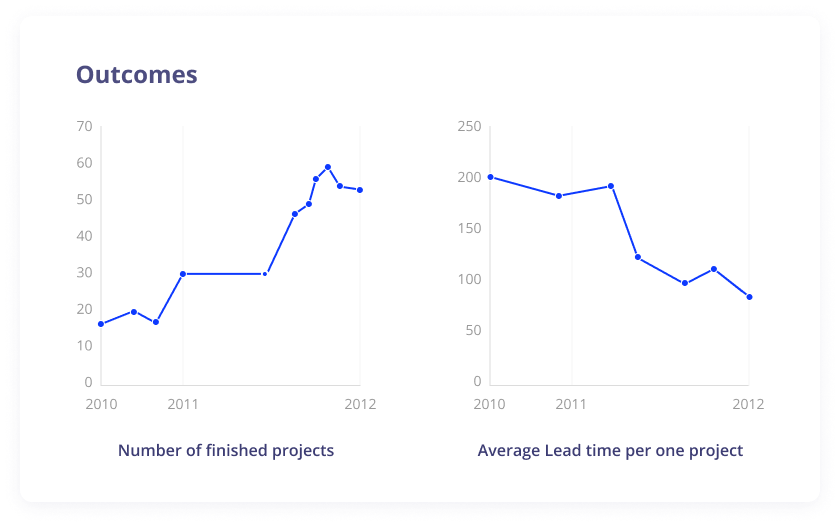 "Twelve years ago, TKF's R&D Department found itself on the brink of multi-project chaos. With Epicflow they increased output by 200% and reduced lead time by 50% in 2 years."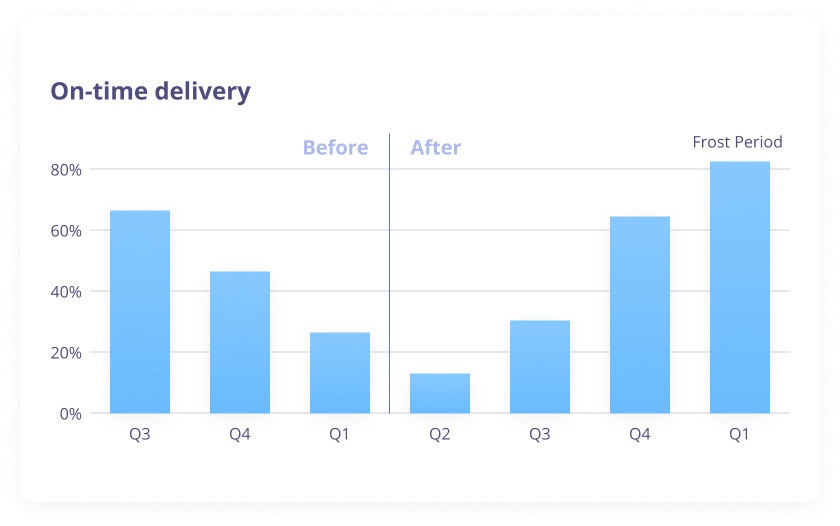 "On-time delivery is not a myth. We're now able to deliver on time and improve our service in a faster and more efficient way."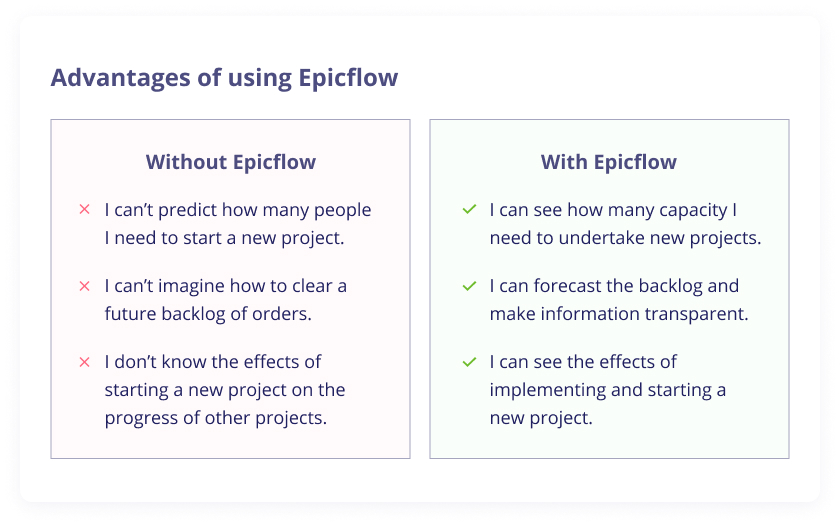 "Epicflow helps me getting our projects to meet the strategic goals of our organization."




Leverage historical and real-time data to make informed resource allocation decisions 
Real-time
data analytics
You always have access to current project data that is updated in real time. Examine what tasks team members are working on at the moment and get all task- and project-related information in Task List, Timesheet, and Task Card.
Detect any possible constraints and take measures beforehand using the Dashboard view. Explore your team's progress towards completing the ongoing project on the Burnup chart.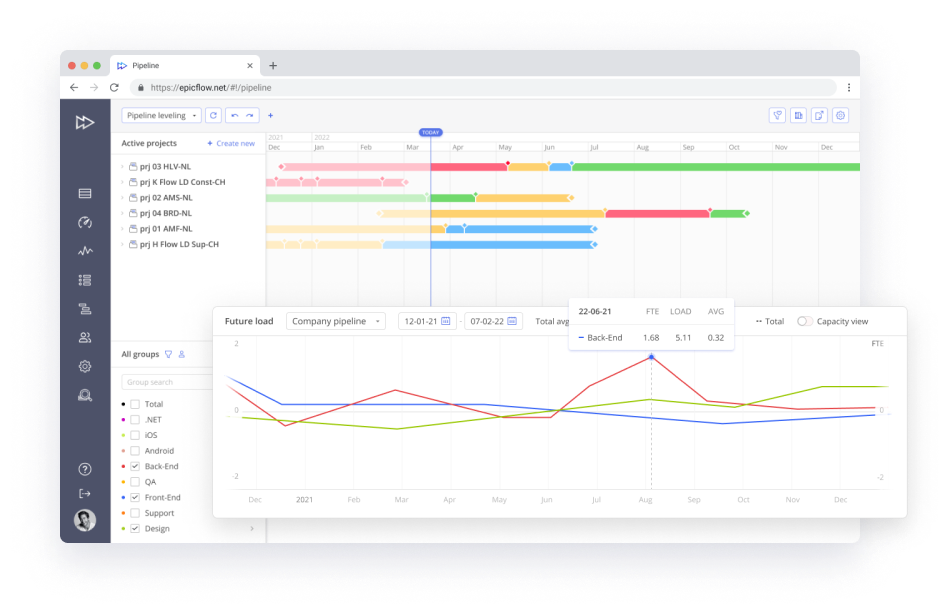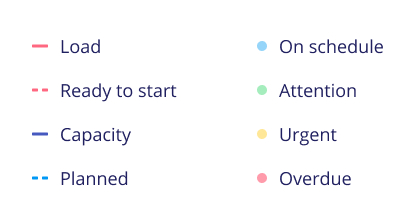 Analysis of historical data
With historical data in hand, you can analyze the teams' demand and output as well as their performance to make corresponding changes for other projects and use them for lessons learned.
Examine the resource load and capacity changes over time as well the amount of work that has been performed on the Historical Load graph.
Predictive analytics
Predictive algorithms collect and structure all project data, analyze, and foresee the success of all projects in the portfolio right from the start. Future Load Graph shows how loaded your resources will be in the future based on current conditions.
What-if Analysis makes it possible to simulate various scenarios of project development: you can change some of the variables and see what consequences this will have in the future.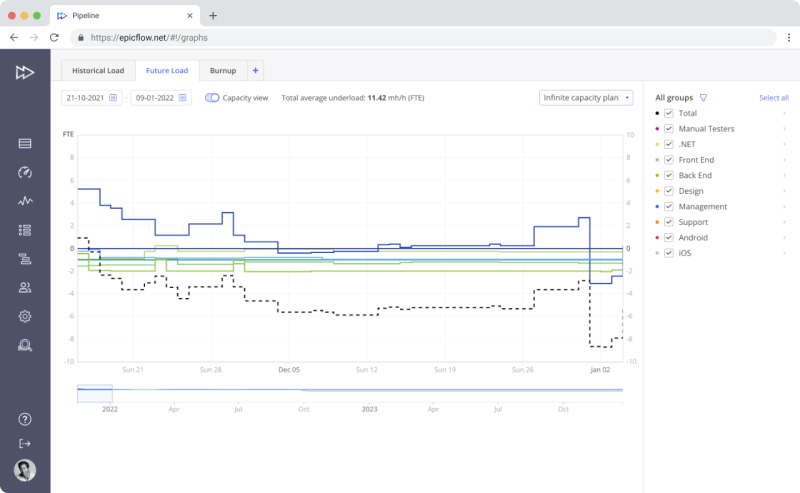 Make the best of your current PM tool by integrating it with Epicflow
As a result, you'll keep working in your homelike environment but improve your outcomes with new features.
Epicflow can be integrated with any tool of your choice as well as any project management methodology used by the company or individual team.
Achieve more with Epicflow
Book a call with an Epicflow expert and find out how you can manage your resources better