How KPN Improved Production
with Epicflow
KPN is a Dutch landline and mobile telecommunications company that was founded in the 19th century. It began functioning as a public telecom company and now has around 6.3 million fixed-line telephone customers. Its mobile division, known as KPN Mobile, has over 22 million subscribers around Europe (the Netherlands, Belgium, France, Germany, and Spain). KPN also functions as an international Internet provider with more than 2.1 million customers across Western Europe.
"On-time delivery is not a myth. We're now able to deliver on time and improve our service in a faster and more efficient way"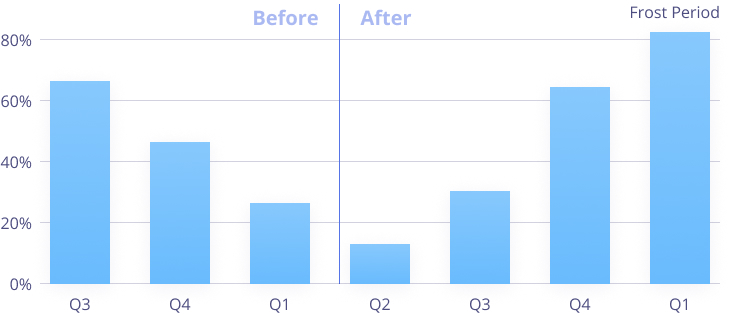 The Challenge
Being an Internet provider, KPN's output is dependent on the fiberglass market. While this market is booming, the production of the company lagged behind sales, generating much more demand than they could supply: around 150 projects sold vs. 70 projects delivered.
Challenges were snowballing:
The number of projects in progress went from hundreds to thousands;
Delivery time doubled with multiple projects failing their deadlines;
Customer satisfaction rate dropped;
Capacity was lost to escalation management;
Inconsistency of planning approaches among project managers;
While employees were submerged in an unceasing state of stress because of the feeling that no work was getting completed.
The Solution
To strengthen their production and improve delivery rates, KPN started using the Epicflow software solution.
As one of the initial cooperation steps, our team helped them to develop better commitment and trained company managers for them to perfectly understand how the tool works while also educating the team on the best practices of resource management in the multi-project environment.
Among the main objectives for Epicflow there was not only on-time delivery rate improvement, but also reduction of the number of projects in progress. Following Epicflow's innovative approach, KPN teams focused on resource management, which helped to deal with various bottlenecks, ensure that everyone had an optimal workload, and train employees to gain new skills so that they could assist in other departments, if needed.
Results
After less than one year of cooperation, KPN witnessed considerable production improvement: the percentage of projects delivered on-time went from 18% to 80%; the efficiency of the team rose up by 21%, meaning the team could deliver over 20% more projects using the same resources and the lead time decreased by 50%!
Furthermore, employees noticed a change in their working environment: it became significantly calmer and more organized with much less stress burdening them. Epicflow empowered employees to be proactive rather than reactive and predict bottlenecks before they turn into a production threat.
On-time delivery went from 18% to 80%
21% improvement in resource efficiency
Project completion time decreased by 50%
Employees are proactive rather than reactive
The standardization of the project plans resulted in the consistent approach to data interpretation. Everyone in the team had access to all the data that was the single
source of truth.
Sales know what they can sell
Stress caused by overload significantly decreased
Late orders are analyzed and structural problems are addressed
Number of late orders is reduced by 80%
Arnold AG — German specialist for high-quality metal products.
VieCuri — Medical Center is
a top clinical teaching hospital.

TKF — Building, industrial and telecom solutions for the
construction industry.