The right project management software can significantly impact the success of your project management efforts. However, it's really easy to get lost in the variety of tools available in the market these days. For this reason, we've prepared this guide to help you make the right choice. It will provide you with insight into the most essential functionality of these tools, the criteria you should rely on, and guide you through the main steps of the selection process, so choosing the right project management software won't be your headache anymore. Let's get started.
How to Choose the Right Project Management Software: The Step-by-Step Process
Let's start with an overview of the scheme for your PM tool selection journey.
Start with determining your business goals.

Research all available resources about the solution you're curious about (not about the certain product but the category).

Examine the market of vendors who suggest this kind of tools.

Apply the criteria for selecting project management software suggested in this paper to overview all essential characteristics of the ideal tool and prioritize them according to your goals and preferences.

Make up a list of products that comply with the criteria.

Select the top 5 PM tools and make appointments with their representatives (ask for a call/personal meeting/webinar/demo). Don't forget to make up a list of questions you may want to ask a company representative.

Engage partners and colleagues to compare the tools and discuss every detail together.

Make a final decision.
For the most part, your choice will be impacted by the product's characteristics. So, let's now explore the criteria reflecting the tool's attributes; you can use them as a basis for selecting project management software that will perfectly meet your organization's needs.
Criteria for Selecting Project Management Software: Essential Characteristics of PM Products
We suggest an approach to choosing the right solution for your projects based on 5 criteria for selecting a SaaS product based on the research by Manish Godse and Shrikant Mulik.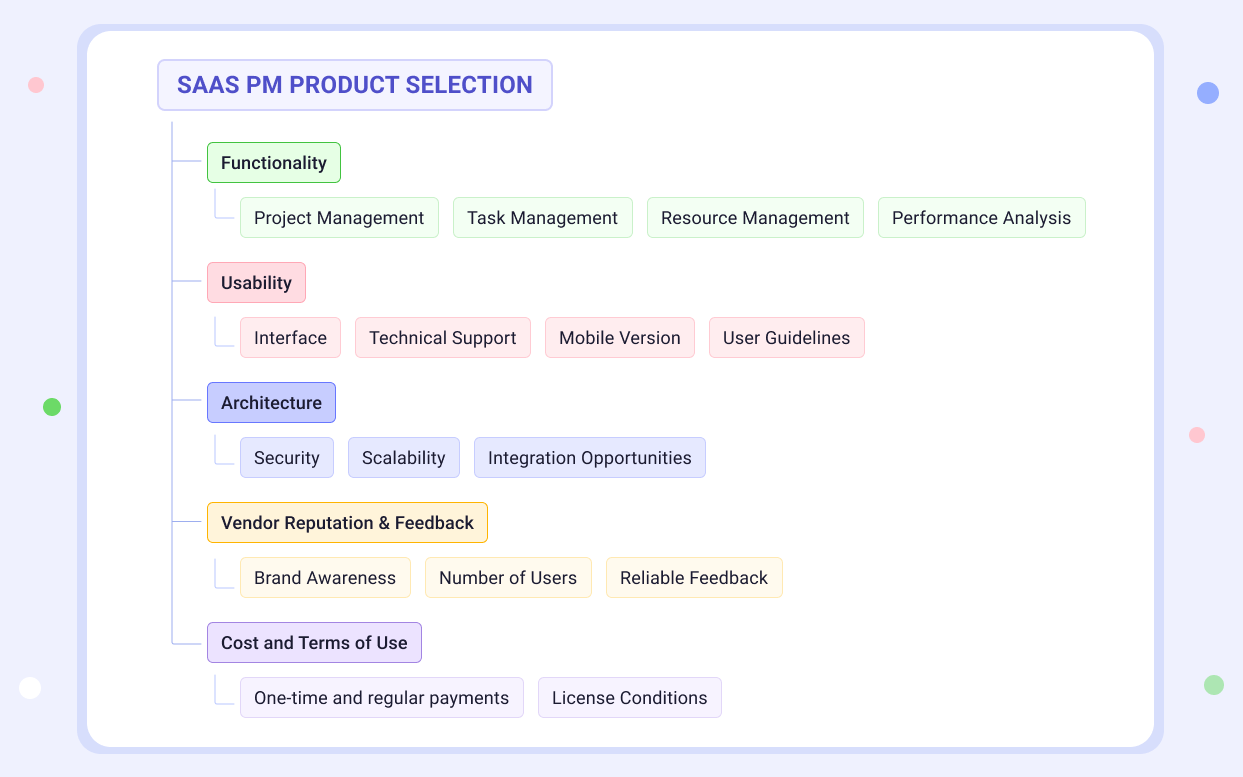 Criterion 1: Functionality
This criterion covers the project management software features that distinguish it from others in the segment. We've chosen the most essential elements that are beneficial to potential customers and contribute to effective project management. We've divided them into the following levels: project, task, resource management, and performance analysis.
NB: Different companies suggest different solutions and approaches, but we distinguish the most efficient and comfortable features for your consideration based on our experience.
Project Management Level
This level primarily covers data accessibility and the ability to control the workflow. Here you have to focus on the main features that provide this information:
Pipeline, Dashboard, and Kanban boards are visual boards that show your projects with all related information.

Gantt chart is a pipeline graph that demonstrates project timelines with deadlines, milestones, and task statuses.

Fever Chart is a graph with three colors (green, yellow, and red) that are visual representations of projects' progress against buffer time and project constraints.
Read more: Bubble Graph: Critical Chain Fever Chart Re-Imagined
When choosing project management software, pay attention to some additional opportunities these features can provide, such as filtering for easier navigation through data or the opportunity to apply either automatic or manual planning.
Task Management Level
At this level, you should focus on the following list of features:
Task prioritization (making up a "hierarchy" of tasks based on their significance for the project);

Task assignments (allocating tasks to project team members);

Project duration scheduling (setting up milestones, deadlines, calculating project duration, etc.).
When reviewing the features of project management software, concentrate on the opportunities it provides regarding task overview: you may need to keep track of all past, current, and ongoing activities, as well as to have access to more detailed information about a certain employee's progress on task completion.
Besides, monitoring task statuses is also something you should be able to examine at any time. You should be aware of the tasks that require your immediate attention, that are critical to the project, overdue ones, and those that are executed according to the schedule and don't need any extra focus.
Also, check if the software has the following options:
adding comments,

reporting on task completion,

sharing files related to the task execution,

applying filters to search for necessary data.
Resource Management Level
There are different types of resources in project management: resources as employees working on a project, resources as materials necessary for project delivery, and financial resources — the cost of project delivery or project budget.
Human Resources
By applying resource management features, you can keep track of every employee's competences, capacity, availability, workload, location, or other attributes. As a result, you can easily assign the right person to the right task, which in turn will increase the efficiency of project work. Moreover, project management software should have performance monitoring capabilities (e.g., time tracking, capacity vs. output, etc.), which will allow a project manager to detect bottlenecks in the workflow (if any) and use these insights to optimize future work on projects. Project management tools with advanced resource management functionality can make resource allocation suggestions based on a team member's skills, capacity, availability, and previous experience (working on similar projects).
Budget
Project management systems should have a graph that helps track the way project budget is consumed over time during the project delivery. If you have this information, you can implement necessary budget management efforts to save your project by regulating the budget buffer.
Material Resources
If resources like equipment, raw materials, or tools are required for your projects, pay attention to the material resources management feature when considering project management software. By using it, you can have all the necessary information about materials right in the system (their cost, amount, consumption rate, and other data) and manage their utilization.
Performance Analysis
A project manager should have access to both real-time data and the input and output in the historical timeline. This information gives you a clear idea of the project progress and provides an opportunity to analyze mistakes and improve things in the future. If a product you're considering for purchasing has this feature, focus on the type of data it supports. In an ideal scenario, it should inform you about:
project health — project progress and the probability of delivering it on time and within budget;

general output – the amount of work performed by the team members,

workload – your team members' tasks in hand over time,

capacity – the amount of work that is supposed to be performed by a certain resource.
Some project management solutions have functionality that lets you forecast further output by automatic calculations. This feature is handy and allows you to test potential decisions before making them. It helps you to predict resources' overload, and thus, avoid bottlenecks.
Criterion 2: Usability
Usability is what makes you feel comfortable when working with a tool. It's one of the paramount parameters that should be taken into account when assessing any SaaS product, and project management software is no exception. This criterion is based on interface friendliness, the availability of technical support, a mobile app, and user guidelines.
Interface
The tool's interface should be intuitively easy to use. Thus, the main rule when considering or testing the product is as follows: don't buy it if its interface makes you nervous and forces you to look for additional information to perform the simplest actions. If a product has pop-ups with prompts, it will significantly improve your user experience.
Technical Support
Technical support options usually entail several variants of service:
Email communication or ticket system implies that your issue will be addressed after you fill in a necessary form and submit it. As a rule, tickets are processed based on their priorities but sometimes support engineers resolve issues on a "first in – first out" basis.

Live chat provides an opportunity to get a quick response in case of any minor urgent issues.

Hotline or support over the telephone is usually used to resolve minor current or urgent issues or consult a support engineer regarding request submission in the ticket system.
Support is an essential parameter for making a decision in favor of a product, and it's better for you to ask all support-related questions beforehand to avoid trouble in the future. For example, you may need to know:
the schedule of providing services by the support team (it can be especially important regarding different time zones);

the response time: in what time period you'll get a response after your request submission;

if the company provides technical webinars/training for clients, and whether they're paid-for or free of charge.
Speak to a support manager about organizational requirements, product updating conditions, a preferable way of communication if an issue occurs, etc. Prepare the list of questions in advance.
Besides, after fixing issues, support engineers usually upload reports to a changelog, where users who have submitted tickets can review them and start using the fixed feature. So check it up as well.
Mobile Application
Mobile app shouldn't necessarily be completely analogous to the product's default version. Still, it must have the main features, such as resource and task management functions, the ability to access real-time project data and address simple project management needs. Don't forget to check whether the application is developed for Android and iOS.
User Guide
A user guide, or user manual, is a kind of documentation that provides a user with all technical information about the product. It involves the description of all available features with corresponding visualizations (graphs, schemes, screenshots, videos). As a rule, it's available on a separate website or a section of the product's main page. In other cases, you can be given individual access to the materials or get pdf files with guidelines via email.
Criterion 3: Architecture
Security
Data safety is one of the most essential characteristics of any software. Examine security measures a product applies: single- and multi-factor authentication options, login access control, end-to-end encryption, single sign-on, IP whitelist, and others. Besides, if a solution suggests a mobile version, don't forget to consider its security opportunities as well.
Scalability
A SaaS project management solution is vulnerable to loads. As all the facilities are located on one server, sometimes it gets overloaded. Scalability is the product's ability to operate adequately during the peak load and provide users with all necessary services without any lag at any time. Scalability in the context of project management software implies the following opportunities:
putting more projects in the system,

adding more resources,

interacting with a bigger number of clients.
Ask a software company representative about the product's scalability before making a purchasing decision.
Integration Opportunities
Integration may be necessary in two cases: if a company uses another PM tool and wants to adopt a new more efficient system by transferring all project-related data to it without the need to do it manually, or if a company wants to apply an additional product to the PM software. In such a way, integration opportunities have two different scenarios:
Integration with a current PM tool implies that you will have all your data from it transferred to the new solution. After the successful integration, you'll be able to use its features to the full without a need to deal with manual information processing.

Integration with software solutions of a different type can be applied to get better outcomes. For example, project management software can be integrated with a human resource management tool. In such a way, a project manager won't have to spend time and effort on managing resource availability data manually.
Read more: Making Your Project Management Tool Super-Productive with Human Resource Management System Integration
Thus, before making the final decision, examine the product's integration opportunities and ask a company representative if they can develop a custom integration if there's no necessary solution in their integration list.
Criterion 4: Vendor Reputation & Feedback
Though this criterion is of less significance as compared to others, it will be helpful to review the following parameters before making the purchase decision.
Brand Awareness
Brand awareness, or brand value, is the extent to which customers are familiar with the company providing services and distinguish it from other brands in the segment. This parameter is quite controversial: a poorly-known brand's product may be of the same quality as the well-known one. So, if after examining all information about the tool you're quite content with it, this criterion shouldn't be decisive.
Number of Users
The number of current users shows if the product is newly-appeared or a well-established one, as well as its recognition. But this parameter shouldn't be fundamental because if a product is new it doesn't mean it can't satisfy your needs. Always compare all criteria taken together.
Reliable Feedback
As a rule, there are some success cases on a product's website. You can get to know how the product has helped companies reach their goals with it. You will also find some information about the company's CEOs or other employees and contact them to ask some questions.
But also look for users' feedback on various independent platforms. You can check out if the brand has some badges or awards that speak of its functionality and reputation in general.
Criterion 5: Cost and Terms of Use
When analyzing the price of project management tools, take into account all possible variants of payments to choose the most convenient one. They can be based on:
the terms of collaboration (subscription-based pricing that can be monthly, semi-annual, or annual),

the number of users (it ranges from per-user to the whole-team payment),

the number of features available (per feature payment or the whole set of features),

the one-time billing (you pay for a certain piece of service).
As a rule, the time-based subscription covers the ability to use the product itself and all related support services. But be aware that initial consulting, webinars, pieces of training, and workshops imply additional one-time billing.
Very often, the use of a project management solution is based on a license that in turn depends on the conditions described above.
You define the period during which you want to apply it: from a month up to 5 years, or even more. Companies suggest various variants of use, so just think about which one is more comfortable and beneficial to your business. The user license can be prolonged but it's better to discuss the terms of use in advance and add some specific conditions to the documents.
Besides, user licenses differ by their types, for instance, basic, optimal, business, and premium. The kind of license depends on the number of functions you will have and the number of users who will employ the tool. Correspondingly, a basic license includes one or several main functions, while a premium one provides a user with some unique functions and additional benefits, such as access to statistics and reports.
NB: If you're engaged in multi-project management or have plans to run many projects simultaneously, it's better to consider a multi-project management solution instead of an ordinary single-project analog. These project management platforms are adapted to the bigger number of both projects and resources and thus, will make your project management efforts more efficient. There can be dozens of projects involving hundreds or even thousands of people working on them. But the main peculiarity and complexity of a multi-project environment are that a PM deals with multiple projects that have common workflows, overlapping deadlines (milestones and due dates), task dependencies, and a shared resource pool.
Now, the question is: "How to choose project management software suitable for managing multiple projects?" With reference to the above-mentioned selection criteria, when selecting a multi-project management solution, you should concentrate more closely on the "Functionality" part. Other criteria are the same regardless of the number of projects. So, let's dig deeper into multi-project management tools' functionalities.
How to Choose a Project Management Tool for a Multi-Project Environment: Essential Features to Focus on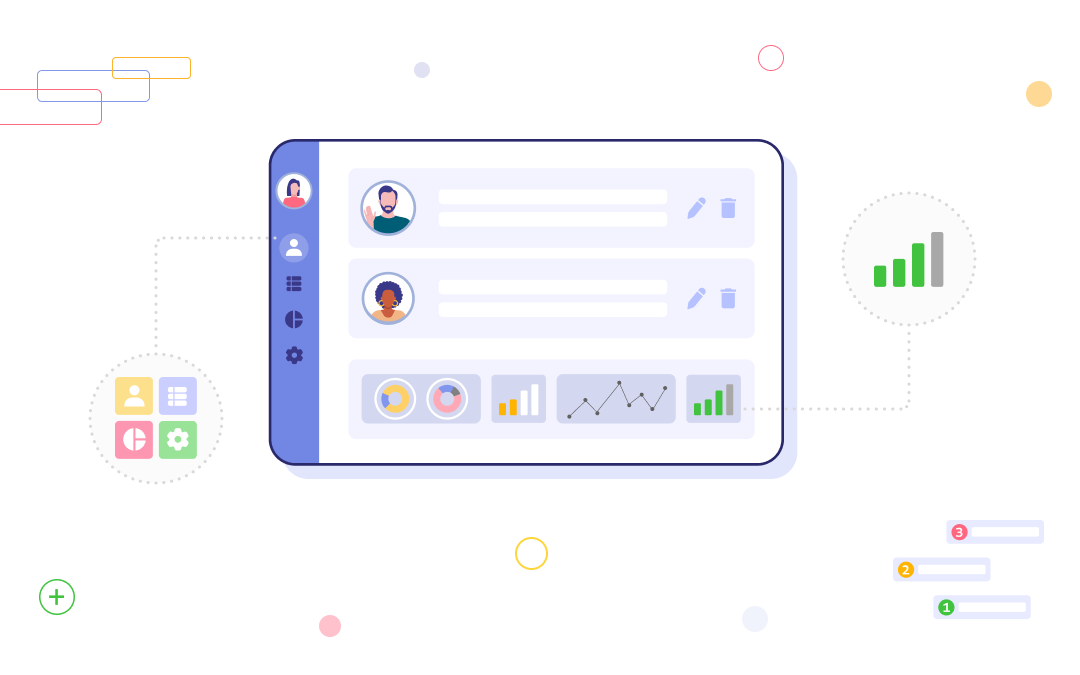 In a nutshell, a modern and high-quality multi-project management tool should have the following capabilities to ensure maximum effective project orchestration:
Task prioritization across the whole project environment;

Giving insight into the state of the project landscape and projects' progress;

Running simulations for making informed decisions;

Predicting future bottlenecks and detecting the existing ones if any;

Providing access to real-time and historical data;

Budget management opportunities;

Forecasting resources' capacity and workload;

Providing team collaboration tools;

Ensuring visibility into resource-related data;

Built-in reporting functionality.
Let's explore some of the essential features in more detail.
Feature 1. Managing Human and Material Resources
The secret of successful multi-project management lies in the intelligent management of shared human resources. However, resource management in a multi-project environment becomes troublesome because of a large number of employees involved in numerous projects simultaneously. For example, a resource manager has to resolve resource conflicts, keep track of the changes in employees' competences and availability and use this information for resource allocation, ensure that people aren't overloaded, etc. If an organization has globally distributed resources, assigning them to tasks and uniting them into a project team is really challenging. So, first and foremost, an effective multi-project management tool must have diverse resource management capabilities. 
Project management software with comprehensive resource management capabilities can not only provide assistance in basic resource management activities (resource allocation, capacity planning, workload management) but also address a variety of RM challenges.
The ability of the product to integrate with human resource management systems is beneficial – in this case, essential resource-related data will always be up-to-date.
Finally, the ability to manage material resources will provide you with a comprehensive view of all kinds of resources used to complete projects in a single tool.
Feature 2. Setting Task Priorities Across the Whole Project Environment
In a multi-project landscape, correct prioritization is an essential prerequisite to efficient work and timely project completion. However, a team member cannot pick assignments from their task list based on their own assumptions, "by eye": there are too many parameters to be taken into account, especially when there are hundreds of projects in the pipeline, which makes it almost impossible to prioritize correctly. At the same time, a lack of clear priorities can lead to bad multitasking, decreased productivity, and the possibility of missing milestones or even the due date. That is why there's a need for reliable project management software capable of dealing with a great number of projects and resources based on the mechanism of automatic prioritization.
Feature 3. Overview of All Projects at Different Levels
Having an opportunity to track projects and all processes within them in a single project management software tool is an absolute must if you want to be efficient in your multi-project management efforts. It refers to both macro and micro levels. Projects in a multi-project setting are interdependent, which is why considering all their details including task, resource, and budget levels is crucial. So, when examining a multi-project management tool's opportunities, check the way it displays project data at different levels.
Feature 4. Managing Budget
One of the main project management goals is to complete projects within budget. Among other prerequisites for that, controlling the budget consumption plays a significant role. When you manage multiple interdependent projects, it's critically important to control them from various perspectives, including budget utilization.
Feature 5. Analyzing Projects' State in Perspective
Making poor management decisions is one of the reasons for project failure. In a multi-project environment, the consequences of poor decisions can negatively affect other projects. So, to overcome the uncertainty and complexity of decision-making, you need to run scenarios and analyze their effect on the project environment. This becomes possible if a project management tool has AI-powered features, namely scenario analysis (or what-if analysis). Predicting the results of any transformations in the system in a simulated environment will save you from fatal mistakes and provide you ground for variability.
Read more: Top 5 Must-Have Capabilities of a Multi-Project Resource Management Solution
Thus, the most significant features in a multi-project management software solution that are worth your attention before you make the final decision are as follows:
Functionality for human and material resource management,

Opportunities for analyzing your parallel projects,

Automated prioritization capabilities,

Instruments for managing project budget,

Features for analyzing project management decisions.
All these and other capabilities are available in Epicflow — a flexible solution for multi-project resource management, which is based on a unique approach to orchestrating multiple projects and managing their shared resources. Book a call with our expert to learn why Epicflow is a perfect option that will help you ensure multi-project management success and facilitate achieving your business goals. 
References
Manish Godse, Shrikant Mulik (2009). An Approach for Selecting Software-as-a-Service (SaaS) Product. IEEE International Conference on Cloud Computing.