Improved IT Capacity Planning
for VieCuri Medical Center
The VieCuri Medical Center is a top clinical teaching hospital (STZ) that employs more than 3,000 staff and has hospital locations in Venlo and Venray and clinics in Panningen, Horst, and Reuver covering 280,000 citizens in the southern part of the country.
"Epicflow helps me getting our projects to meet the strategic goals of our organization."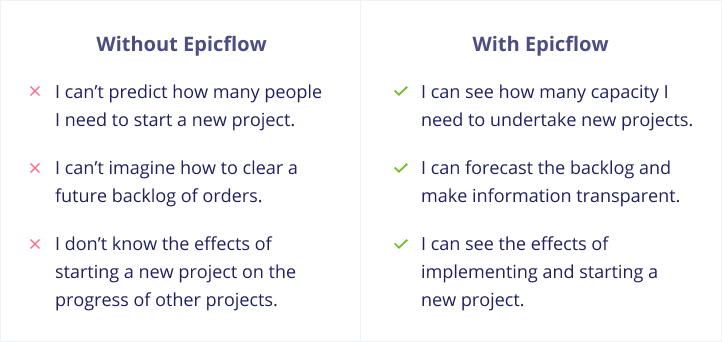 The Challenge
The goal of the hospital's IT Department was to provide healthcare technology to people faster and more efficiently while allowing the hospital to open its doors to twice as many patients.
To accomplish this goal, management had to determine if the IT Department would have enough capacity to respond to the flow of project requests from the hospital.
The Solution
In VieCuri's case, it turned out that the IT team could cope with only ten projects in parallel, while the hospital kept sending over requests for hundreds. Epicflow gave management the warning signal that the hospital was badly in need of IT resources and displayed the real situation in terms of capacity planning. Despite the difficulty, they managed to make better resource allocation decisions, forecast load based on their backlog, and hire the exact number of people they needed to provide good care to the constantly rising number of people.
The CIO of VieCuri's IT department, Stef Mentzel, has been using Epicflow for about eight years now. He finds the solution especially helpful in making accurate capacity projections. Epicflow has become a valuable addition to VieCuri's hospital management system because it fills in the gaps that MS Project leaves in capacity management. What sets Epicflow apart from other PM solutions is its what-if algorithm that calculates how many projects the team will still be able to undertake without being overloaded.
Results
The Results have been perfectly described by Nancy Underwood:
As a PMO at a large Dutch medical center network with 3000 employees, 26 projects in
progress and about 350 projects waiting to start within one to three years, I face project
and resource management challenges every day. MS Project isn't enough for our complex environment, and we integrated Epicflow to upgrade this PM system to the multi-project
level.
Epicflow helps me get our projects to meet the strategic goals of our organization.
As medical centers, we must meet healthcare demands in the Netherlands with
budgetary and resource constraints. Epicflow helps us work at full capacity, and I can
see when there's a need to add more people.
Epicflow helps our project managers to see the most urgent projects and to resolve
resource allocation conflicts before they happen.
One of the features I like most in Epicflow is the What-If Analysis, which gives us the
ability to see the future. I can see what will happen if we proceed the way things are
happening now. Normally, people who lead projects look at what happened in the past
and don't look at what may block projects in the future. The What-If Analysis provides us
with this opportunity so that I may act now and prevent bottlenecks before they appear.
The Epicflow's team supports us at every stage with professional consultancy and
technical assistance. The product is actively developing, and every two weeks they
add more functionality to make complex environments less frustrating.
KPN  — A Dutch landline and mobile telecom company

Arnold AG — A German company creating high-quality metal products.
TKF — A Dutch company providing building, industrial and telecom solutions for the construction industry.
An Aerospace and Defence company from the UK