This year, the automotive industry is expected to continue its recovery following the headwinds of tough 2020. The general outlook for 2022 is rather optimistic – the industry is going to take further steps towards producing smarter vehicles. Following the line of the previous years, electrification, connectivity, autonomous driving, and recent technologies implementation will impact the auto industry this year. 
What else should we expect in 2022? Find it out from our review of the most prominent autotrends.
Electric Vehicles Production and Sales Will Grow
In recent years, we've seen the snowballing popularity of electric vehicles. First of all, it's explained by the electrification trend and other initiatives as part of the bound for reaching net-zero emissions by 2050. For example, the European Green Deal involves achieving the following objectives: emissions from cars must be reduced by 55% by 2030, while new cars are expected to produce zero emissions by 2035. 
Secondly, rising fuel prices and relatively low cost of electric vehicles compared to ICE cars make them more attractive for customers. Interestingly, registration of electric cars in 2020 increased in major markets despite the pandemic [1]. 
So, in 2022, we expect that car manufacturers will be focused on producing more electric cars fitted with more advanced capabilities. EVs are going to gain higher market shares in Europe, the United States and China and outpace ICE vehicles sales. The prospects for further EV market development are presented in the image below. [2]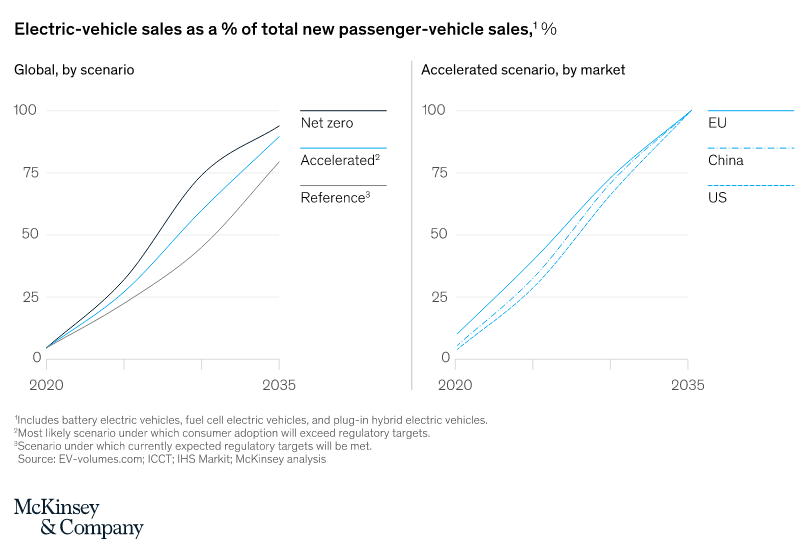 Autonomous Cars: Level 3 Self-Driving Private Car Becomes Available
As opposed to electric vehicles, fully self-driving or autonomous cars that don't require any human participation are still unavailable. However, 2022 is expected to be marked by some progress: Mercedes-Benz is going to start selling a Level 3 autonomous vehicle this year [3]. They've managed to meet the necessary requirements for approval of the Level 3 autonomous driving system, which has been granted by the corresponding regulation body of the United Nations. For the time being, they are allowed to drive in Germany, but Mercedes is going to offer the system in the US and Chinese markets. Vehicles with this level of automation can drive themselves only under some conditions and not over long distances. Level 3 autonomous vehicles use AI and various support systems to analyze changing circumstances around the car (e.g. weather conditions), while a driver still must be prepared to take control of the car as circumstances may require. 
More Sophisticated Safety Features Implemented in Cars
Car manufacturers will continue to implement more advanced safety features to protect drivers on the road, including emergency braking systems, adaptive cruise control, lane departure warnings, electronic stability control, live blind-spot video feed, and more. Some of them will become mandatory in 2022: for example, according to the European Unions' Regulation (EU) 2019/2144 of the European Parliament and of the Council of 27 November 2019, all the cars sold in the EU will have to be equipped with advanced safety systems. Accordingly, all motor vehicles will have to be fitted with intelligent speed assistance, driver drowsiness and attention warning systems, emergency stop signals, alcohol interlock installation facilitation, and others. Besides, cars and vans will require additional safety features: advanced emergency braking systems, emergency lane-keeping systems, and enlarged head impact protection zones. The above-mentioned features will become mandatory for all new models launched from mid 2022. 
Connectivity: Further Developments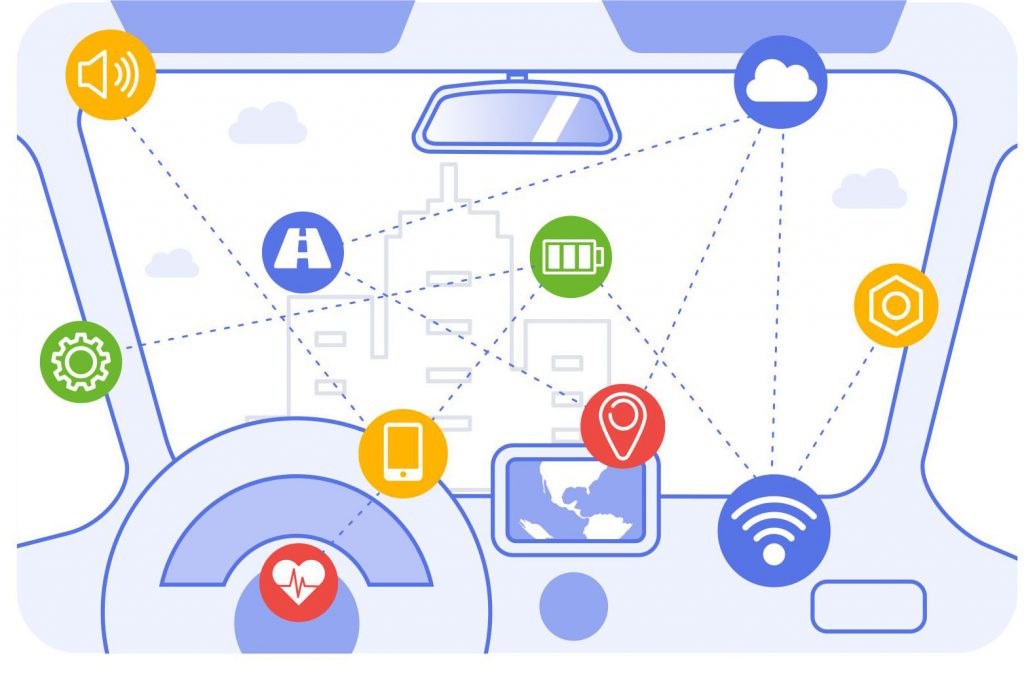 Connected vehicles link to the Internet of Things and share internet access and data with various devices inside and outside the vehicle. Such a technology gives an opportunity to implement more advanced features in cars, such as emergency braking or cyber threats protection, improves driver experience, or can be used for commercial purposes (e.g. truck platooning). One of the connectivity trends for 2022 is the application of Cellular Vehicle-to-Everything (C-V2X) technologies. They will allow vehicles to communicate with each other, cloud services, and city infrastructure. C-V2X technologies are gaining momentum among automotive original equipment manufacturers, city infrastructure manufacturers, and electronic module suppliers. Also, the technologies are expected to be used in transportation network applications and in autonomous vehicles. [4] 
Automotive Business Trends
Let's consider some of the trends setting the course of automotive business according to Gartner [5]. 
Automakers are expected to re-imagine their tech sourcing following the global microchip shortage that burst out in 2020 and hasn't completely finished yet. This year, they will be looking for ways to break their heavy dependence on traditional partners providing them with tech and hardware. 

Increase in investments in battery recycling: among other reasons, this is explained by the new EU regulation that will oblige auto manufacturers to recycle up to 65% of their EV battery content by 2025. 

EV automakers will focus on user convenience and services: previously they primarily aimed to develop EV technology, while this year, they are going to work more on bringing greater convenience to EV drivers. 

Chinese EV makers are using EVs as an opportunity to enter foreign markets, which can be rather challenging for them in Europe and the US. At the same time, local automakers should take measures to stay competitive, e.g. step up their technology in some cases. 

The start of autonomous vehicles services: in Germany, roboshuttles (Level 4 autonomy) for the first time ever will be allowed to operate as regular services on public roads. However, as the technology is still not mature enough, it will bring some challenges too.

Car-as-a-Service models will merge: in recent years, different CaaS models like ride hailing, car sharing and subscription were marked with different success levels. This year, these models are expected to merge with greater focus on customers and fleet utilization.  
Conclusion
In 2022, the automotive industry's further development is expected to be mostly aimed at producing and selling cars with more and more advanced capabilities: from improved safety features to manufacturing vegan-friendly cars. As compared to 2021, the auto trends haven't changed significantly, so manufacturing and sophistication of electric vehicles, connected and autonomous cars as well as implementation of recent technological developments (e.g. cellular vehicle-to-everything technologies) will keep their positions this year.   
Read more: 2021 Automotive Industry Challenges and Trends
References