AI-Based Multi-Project and Resource Management Tool
Deliver more projects on time with your available resources without extra costs, and increase the profitability of your company.
Use real-time data and predictive analytics to make informed project decisions and allocate your resources accordingly.
Bridge demand and supply by finding the right talent based on competencies, experience, and availability.
Examine your teams' historical performance and workload and use this data for lessons learned to improve project flow in the future.
Leverage the power of AI for successful project portfolio management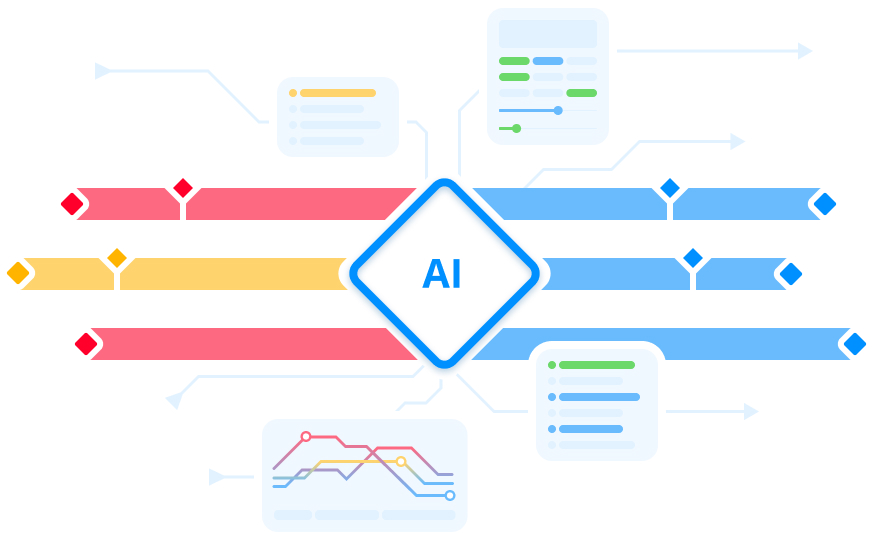 Adopt Epicflow to get:
Automatic planning and scheduling, including data-driven prioritization of projects and tasks powered by predictive analytics.
Ongoing workflow control and real-time bottleneck detection with AI-driven simulations for their efficient elimination.
Semi-automated resource allocation based on team members' competencies, attributes, capacity, availability, and demand.
Maximum productivity of your employees thanks to workload balancing capabilities.
Prediction of possible threats for your multi-project environment based on historical and real-time data.
Our Clients' Favourite Features
Your data is secured
With our unique DataGuard tool, we provide cloud-based service
while letting you keep your company data on premises.

GDPR
The data you put into the Epicflow system is reliably secured according to the EU General Data Protection Regulation (GDPR).
Secured network
All the information entered into Epicflow is encrypted and guarded within our secured networks. Any personal and project-related data is visible only to the company that owns it.

Flexible permissions
Full control over all the data in the system – you can grant or hide project details for any project team member depending on their role and level of involvement in the company.
Epicflow integrations
Upgrade your tool with new functionality and keep working with the familiar interface
Leverage ready-made integrations with Jira, MS Project, and Oracle Primavera, or order a custom integration with any other project management tool or an HRM system to enable easier, faster, and cheaper delivery of multiple simultaneous projects with a shared resource pool.
Why our clients choose Epicflow for their multi-project management
Trusted by the leading companies in defense, manufacturing, automotive, construction, healthcare, and IT industries, Epicflow helps our clients become high performers and flawlessly deliver even more projects on time and within budget.

Jan Mark Molenaar
"Epicflow gives us much better proritization and shows which steps need to be taken to fulfill our projects."
Hans de Boer
"We increased our output by 200% and reduced lead time by 50% in 2 years. We are also able to give our customers realistic commitments."
Jan Tournois
"This product has given us a significant improvement in the amount of projects we can deliver nowadays."
Markus Ossberger
"Epicflow is in a class of its own. Definitely. It's incredibly easy to use."
Thomas Portune
"We no longer have to make intuitive decisions and prioritize, because we trust it to Flow approach."
Edwin Kuiper
KPN
,
On-time delivery is not a myth. We're now able to deliver on time and improve our service in a faster and more efficient way.
Nancy Underwood
VieCUri
,
Epicflow helps me getting our projects to meet the strategic goals of our organization.