All-in-One Solution for Resource
and Portfolio Management in Pharmacy






Reduce planning time for similar projects
Use Module Library to create a collection of typical project elements and apply them as patterns for similar projects.
Mitigate planning time by copying project summaries together with their tasks and using them in other projects similar by the structure.

Let your resources do the tasks
that match their competence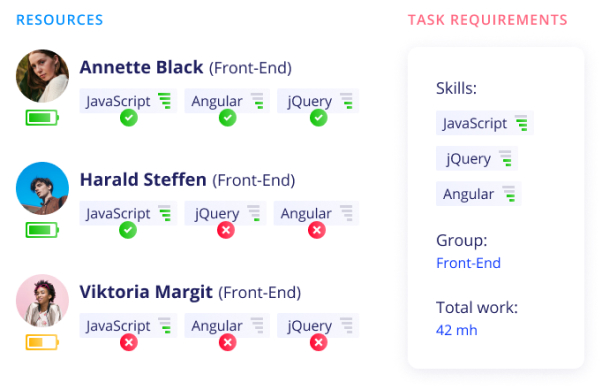 With Epicflow's unique Skill Management  you can:
attribute skills and their levels to resources in the system;
add skills and their levels to project tasks depending on their complexity;
let Epicflow find a perfect match based on the user's competency and the skills required by the task;
find the best resource for a certain task by yourself.
Manage employees and equipment from a single place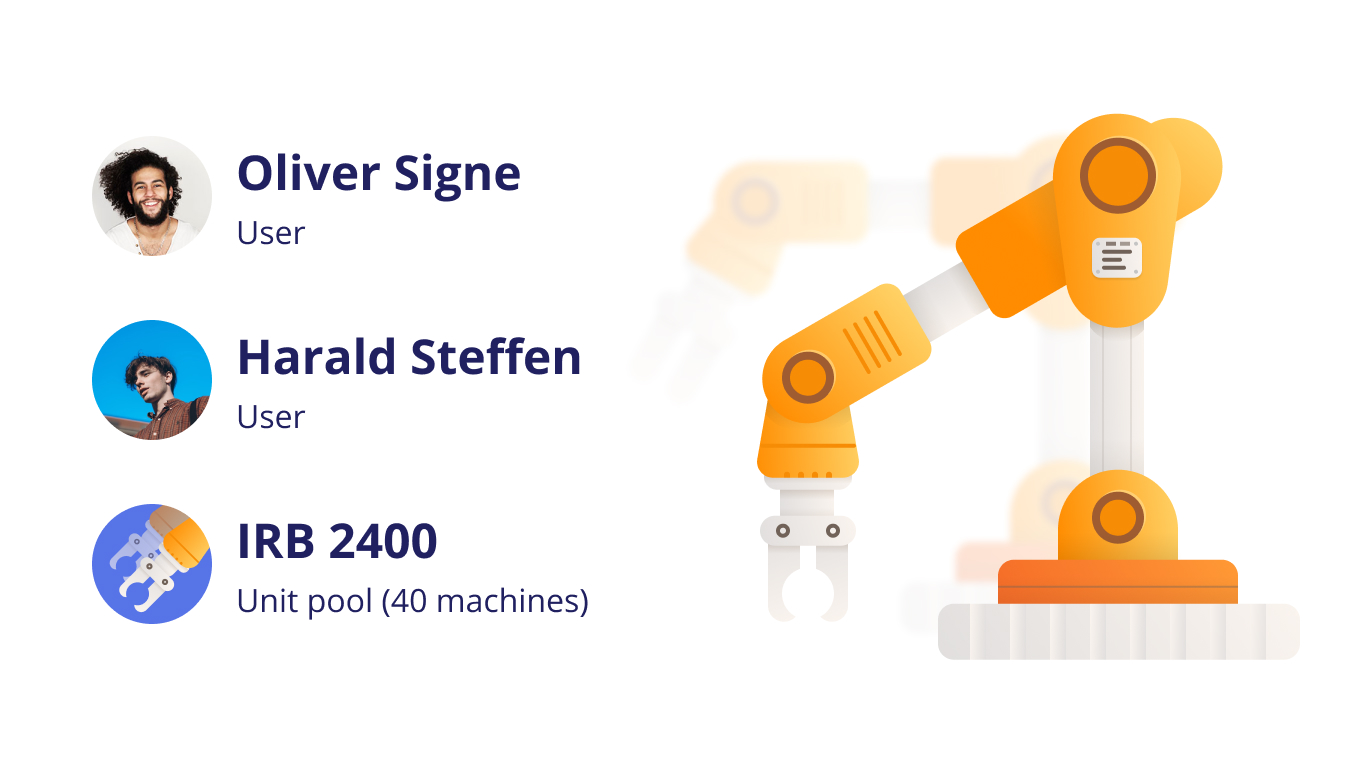 Apply the Unit Pool feature to register equipment in the system and use it in projects together with human resources.
Assign tasks to a machine from the pool and human resources to the machine.
Add the number of working hours per day and the number of machines in the calendar.
Enhance Resource Management Opportunities with Epicflow

Task List
Tasks prioritised with regard to inter-project relations

Historical Load Graph
Monitor the workload and capacity changes over time and check the outcomes

Future Load Graph
Make informed decisions based on predictive analytics

Timesheet
Explore the output and adjust values according to your needs

What-if Analysis
Check the effect of your decisions in a simulated environment before implementing them

Material Resources
Manage the consumption of materials used in your projects
Leverage the Added Value of Epicflow with Integration
Today most PM tools (e.g., Primavera, Jira, etc.) have the following shortcomings:
Deterministic single-project planning;
Too many parameters are necessary for project leveling;
Highly specialized planners are required;
A lot of time is needed to maintain the plan.
Epicflow is used in combination with MS Project Server, SAP, Jira, and Primavera (interfaced).
Our clients appreciate the added value but prefer working in their accustomed environment with their own project management system.
Upon integrating Epicflow with your project or resource management system, you get the following added value:
Real-time multi-project enterprise resource management based on the dynamics of the portfolio and projects;
Dynamic planning that helps prevent delays and blockages;
Predictive analytics to forecast the due dates (AI component);
Easy to use: Epicflow requires very few parameters to carry out an in-depth analysis and provide an entire portfolio overview (the case of Dutch MOD).
Advanced Resource Management for semi-automatic resource allocation.
Competence management based on 5 levels: from inexperienced to expert.
Attribute management with critical parameters (e.g., location, grades). Epicflow suggests the most matchable resource based on the required competences and attributes.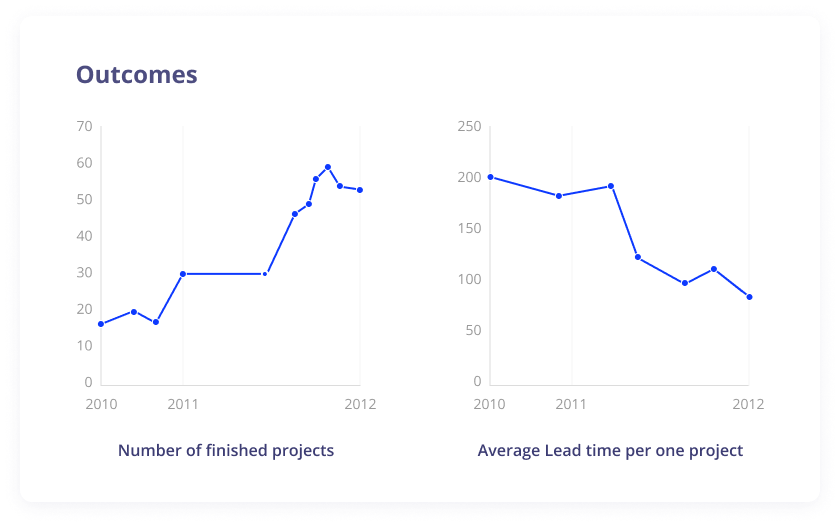 "Twelve years ago, TKF's R&D Department found itself on the brink of multi-project chaos. With Epicflow they increased output by 200% and reduced lead time by 50% in 2 years."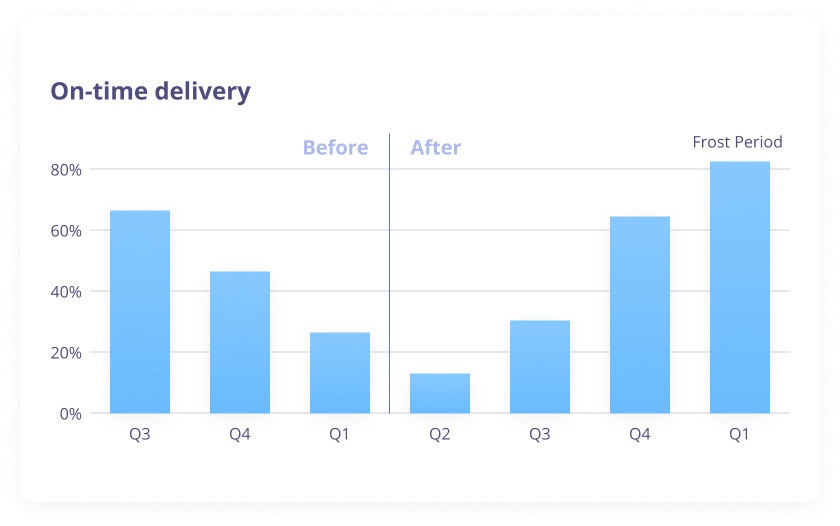 "On-time delivery is not a myth. We're now able to deliver on time and improve our service in a faster and more efficient way."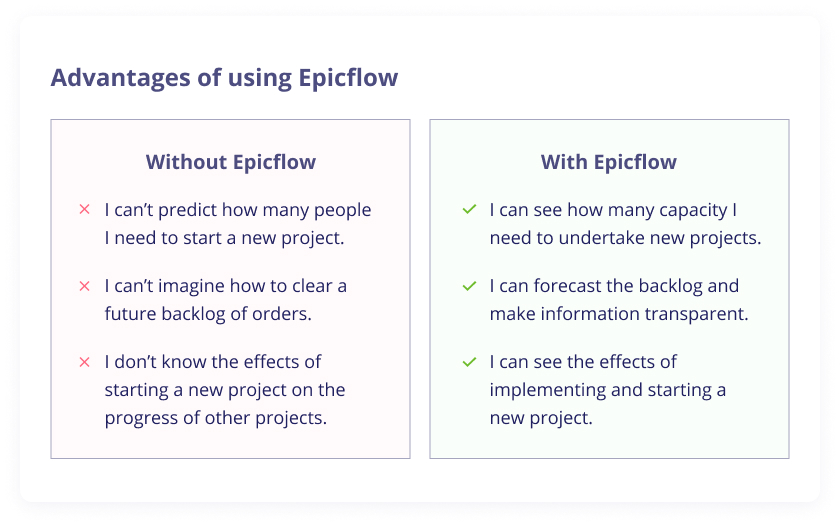 "Epicflow helps me getting our projects to meet the strategic goals of our organization."

Achieve more with Epicflow
Book a call with an Epicflow expert and find out how you can manage your resources better