In today's changing and uncertain world, aerospace engineering companies are seeking the ways to design and develop new products faster and with less cost. Digital transformation in general and digitalization in particular take product development to a fundamentally new level as well as make it possible to reduce production costs and keep customers satisfied. So, every company that wants to stay competitive in the market must digitalize its processes sooner or later.  
However, this process often comes with numerous obstacles. In this article, we'll explore the most significant digitalization challenges that aerospace engineering companies face and outline the ways to address them. Let's get started.      
Digitalization in Aerospace Engineering: General Overview 
First off, let's shed some light on the difference between digitalization and digital transformation as they are still often confused or used interchangeably. Gartner Glossary defines the term digitalization as the use of digital technologies to change a business model and provide new revenue and value-producing opportunities. Digital transformation is a broader term: as defined by CIO, it implies the rethinking of how an organization uses technology, people, and processes in pursuit of new business models and new revenue streams, driven by changes in customer expectations around products and services. 
So, in this article, we'll focus on the use of digital technologies by aerospace engineering companies and related challenges they have to address. 
To begin with, let's explore the main technologies driving digitalization in aerospace engineering [1]. 
Digital technologies used in aerospace engineering   
Digital twin
A digital twin is a digital representation of a physical object at a certain moment. Combined with other Industry 4.0 technologies, it allows aerospace engineers to conduct various experiments with the virtual copy of an airplane or a spacecraft. As a result, it increases productivity, minimizes risks, improves product quality, and reduces production time. 
Digital thread
Digital thread refers to the sharing of product lifecycle data up and down the extended supply chain via a communication framework. It's important for aerospace engineering, as it can introduce agile engineering to a company. The technology creates an integrated and open design ecosystem that accelerates product development and tackles the most complex problems of engineering and design and in such a way transforms classical engineering approaches. [2]
Additive manufacturing (3D printing) 
The technology makes it possible to optimize production of some aircraft and rocket parts, as 3D printing requires less raw material and is less time-consuming than traditional manufacturing. In addition, the 3D printed parts are more lightweight, which optimizes fuel consumption.   
Artificial intelligence and generative design
These technologies are used to develop lightweight and durable components which are a high priority when designing an aircraft. AI combined with generative design allows engineers to examine a variety of design options within a short period of time and come up with the optimum product design. [3]   
Internet of Things 
Diverse sensors and data they collect give aerospace engineers an insight into possible problems with aircraft/spacecraft parts at the design and testing stages.  
Read more: Driving Digital Transformation in Aerospace & Defense: Recent Technology Trends
Why is digitalization important for aerospace engineering? 
Aerospace engineering is a complex, time-consuming, and costly process that involves dealing with myriads of data. Mistakes in this process come with a high cost, so it should be as optimized as possible, which is achieved thanks to the application of latest technologies. What are the other benefits of aerospace engineering digitalization? 
Reducing production costs,

Improving the quality of the final product,

Shortening the product development time,

Efficient collaboration of various specialists involved into the engineering process.
Finally, it gives aerospace organizations a competitive advantage and allows them to meet their customers' needs to the full. 
At the same time, companies trying to embrace digitalization can face certain problems on this way. Let's explore them in the next section.  
Challenges of Aerospace Engineering Digitalization and Possible Solutions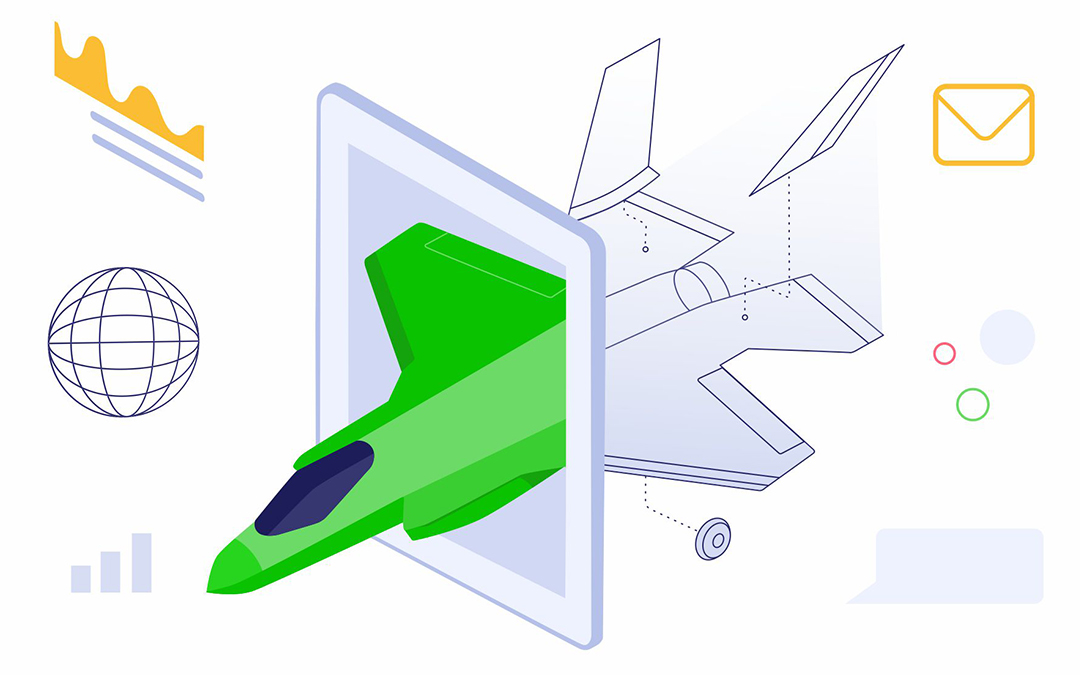 Challenge 1: High cost
No one doubts that digitalization is expensive – it requires significant investment in technologies and innovation. First, aerospace engineering companies will require new software, applications, equipment that should be regularly updated and serviced. Also, they will need to hire new employees to implement digital technologies and/or retrain the existing personnel. Finally, it requires investment in cybersecurity risk management to protect the data that becomes attractive for cybercriminals. 
Possible solution
There are two things that should be kept in mind. First, digitalization must be embraced sooner or later by every company – they simply won't survive on the market without it. Second, it's an investment into future successful business. 
One of the ways to address this challenge is to split the whole digitalization process into smaller projects, prioritize and implement them based on a company's business goals and/or the scope of work.  
Challenge 2: Lack of digital talent  
Digitalization requires tech-savvy employees who will be able to implement latest technologies in a company's processes. However, A&D companies experience certain talent challenges these days, which inevitably affect aerospace engineering, too: 
reaching the age of retirement by a significant number of employees; 

the need for reskilling existing engineers and other specialists, which takes a while;

inability to hire new talent quickly enough due to increased competition for digitally capable workforce.  
What should be mentioned separately is the difference between older and younger generations' approach to engineering. Older technical workers rely more on knowledge acquired through years of on-the-job experience, while young engineers are more tech-savvy but lack real-world problem-solving experience. 
These factors create significant roadblocks for aerospace engineering companies' digitalization.  
Possible solutions
The following measures can help aerospace engineering companies build technically capable workforce. 
Facilitating the upskilling and reskilling of the current workforce. For example, this can begin with training people who already have some digital skills but have non-digital roles.  

Establishing partnerships with universities that graduate aerospace engineers as well as with research institutions for reskilling existing employees. 

Finding new approaches to attracting talent: e.g., inspiring and motivating young talent with exciting tech projects (creating supersonic or autonomous aircrafts), increasing leadership involvement in talent management, etc.  

Giving priority to diversity, equity, and inclusion in hiring and talent management. [4; 5]
Challenge 3: Resistance to change 
Resistance is a natural human response to any changes; and leadership should be aware of this fact and by no means ignore it. The digitalization process involves the change of established work routine and may become a serious stress for the existing employees and even be considered by them as a threat. And that's not without a reason. 
They may fear that digital technologies will replace their work, and the company won't need them anymore.

Changes in employees' work routine always come with uncertainty and corresponding stress: "Will I cope with my new responsibilities?", "How hard will I have to work?", etc.

Change is about leaving people's comfort zones, and according to the

research

, less than a third of frontline employees like taking risks and leaving their comfort zones. Therefore, embracing change is psychologically difficult for the majority of workers. 
The degree of employees' resistance will depend on a number of factors: e.g., how long they've been working for a company, their age, the scope of changes, the character of communication and relationships between leadership and employees, etc.  
Possible solutions
Of course, each company should develop their own solutions to overcome employees' resistance, but let's outline some generic rules. 
Explain the benefits of digitalization for your company and its employees.

Provide each employee with a detailed explanation of how their work and responsibilities will change as a result of digitalization.

Facilitate training of employees so that they can acquire necessary knowledge and skills for work in the digitalized environment, which will increase their confidence. 
Read more: Change Management Best Practices: Overcoming Pitfalls of Change Implementation
Challenge 4: Data security 
Digitalization involves handling large volumes of data, transmitting it through networks, and increased connectivity, which makes companies vulnerable to cyberattacks. For example, the application of IoT involves active use of digital connections to retrieve data and manage equipment. All other technologies also become a growing source of cyber risks [6]. In addition, phishing and social engineering targeted at ordinary employees can be effective for getting access to sensitive data. 
What is secure today, can be not secure tomorrow, which makes it more challenging to protect data against the threats. The consequences of cyberattacks can be really devastating for companies, so, the connected, intelligent, autonomous business needs pervasive cyber resilience. 
Possible solutions
Here are some useful tips on improving cybersecurity.  
Take a comprehensive approach to cybersecurity. 
Cybersecurity involves a variety of solutions – network, application, endpoint, content, cloud and wireless security solutions. Being combined, they create strong protection against next-level threats.  
Communicate with partners and other industry professionals.
Companies should be aware of the latest trends and news in the sector as well as share knowledge with each other to maintain proper security level across organizations of the domain.    
Make sure that employees are aware of cyber risks. 
Training people will enable them to recognize some threats (e.g., suspicious emails) and know how to handle them. Otherwise, they will remain the weakest link in the cybersecurity system. 
Perform "whitehat" security evaluation. 
A whitehat evaluation simulates hacker's attack on a website or network; it aims to detect vulnerabilities and weaknesses in them so that a company can protect them properly against "black hat" hackers. [7]
Key Takeaways
Digitalization allows aerospace engineering companies to create their products faster and with less cost thanks to the engineering process optimization.

Aerospace engineering uses artificial intelligence, digital twin and digital thread, IoT, additive manufacturing, and other technologies to improve its processes. 

The main difficulties that companies face when embracing digitalization are as follows: the high cost of the process, lack of digitally capable workforce, people's resistance to change, and cyber risks. However, these challenges can be successfully addressed thanks to a comprehensive approach that requires setting the right priorities in the digitalization process as well as change, talent, and cyber risk management.        
References