Information about competences and attributes of every employee in a company and their levels is saved in a User Card.
Data about the competences and attributes required for task completion is kept in a Task Card.
Competence & Attribute Management
Have the Right Resource Doing the Right Task at the Right Time
The Competence and Attribute Management feature as part of resource management in Epicflow software has been designed to simplify resource allocation in multi-project environments and make it more efficient. It assists in managing multiple projects with a shared resource pool as it automatically finds a perfect match for completing project tasks based on the required expertise (skills) and attributes (e.g., geographical location).
Add as many competences and attributes as you need and ascribe them to users and tasks. Epicflow will use this information to help you assign the right employee to the right task.
Resource Allocation Advisor
Make Sure to Choose the Best Resource for a Task
A Resource Allocation Advisor lets you easily define the perfect assignment by the color:
The green color

shows the best resource for the assignment, which means that this employee has the same competence level and attributes that are required for the task.

The orange color

means that the resources have the necessary competences, but they're at a lower level than required by the assignment.

The red color

shows an inappropriate resource for the assignment, meaning that this employee doesn't have the necessary competence.

The blue color

shows overqualified resources: the ones whose competence level is too high for the assignment.
The battery sign to the right of a resource shows their availability. The green battery means the resource has enough time to cope with the task, while the red one warns you about the lack of resource availability. Everything necessary for flawless resource allocation at hand!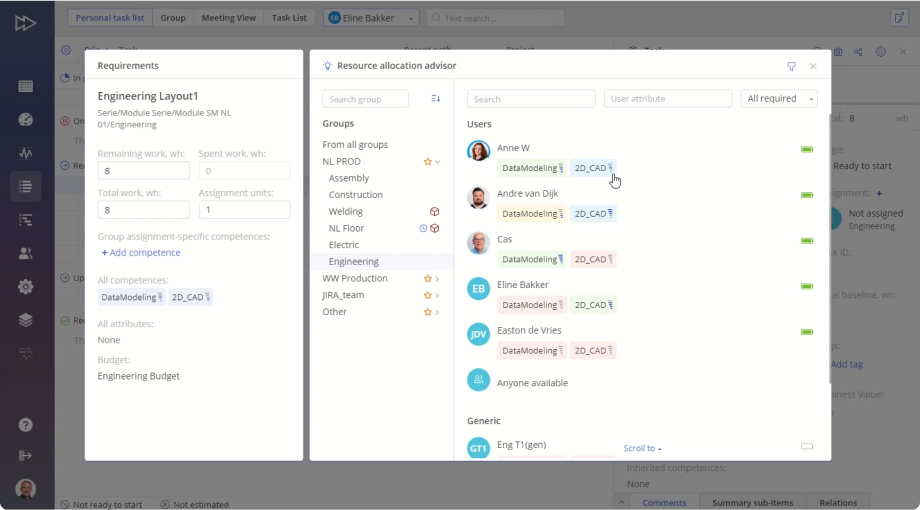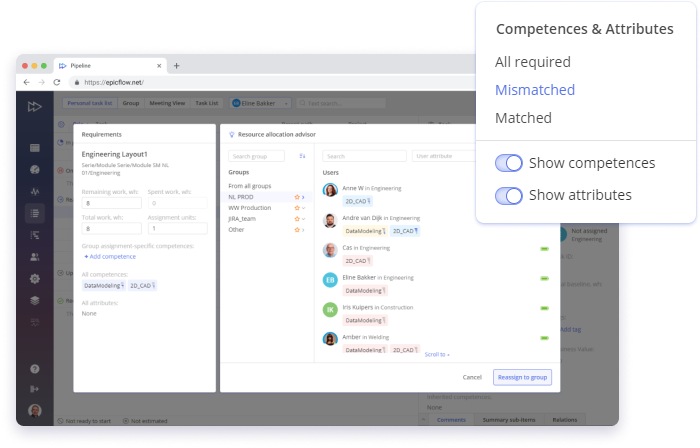 Use filters to find the best resources for the assignments:
All required (shows the users' competences that match the skills and levels required for the task completion),
Matched (shows only the competences that coincide with required (even if the competence level doesn't correspond),
Mismatched (shows the competences that don't match or their level doesn't correspond to the required ones), and
Hide competences.
If a task that requires certain competence is assigned to a group, the system creates a hierarchy of resources: the best one is at the top of the list, and the worst one is at the bottom.
With the Competence and Attribute Management feature of Epicflow, you can be sure that the right resource works on the right task and make your resource management effort bring maximum outcomes.