Allocating the right resources to the right tasks at the right time is not an easy task. But if you have a dozen or even dozens of projects in the pipeline, the complexity of this task increases exponentially. 
What do you need to know to allocate resources efficiently in a multi-project environment and utilize their potential to the full? Let's figure it out in the article.   
Resource Allocation in Project Management: Definition and Importance
In a nutshell, resource allocation is the process of assigning employees to project tasks based on their skills, availability, and capacity as well as the distribution of material resources (equipment, facilities, tools) across project tasks. Resources are allocated efficiently when the right people work on the right tasks, while employees' workload remains balanced – they are neither over- or underloaded. 
Read more: 5 Signs of Bad Resource Allocation and How to Improve It with a Resource Management Solution
What are the benefits of efficient resource allocation?
It optimizes resources' workload, as their capacity and availability are taken into account, which in turn reduces risks of employees' inefficiency as a result of overwork or idleness.  

It increases people's productivity: when they work on tasks that fully correspond to their skills and capacity, they deliver much better results. 

It contributes to the optimization of project costs: first, because there are fewer chances for unplanned expenditure on project resources; second, because

people who work at their available capacity can increase a company's revenue

. 

Finally, efficient resource allocation and utilization is a sound basis for successful project delivery and customer satisfaction. 
As we stated earlier, proper resource allocation can be rather challenging in a multi-project environment. Let's explore the most significant hurdles in this process. 
Resource Allocation Problems in a Multi-Project Environment
Challenges with allocating resources to multiple projects are caused by the complexity of a multi-project setting. In addition to employees' capacity and availability, a resource manager should take into account such factors as dependencies between projects and their tasks, resource conflicts, and overlapping due dates. So, what are the main roadblocks on the way to optimum resource allocation? 
Changing requirements
Uncontrolled changes to a project's scope negatively impact the whole project workflow, which in turn can affect other projects because of dependencies between them. If changes result in adding more tasks to the scope of a project, it can lead to overallocation of resources, i.e., a resource will be given more tasks than their actual capacity is. In turn, if an overwhelmed employee is engaged in several projects, all of them will suffer from his or her inefficiency as a result of overload.     
Resource conflicts 
In a multi-project setting, the number of projects and tasks can be increasing, while the number of resources remains the same. As a result, one employee can be required for several projects at the same time, which becomes a significant roadblock for efficient resource allocation. 
Office politics
Sometimes, resource allocation decisions can be negatively affected by office politics: for example, when resources are assigned to projects that have lower priority, but serve the interests of some influential groups in a company. Consequently, more important projects become understaffed. 
Uneven distribution of workload 
During the resource allocation process, it may turn out that due to resource and task dependencies between projects, some employees are heavily overloaded at a certain period of time, while others remain idle waiting for further assignments. In both cases, the team members are inefficient. 
Too large amount of data on employees' skills, capacity, and availability
To make efficient resource allocation decisions, a resource manager has to keep the information on each employee's skills, capacity, and availability at hand. In addition, this data must be regularly updated. When there are hundreds of resources working on numerous projects, finding the necessary employee quickly is next to impossible. 
Uncertainty 
Every project is accompanied by uncertainty, which inevitably complicates the resource allocation process. For example, you cannot know beforehand whether a critical employee falls ill at the time he or she is most needed for a project, and how it will affect the other projects.   
Read more: Fighting Uncertainty in Project Management: Arm Yourself with the Right Tool
Efficient Resource Allocation: Key Drivers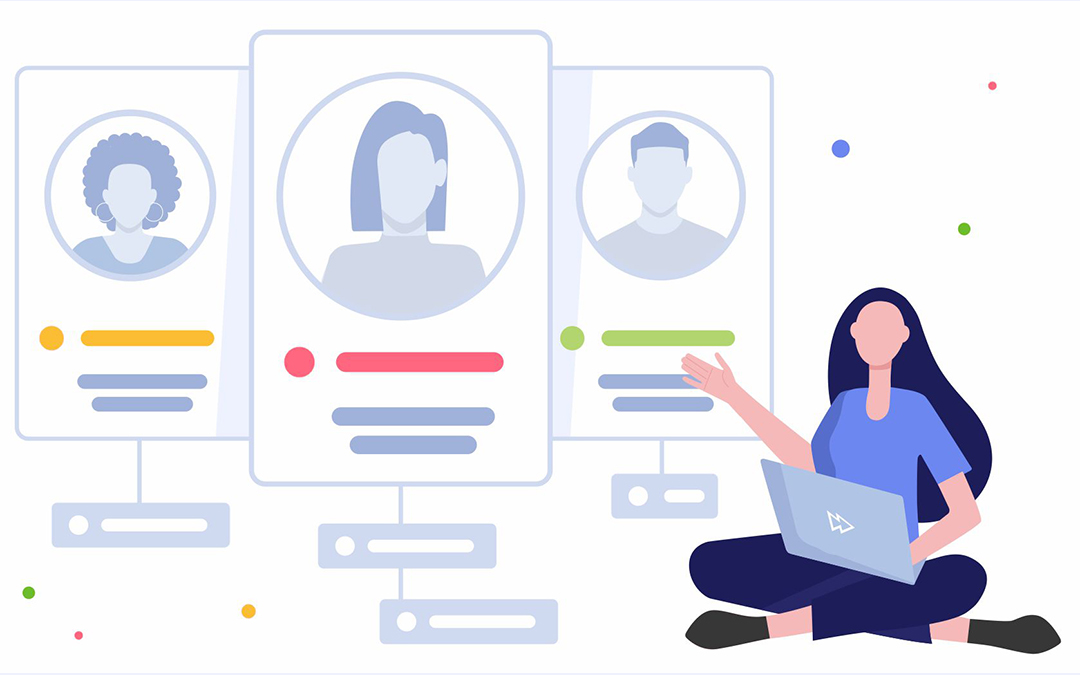 Plan your resources' capacity
Resource capacity planning aims to make sure that there are enough employees to complete current and upcoming projects. When you're going to assign project tasks to people, the first thing you need is to find out if you have enough employees to staff projects, and if there's a gap between available and required resources. And if so, you should decide how to bridge this gap: hire or outsource new employees, retrain the existing ones, apply resource management techniques, or even postpone this project for later. This will become the basis for the resource allocation process, which is especially relevant for a multi-project environment.  
Read more: Resource Capacity Planning: What, Why, and How
Encourage employees' upskilling 
If employees have multiple skills, they can be assigned to a wider variety of tasks and become interchangeable in certain situations. In a multi-project environment with a limited number of resources, it's a great virtue. Hiring new employees is costly and time-consuming, so in some cases, it's much better to invest in people's professional development, which will provide a project or resource manager with wider resource allocation opportunities.    
Apply resource leveling when necessary
As stated in the PMBOK Guide, "Resource leveling is a technique in which start and finish dates are adjusted based on resource constraints with the goal of balancing the demand for resources with the available supply." It means that if you have resource conflicts, you should adjust the project timeline in accordance with the availability of a critical employee. The project duration can be either extended or shortened depending on the situation. If it's impossible to extend the project's timeline, a resource manager can apply the Fast-Tracking method, according to which interdependent tasks can be performed partially simultaneously rather than consecutively (a team member can start work on the next task after two-thirds of the previous one is completed). Therefore, resource leveling optimizes resource allocation and increases the efficiency of work on projects.     
Read more: Resource Leveling: How to Optimize Resource Allocation and Utilization
Harness the potential of resource management solutions: Epicflow example
Modern project and resource management solutions make it much easier to juggle all company's projects and necessary resources. In a multi-project environment with project interdependencies and a shared resource pool, it's impossible to allocate resources without the assistance of a resource management tool. To ensure a seamless resource management process, an effective resource management solution should have the following functionalities: 
Automatic prioritization of projects and tasks and recalculating priorities in response to changes in the project environment;

Giving insight into every employee's skills, capacity, and availability;

Facilitating team collaboration;

Providing grounds for informed resource allocation decisions according to employees' skills, capacity, and availability;  

Monitoring team members' historical output; 

Forecasting resource bottlenecks based on historical and real-time data;

Proving basis for employees' workload optimization. 
The aforementioned and other functionality is available in Epicflow, a multi-project resource management solution that has been designed specifically to address the challenges of a multi-project context. Its project and resource management features facilitate maximum efficient resource utilization and smooth project flow, while its predictive capabilities make it possible to detect bottlenecks before they cause troubles to the workflow. Let's explore how Epicflow's functionality works for the resource allocation process in a multi-project environment in more detail. 
Quick access to all the data on employees' skills, capacity, and availability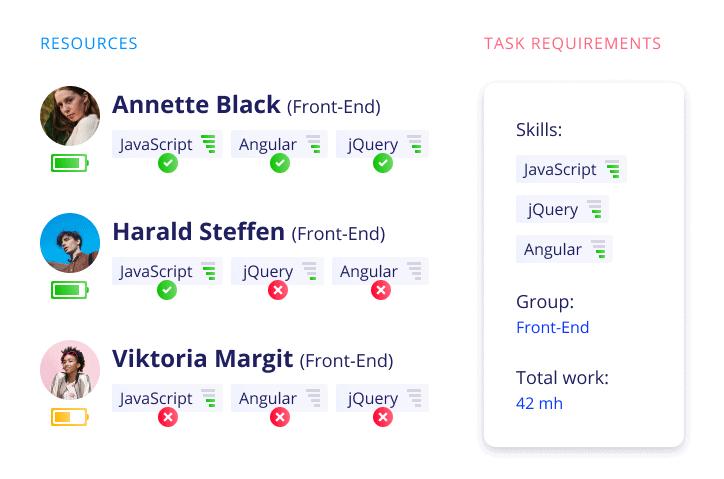 To make the right resource allocation decisions, a resource manager has to take into account team members' skills, capacity, and availability along with their experience in doing similar projects before and other attributes (e.g., location). Epicflow keeps all this information so that a resource manager working in a multi-project setting can quickly and easily find a perfectly matching resource for completing a project task. What is more, Epicflow's resource allocation advisor can automatically suggest the right person to assign to a task based on either historical data or a person's competencies, capacity, and availability.         
Forecasting resources' capacity to avoid future bottlenecks
To allocate resources properly in a multi-project environment, a resource manager should first of all make sure that the employees have enough capacity. Otherwise, you can assign too much work to your team members and overload them, which will result in bottlenecks that will negatively affect other projects in the environment. Epicflow's Future Load Graph forecasts people's future capacity and workload so that you can take timely measures to avoid bottlenecks and ensure effective resource allocation and smooth workflow.
Running simulations for addressing resource allocation challenges
Sometimes, there can be some challenges in the resource allocation process, e.g., resource conflicts and overload. A resource manager should decide on the ways of addressing these difficulties, but how do they know that their decision will change the situation for the better? This is where Epicflow's What-if Analysis becomes really helpful. In its simulation mode, you can set different parameters, try out various scenarios (e.g., adding or reassigning resources, moving milestones or the due date, etc.), analyze their effect, and come up with the most reasonable decision.  
Integrations with human resource management systems
When assigning resources to project tasks, a resource manager needs relevant information on employees' absences (days off, sick leaves, training, etc.). Otherwise, there's a high chance of assigning an unavailable employee and creating a bottleneck. Large organizations usually use centralized human resource management systems that keep all this information. Epicflow integrates with the HRM systems, so when allocating resources in our system, a resource manager can be sure that availability and capacity data are always up-to-date. It saves time and significantly simplifies the resource allocation process.   
Prioritization for maximum efficient utilization of shared resources across the project portfolio
Determining priorities is the first step toward achieving resources' efficiency, their efficient utilization, and successful project completion. When you manage a project portfolio, you will hardly be able to complete all its projects successfully with limited resources without project prioritization and assigning critical employees accordingly. Epicflow's portfolio management functionality will help you assign resources to the highest-priority projects and postpone the lower-priority ones based on employees' capacity. As a result, you'll be able to complete more projects on time without overloading the team members.   
Want to know more about streamlining the resource management process with Epicflow? Book a call with our expert.