Are you thinking of hiring a resource manager but would like to learn more about the ways they could contribute to your projects? Or maybe you're thinking of becoming a resource manager but not sure if it's the right choice for you? 
Read further to get a comprehensive idea of this job position and how resource managers can assist with successful delivery of your projects.  
The job of a resource manager is still not as common as a project manager's, but just the same important: apart from allocating the right resources to the right tasks at the right time, a competent resource manager's efforts can improve the overall project flow, keep employees' load balanced and prevent them from burnout, overcome resource shortages, and ensure that all the projects running in a company are staffed with perfectly matching employees. 
A Resource Manager: Job Description
A resource manager is the one who helps project managers with planning and allocating resources for a project; determines an organization's demand for resources and ensures its capacity to meet staffing needs of projects; assigns employees to a project's tasks; and participates in the hiring process. 
Resource managers are usually required in fast-growing companies or mid-sized and large organizations with distributed teams and an increasing number of projects.  
Having reviewed job descriptions for a resource manager's position on LinkedIn Jobs and employment web sites (Glassdoor, ZipRecruiter, Totaljobs, SimplyHired), we've come up with the following summary. 
Responsibilities of a Resource Manager
A resource manager usually has the following responsibilities. 
Assigning available employees to projects in accordance with their skillsets, previous experience, and availability. 

Monitoring day-to-day project activities and corresponding resourcing. 

Capacity planning, i.e. making sure that a company's resources have capacity to work on upcoming projects. 

Monitoring and managing employees' workload, utilization, and overtime hours. 

Managing resource conflicts.

Overcoming resource shortages by means of resource management techniques, reallocating resources, assigning more staff, etc; informing senior management of any issues related to inability to meet clients' needs due to resourcing. 

Providing project managers with support when it comes to resource management issues or improving resource management processes.  

Knowing all the current and upcoming projects run in an organization and business development activities and being able to plan resourcing accordingly.  

Collaborating with the HR department regarding staff training, compensation and benefit planning, payroll administration, and hiring new staff for projects.   

Being familiar with labor laws as well as resource management trends. 

Documenting processes (e.g. weekly utilization report, etc.). 
In simple words, all these responsibilities come down to assigning the right resources to the right projects at the right time to ensure successful delivery of projects. 
And now, let's consider professional and personal qualities a resource manager should possess. 
Requirements to a Resource Manager
A resource manager mostly deals with people, projects, and related processes, so it's important for them to understand project management, business processes, and talent management. Their soft skills are no less important: they should be good at communication, interpersonal interaction, and have good strategic thinking. 
Education
A resource manager should have a Bachelor's degree in human resource management, business, management, or a similar field. 

Taking a project management certification course or similar resource management courses (e.g.

Project Resource Management

) will be a big advantage.  
Experience
Previous experience as a project/resource/HR manager or in the related industry is optional but advantageous.
Skills and competences
Proficiency in human resource and project management,

Ability to use technology (analytics tools, CRM, PSA or resource management software),

Knowledge of applicable labor laws,

Ability to prioritize and manage multiple tasks efficiently,

Critical thinking, analytical and forecasting skills,

Conflict-resolution and problem-solving skills,

Flexibility and good decision-making skills,

Managerial and time-management skills,

Interpersonal interaction skills (effective communication, negotiation, collaboration, the ability to be diplomatic and stand one's ground). 
Read more: What Do Companies like Apple, Amazon and Google Look for in Project Managers?
Sometimes, there is a misconception concerning the roles of a project manager, a resource manager, and a human resource manager. So, in the next section, we'll consider how these job positions differ from each other. 
What Are the Differences Between a Resource Manager vs Project Manager vs HR Manager?
Look at the table below with a brief description of these jobs to understand the difference between them better. 
| | | | |
| --- | --- | --- | --- |
| Criteria  | Resource Manager | Project Manager | HR Manager |
| Operation area | The whole organization | A project or multiple projects | The whole organization |
| Deals with | Resource planning and allocation, ensuring optimal utilization of a company's resources, managing employees' skills, supporting PMs in terms of resourcing | Project planning and scheduling; estimation of project scope, budget, and time; risk management; stakeholder management  | All employee-related issues (recruitment, training, engagement, compensation and benefits, etc.) |
| Goal | Ensuring the projects have enough resources to be delivered  | Delivering projects on time and within budget | Managing a company's workforce |
Thus, the main difference between these three job positions is that a resource manager deals with employees (and sometimes equipment and facilities) as resources for projects, a project manager is responsible for delivering projects on time and budget, and a human resources manager interacts with employees as the whole organization's workforce. Notably, a resource manager collaborates with both project managers and human resource managers. 
Read more: How to Start a Career in Project Management: Answers to FAQ
As we've mentioned earlier, a candidate applying for a resource manager's position should be able to work with technology tools including resource management software. Why is this software necessary and how does it help? Let's figure it out.  
Resource Management Tools: Why to Use Them?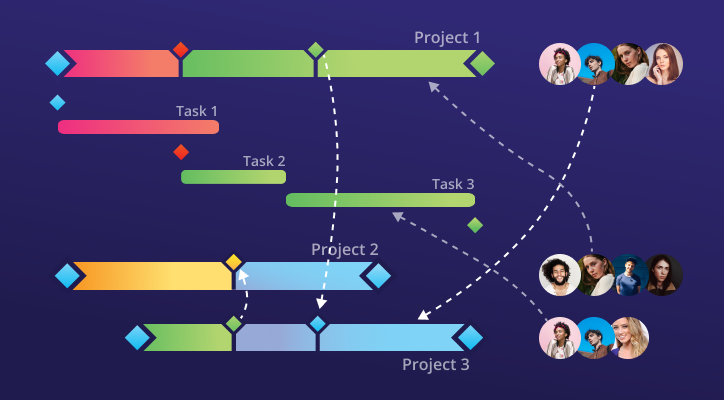 A resource manager comes across various challenges in their work: a lack of skilled resources, ineffective resource utilization, resource conflicts, a lack of project resource visibility, making under-informed decisions on project resourcing, managing resources in a large organization and distributed teams. To address these challenges successfully, it's a good idea to utilize resource management software solutions: they aim to automate routine processes of a RM's work (e.g. creating schedules, compiling reports, etc.), help with monitoring the team's workload and progress, and even assist in making important decisions. 
What should be mentioned separately is managing resources in a multi-project environment that is fundamentally complex and challenging due to the shared resource pool, overlapping due dates, and dependencies between projects and tasks. Let's consider some major resource management challenges of a multi-project environment and how a RM tool can help to cope with them. As an example, we'll describe the features of Epicflow – a global resource management tool that has been developed specifically to meet the needs of a multi-project environment. 
Challenge #1: Overloaded employees
Working in a multi-project environment, employees usually have a significant number of tasks piling up in their to-do lists, which can easily lead to their overload.
Epicflow's solutions 
Prioritization of projects and tasks: due to its prioritization capabilities, the Epicflow system analyzes existing constraints and automatically prioritizes tasks from all the projects of a multi-project environment. So every employee will focus on the most important assignments and avoid bad multitasking, overload, and their negative consequences. The list of prioritized tasks available to both a resource manager and every team member is presented in the

Task List

. 

Upfront overload prevention:

Future Load Graph

shows employees' workload in the future depending on their current tasks. Analyzing this graph, a resource manager can allocate resources in such a way that the team members won't be overloaded.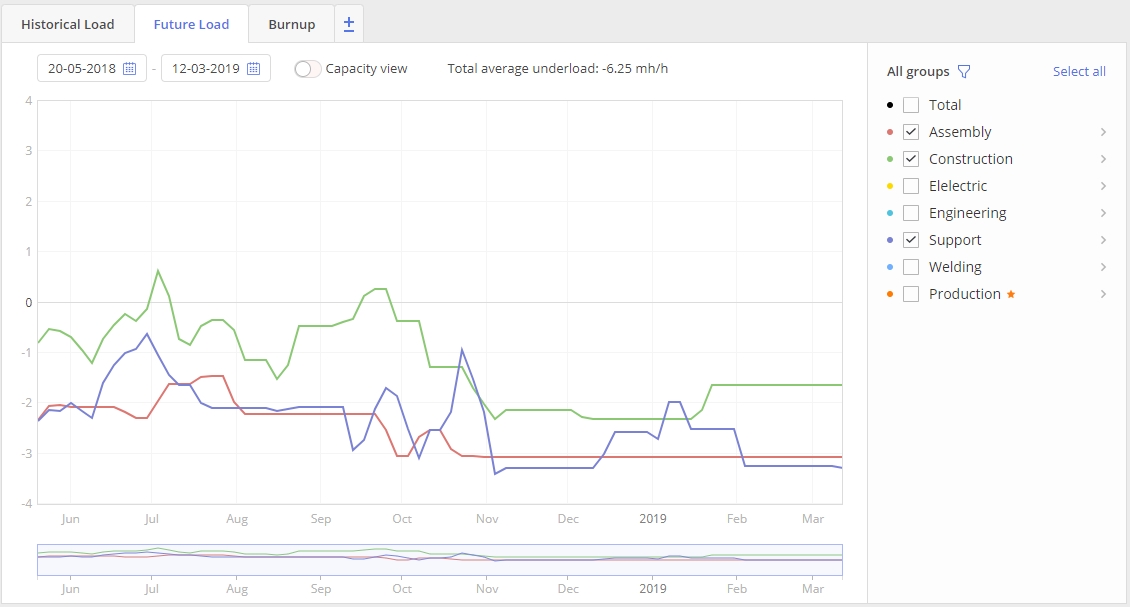 Challenge #2: Resource shortages
First, it's a typical challenge of fast-growing companies, where the number of projects is increasing, while hiring new employees takes more time. Secondly, due to shared resources, an employee or a resource group can be required for several projects at the same time, and assigning them to the highest priority project will make them unavailable for the other ones. 
Epicflow's solution: Competence Management
Apart from utilizing resource management techniques, it's important to manage employees' skills. Epicflow's Competence Management functionality provides a resource manager with necessary information on team members' competences, their level, and capacity. This data can be used in the following way: an employee or a group who has capacity can be retrained and assigned to the tasks of employees who have no capacity or help the overloaded group. Besides, this feature makes it easier for a resource manager to deal with siloed and distributed teams, and improves visibility of the resource allocation process.     
Read more: How to Handle the Issue of Slow Recruitment with Resource Management Techniques
Challenge #3: Resource conflicts
Allocating resources when some of them are required for multiple projects simultaneously is a challenging task. 
Epicflow's solutions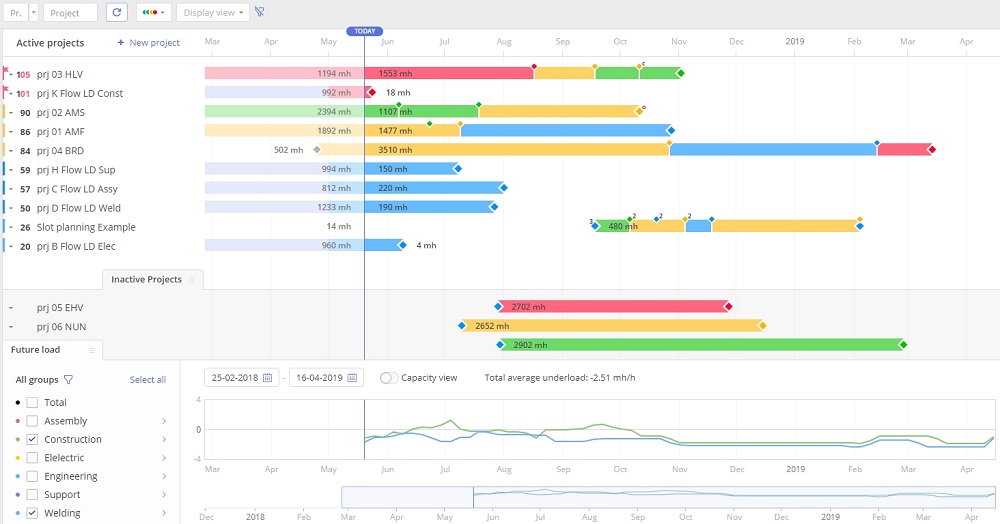 The most important thing in managing a multi-project environment and its resources is correct prioritization. With Epicflow, the highest priority projects are always visible: they are marked with red and given a special number. Besides, it shows which of the milestones are unfeasible and require attention. All this information is presented in the

Pipeline

.    

Previously mentioned Competence Management also works like a resource allocation advisor, suggesting a resource who has required skills and capacity for completing a task.

To make informed resource allocation decisions, a RM can perform scenario analysis that is available with the

What-If Analysis

feature: it allows you to change various parameters and see how they will affect the project outcomes and in such a way to come up with the most reasonable decisions to make the best of the available resources.    
Read more: Resource Management Best Practices: 7 Tips to Consider
Epicflow was founded by the researchers who've been investigating the complexity of a multi-project environment for many years. In addition, it has powerful resource management functionality, which makes it a perfect solution for overcoming a multi-project environment's pain points, including resource management challenges.
If you'd like to explore the ways Epicflow can improve resource management processes in your organization, you can contact us and book a demo.