The distribution of work between humans and machines will experience a significant shift between today and 2022 according to The Future of Jobs Report by the World Economic Forum. Up until now, around 71% of all work in such industries as aviation, financial services, automotive, and energy utilities has been performed by humans. However, by 2022, this number is expected to drop to 58%, with 42% of tasks being performed by machines. The question then is the following: What are the skills you need to develop to be prepared for this economic storm and all the digitalization-related trends?
The World Economic Forum has analyzed the current state of affairs in the global labor market to see which kinds of skills are facing a decline in demand and which are experiencing an increase. As you can see in the table below, truly human skills like analytical thinking, creativity, problem-solving, leadership, and emotional intelligence (together with technical fluency) will be in high demand in 2022.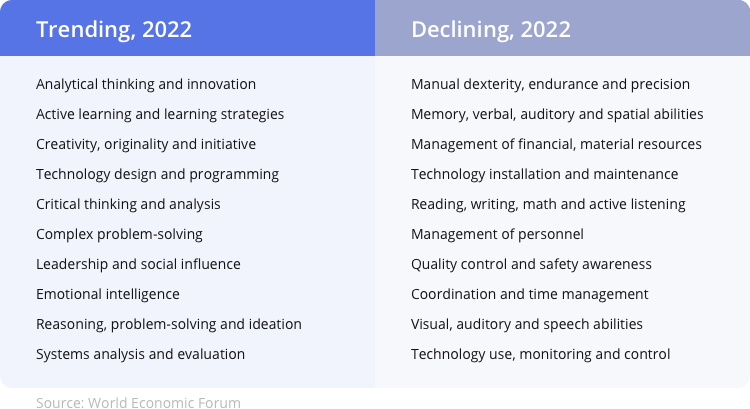 The Future of Jobs Report says that 75 million jobs will be displaced by artificial intelligence, robotics, and automation, but suggests that 133 million new jobs may be created as organizations shift the balance between human workers and machines: a net gain of 58 million jobs. Continue reading to learn about trending skills and our recommendations on how to develop them.
1. Analytical Thinking and Innovation 
Managers and business leaders have been mastering these skills for ages. In 2022, analytical thinking and innovation will be even more important. Continue being a PM innovator and always look for new management ideas and techniques, as it will give you a considerable advantage. To develop these skills, you might consider reading The Analytical Mind by Albert Rutherford, an IT manager who has a bachelor's in theoretical physics and computer science as well as a master's in economics and an MBA. His book will help you improve your decision-making and teach you to notice things others usually miss. 
2. Active Learning and Learning Strategies 
By 2022, no less than 54% of all employees will require significant reskilling and upskilling, and it's good to know how to gain new skills effectively. There are different strategies for active learning. The learning pyramid below shows the difference between active and passive learning and how different learning approaches impact learning outcomes: whereas people remember only 10% of what they read (passive learning), people remember as much as 90% of what they do (active learning).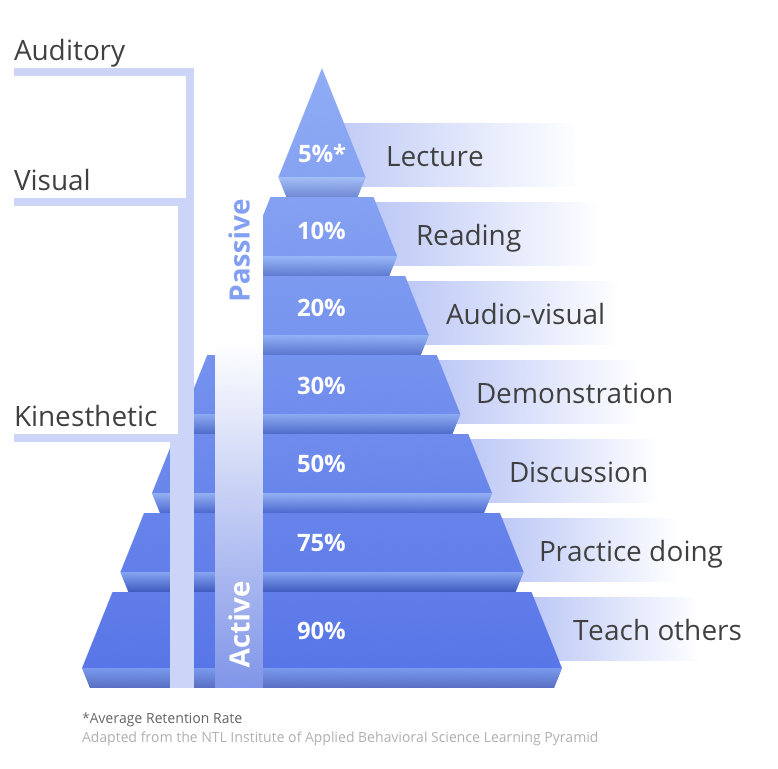 Here are some easy to follow tips that might help you embrace active learning: 
Link new information with things you already know.

Find real-life examples.

Make notes and keep a reflective journal.

Discuss and explain what you're learning to someone else.
3. Creativity, Originality, Initiative
No surprises here, as companies that encourage creativity in their employees "are 3.5 times more likely to outperform their peers in revenue growth." How inventive would you say you are in your work? PMI states that being creative at work will set you apart from people who are reluctant to think outside the box. If you think you're not really a creative person, that's not a reason to get upset, since creativity is something you can develop. To find some ways to boost your originality, consider reading the book The Creativity Formula by Amantha Imber. 
4. Technology Design and Programming 
By the year 2022, being competent with various forms of technology will be a must for employees. Even now, 41% of all projects at enterprises analyzed by PMI for the Pulse of the Profession report are of "high complexity." Knowing what kind of software tools help to deal with complexity, manage project risks, and secure outcomes will determine the success of a company and its projects. Complex projects are common in multi-project environments with many dependencies and – quite frequently – fatal decisions. For managing these projects, consider project management software like Epicflow, which is designed specifically for managing several projects simultaneously.
Read more: Why Multi-Project Management Is Becoming a Necessity
5. Critical Thinking and Analysis
PMI claims that critical thinking is needed throughout the whole project process: at the beginning, to make sure the project is mature enough to begin; during the project, to resolve unexpected issues and make decisions based on real-time changes; and at the end, to gather and analyze feedback on project performance. To develop your critical thinking, you might consider taking an online course. It takes only 12 hours – one month with 3 hours of study a week – to boost your critical thinking with the "Mindware: Critical Thinking for the Information Age" online course by the University of Michigan. Another great course, "Creative Problem Solving" by the University of Minnesota, will take you only 14 hours to complete.
6. Complex Problem-Solving
Effective problem-solving is gaining more importance and will be a foundational skill in 2022. It not only includes dealing with constraints but predicting potential threats and eliminating them. Epicflow clients feel secure and empowered to predict and manage potential bottlenecks in advance. That's because Epicflow software is designed for managing several projects simultaneously. It shows risks and resource constraints that might appear in the future, giving managers the opportunity to fix problems before they become reality. 
[masterslider alias="ms-9-2″]
To get better at decision-making and problem-solving, you should consider one of the bestsellers of our time, Sprint. This book was written by Jake Knapp, who created the Google Ventures sprint process, John Zeratsky, who was a design lead at YouTube, and Braden Kowitz, who founded the Google Ventures design team in 2009. Sprint will teach you how to "solve big problems and test new ideas in just five days." You should also consider watching a presentation for Google Talks where Jake Knapp and John Zeratsky talk about this book:
7. Leadership and Social Influence
Today, leading projects throws new challenges at managers: managing and influencing the group not only professionally but also socially. PMI supports the connection between social influence and leadership: project managers need to shape and influence the social groups they're in charge of and have to consider individual and social factors when striving for success. 
Read more: Top LinkedIn Groups for PM Networking and Social Influence
8. Emotional Intelligence
The term "emotional intelligence" (EI) was coined by psychologists Peter Salovey and John D. Mayer in 1990 and presupposed "the ability to perceive emotions, to access and generate emotions so as to assist thought, to understand emotions and emotional knowledge." The relevance of this skill will only continue growing. PMI says that already in 52% to 70% of cases, employees' comfort in a project environment depends on the emotional intelligence of management. 
The book Emotional Intelligence: Key Readings on the Mayer and Salovey Model by John Mayer will give you a clear idea of what emotional intelligence is and how to develop it. Also, if you're more into online learning, here is a LinkedIn course on how to lead with emotional intelligence by Britt Andreatta, which will help you maximize team performance and catalyze change using EI. 
9. Reasoning, Problem-Solving, and Ideation
These skills are going to be as relevant as they always have been. Project managers are the very people who know how to use available data for effective problem-solving – and those are the skills that can make you stronger in the face of upcoming economic changes and automatization.
Access to real-time progress of your projects is a must, that's why scheduling an Epicflow live demonstration will be a great idea, as this web-based solution gives you a live overview of all projects in one place.  With Epicflow, you will even have the opportunity to predict the future, as its What if simulator helps you test different resource allocation tactics. This way you'll be an even better problem solver!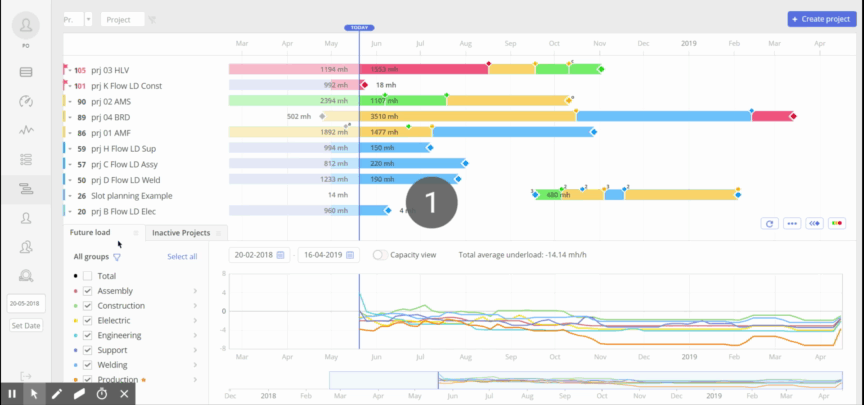 What-If Analysis Feature 
The demand for such human skills as innovation, leadership, analytical thinking, and creativity will only continue rising. Epicflow software for multi-project management will help you and your team take control of the technical part of your projects to make project management easier and give you time to develop your soft skills.