Gantt Chart in Epicflow: Good-Old Project Planning Tool with Enhanced Functionality
Multi-project management becomes super-convenient with Epicflow's Gantt chart: divide your large projects into small manageable items with illustrated dependencies and milestones and easily track project progress.
Discover project schedules, task relationships, and milestones;
Explore subtasks, assignees, progress, and all essential data in one place!
Easy access directly from a Pipeline: choose a project and go deeper into its structure with a single click.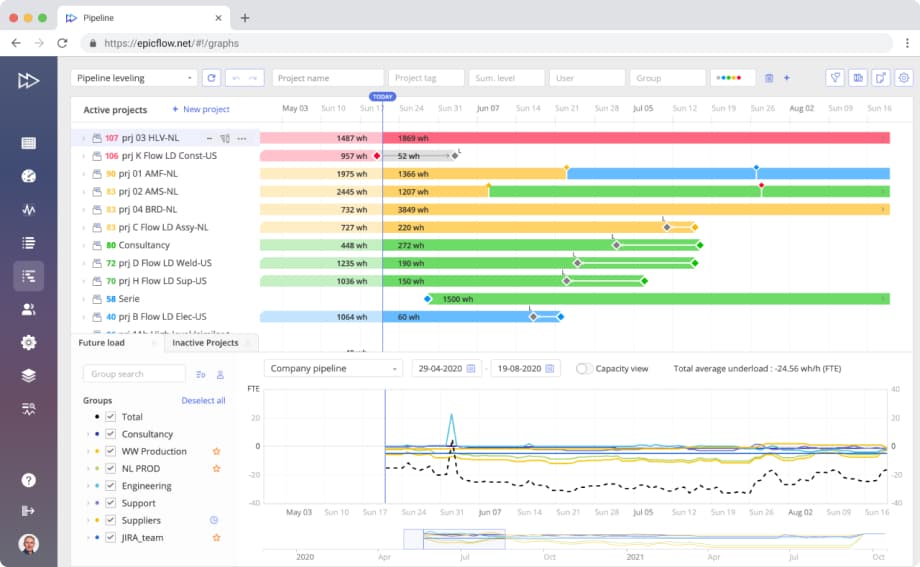 Check subtasks and remaining hours of task blockers in a second: just hover the cursor over the summary-task block and see all related data.
Interactive Epicflow Gantt Chart: Control Your Project Schedule on the Fly
Get a comprehensive project schedule overview from a Pipeline
with an opportunity to
edit your multiple projects' schedules,
set and check task and resource dependencies,
check details about user stories and milestones,
edit stories and milestones,
assign and reassign resource groups,
leave comments,
track progress,
everything in a single place without closing the Gantt Chart.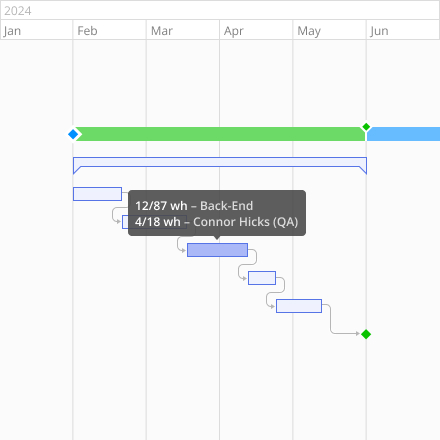 Work in Sprints, Releases, or Phases – Choose the Most Convenient Format for Your Company
If you've ever had experience with Jira, you'll appreciate Epicflow's Scrum approach. We use phases in a Gantt Chart, but you're welcome to work in sprints and releases like in the Jira environment.
hide empty phases in a Gantt chart and make them visible when
you add a task;
choose progress / in progress / completed options for phases;
change the beginning and the end of any phase with drag and drop;
select multiple phases in the same way as choosing multiple milestones;
edit, create, delete, drag-and-drop, and filter data by phases;
monitor all phase-related information (sprints, releases, and backlogs) in a Gantt chart;
filter tasks by "show all", "selected by a date range", and "last 14 days plus future".
Check Dependencies Between
Summaries, Tasks, and Milestones
with Gantt Relationships
Be in the know why some tasks are blocked: check dependencies between project items:
Finish to Start (FS) – the default. The task cannot be started before its predecessor is completed.
Start to Start (SS)  The task cannot be initiated until its predecessor starts, but it may start later. In other words, this dependency is used for a task whose start date depends on the start date of another task.
Finish to Finish (FF)  The task cannot be finished before its predecessor is completed, but it may be completed later.
Start to Finish (SF)  The task cannot be completed before the predecessor starts, although it may end later.