Pipeline
Pipeline gives you a centralized view of multiple projects and their milestones in the system, including ongoing and inactive projects.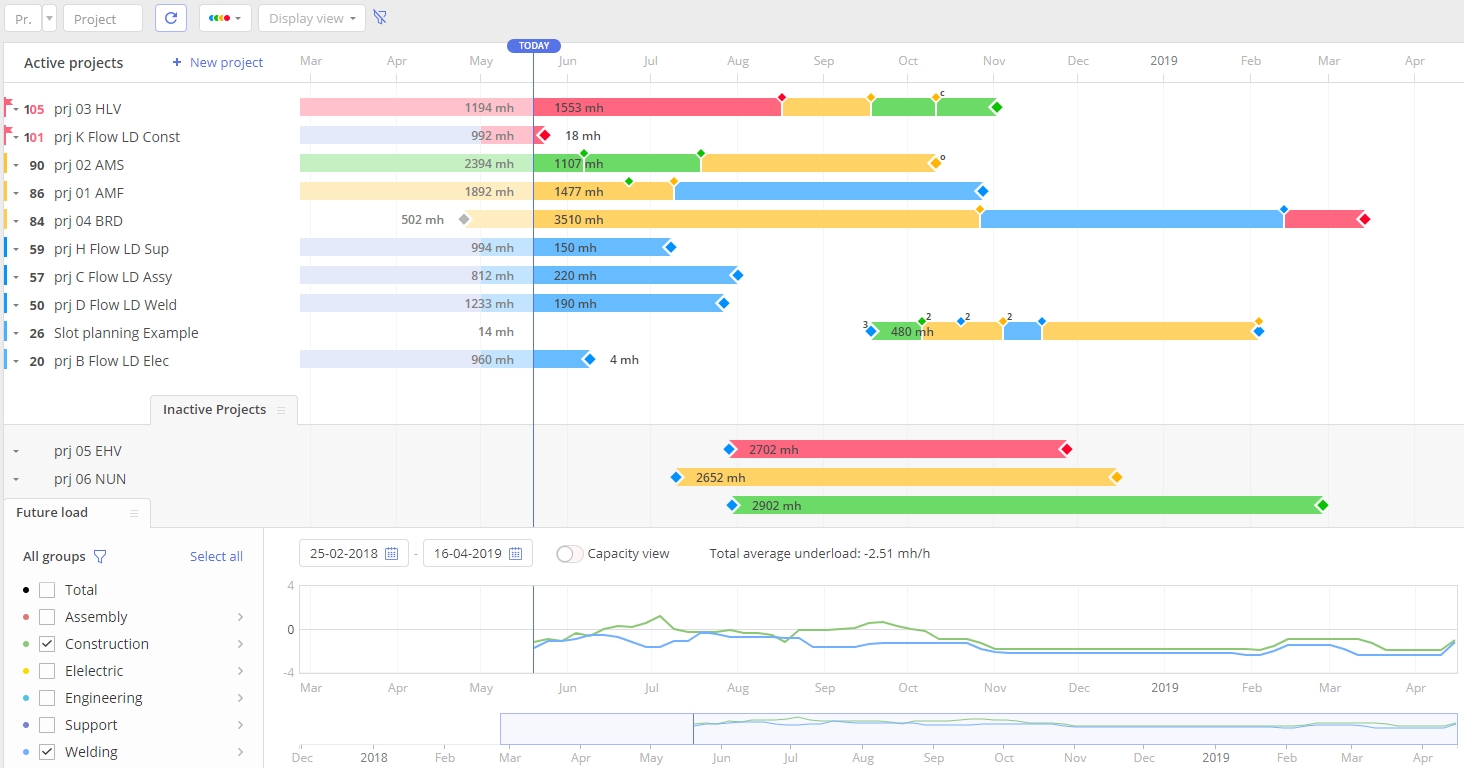 Ongoing projects – projects which the team is currently working on.
Inactive projects – projects which have been imported into the system but are not scheduled yet. I.e. new projects or projects which are currently frozen.
Future load graph – 

shows the load on available resources based on the number of tasks assigned to them. This graph allows Epicflow users to see if their resources will become overloaded in the future and take measures to avoid possible bottlenecks which may be caused by overloading resources.   
If you do any changes, you can go back and move on up to 10 steps to manage them using Undo / Redo function. You can move to a certain period of time in Pipeline to review the workflow and get back to the current date by clicking a "Today" button. 
Use Pipeline filter to focus on certain things: 
Priority
Project name
Project manager's name
Project tag
Text filter
Date range
Assigned groups / resources
Stage
Tag
Summary level depiction
Item Color
Project Priority
Projects in the pipeline are sorted by their priority which is calculated based on CCPM principles. Projects which require your maximum management attention are always on top. The order of projects depends on the changes that happen to your project environment.
The project whose task has the highest priority will be predominant. The project feasibility is estimated by its most constrained milestone.
Thanks to the inter-project relations feature, you can share milestones between your projects for feasible planning.
Buffer
Usually, buffer is time that a PM adds to the end of the project to prolong its execution. In Epicflow, it is considered through the prism of a priority coefficient. It's spare time you have till the end of the project as well as the time you can define yourself. It allows you prioritize projects according to the risk factor.
Use information about time buffer to fight uncertainty by controlling the amount of the buffer consumed.
In Pipeline, you can see red, yellow, green, and blue colors corresponding to the colors of the task with the highest priority for the selected chain. Red is an indicator of unfeasible milestones. Yellow warns about buffer reduction. Green and blue show you're on the right track.
Quick Edit Mode
Quick Edit (QE) Mode was introduced in May 2019 as an MS Project function alternative for making quick project structure edits in Pipeline using either key combinations or a graphic interface. Save your time when creating projects and making edits using this feature. QE mode provides you with the following opportunities:
displaying milestones and their types (cloned or original);

choosing a multi-group option;

undo/redo functions for the Task card opened in the QE mode

;

distinguishing the selected items by color

. 
Automatic and Manual (Customized) Planning
Auto Planning mode suggests automatically calculated priority and duration of all tasks.
Manual Planning mode provides you with an opportunity to replace tasks and summaries on the timeline and change their duration.