Task List
Task List helps your team reach objectives faster and meet deadlines. Epicflow orders tasks by their priority which allows your team to focus on the most important things and increase output by eliminating bottlenecks and unblocking resources.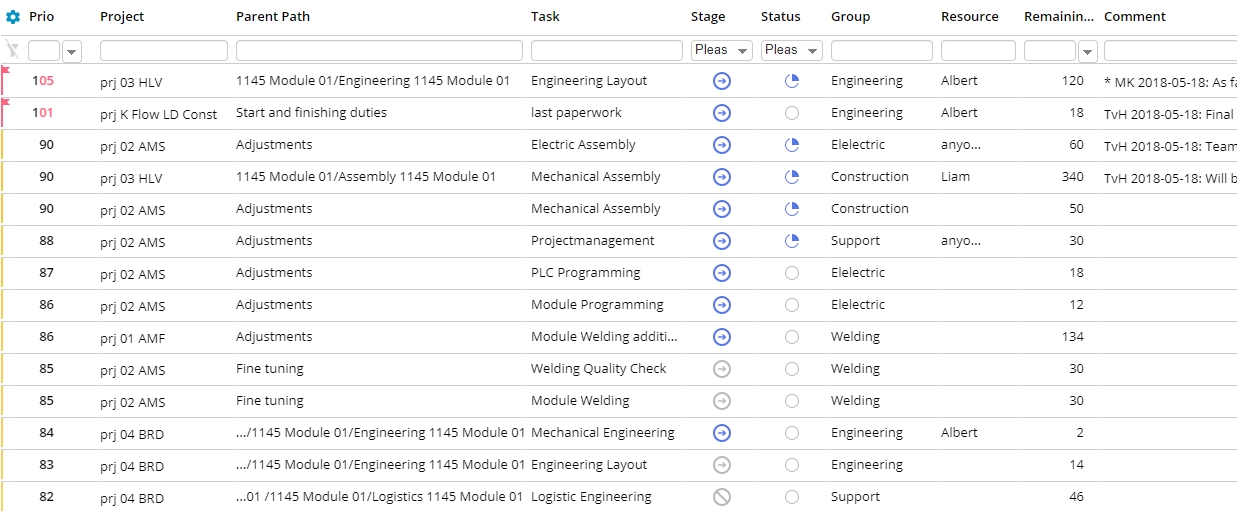 Task List Features
Task Priority 

– 

indicates how urgent a certain task is by displaying numbers ranging from 0 to 100. Numbers above 100 show the number of days that the task is delayed on. 

You can also change a priority coefficient manually.

Project Name 

–

 shows the project to which the task belongs
Parent

 

Path 

– 

contains summary description if available
Task Name

  

Stage 

– 

shows whether the tasks are: upcoming, not ready to start, not estimated, ready to start or completed.
In Progress Status 

–

 shows whether the tasks are: not in progress, in progress, on hold or completed. Besides, 

you can choose "Forced ready to start" and "Not in progress" status for any task with a special permission option.

Resource Group 

– 

displays the name of the group to which the task is assigned
Resource Name 

–

 displays the name of the resource to which the task is assigned
Remaining 

– 

shows the number of man hours left to accomplish the task
Comment – comments added by engineers in Epicflow system. You can also collaborate with your team by adding and flagging comments

.

 If you don't flag any, the last added comment will be flagged automatically. 

Material Resources parameter helps to control the consumption of materials. 
Bulk Change for Groups is designed to change one resource group to another for several tasks at the same time just in a click.