Effective resource management is hardly possible without the right tool. Everybody wants clear and reliable real-time insights so they can make informed decisions. Learn how to choose the best resource planning solution for you.
What are the key features of resource management software?
What should you look for in a resource management tool to get scalable, efficient, and predictable planning processes and significantly increase productivity? Industries with multi-project environments can turn a resource manager's life into a real nightmare. Your resource management solution should meet your specific needs and include the following functionality:
Resource planning and scheduling

to allocate resources to projects, taking into account their availability and utilization levels in order to meet your organization's needs and achieve its goals.

Output tracking

to show the performance and workload of your teams.

Reporting and analytics

for real-time insights into project progress.
Resource planning software should significantly improve your current work and future planning with features such as:
A dashboard with an overview of all your projects.

Notifications about that's going on so you can react immediately and predict possible bottlenecks.

A web-based Gantt chart to see your tasks and their dependencies in one simple view.

Diagrams to analyze your teams' progress and compare the load, capacity, and output of your teams.

What-if scenarios to test how changes will impact your costs and your team's capacity.

Task prioritization to optimize project and task priorities.

Color codes to draw attention to the most urgent issues.

Filters to help you sort information according to your needs.   
Resource management software varies in terms of features and purposes, and different software is aimed at different industries. Today, we want to draw your attention to seven remarkable resource planning and scheduling solutions for healthcare, construction, manufacturing, and other complex environments.
1. Acumatica 
Pricing: Pricing available upon request
Trial: Information available upon request
Mobile App: iOS and Android
Acumatica is cloud-based ERP solution with a great number of features tailored to the needs of service industries, manufacturing, retail and commerce, healthcare, and telecommunications. It supports multiple business processes including financial management, customer management, project accounting, distribution management, manufacturing management, field service management, and multi-channel order management.
This resource planning software allows you to monitor your business performance and gain insights into business processes.
2. BuilderEdge
Pricing: From $150.00 per month
Trial: Information available upon request
Mobile App: iOS and Android
BuilderEdge is a project management system with a built-in Gantt scheduler, designed specifically for the construction industry. It's fully automated and customizable, assisting builders and developers in management, project oversight, and assisting in control.
The system is equipped with automatic project notifications and a visual progress dashboard allowing you to track project progress easily. The system is also tailored to manage RFIs (requests for information) and offers automated inspection, defect reporting, and contractor payments. The program integrates with on-site reporting apps, invoicing software, document management tools, and other construction apps and tools.
3. Celoxis
Pricing: SaaS $25.00 per user per month; ON-PREMISE $450 per user
Trial: 30-day free
Mobile App: iOS and Android
Celoxis is software for managing projects, project portfolios, resources, and business processes. Celoxis is available online as a SaaS product or can be used as an on-premise system. This PM software is suitable for mid-sized to large businesses. It allows for capacity planning and utilization tracking. Celoxis also provides opportunities for delegation, collaboration, reporting, and managing project financials.
An interactive Gantt chart helps you to create and efficiently follow project schedules. The system gives project experts an overview of all their projects in one portfolio. Celoxis can be synchronized with MS Project, Excel, Salesforce.com, Google Drive, iCalendar, MS Outlook, and other email clients and is available on Android and iOS.
4. Epicflow
Pricing: Price on request
Trial: Free trial is available after a live demonstration  
Mobile App: iOS and Android
Epicflow solution makes it easy to manage complex multi-project environments. With its excellent resource allocation capabilities, Epicflow empowers companies in the construction, healthcare, electrical engineering, automotive, and shipbuilding industries to increase team output and reduce lead times.
It's empowered with online Gantt charts, what-if scenarios, simulation functionality, and the ability to shift easily from the macro to micro level. This resource management tool balances workload and prioritizes tasks based on demand automatically. Dashboards alert you about actions needed so you can easily identify bottlenecks and save your precious time.
Epicflow integrates with Jira, MS Project, Primavera, and MS Excel.  With the Epicflow Mobile Apps, you can access all updates at the touch of a button. Based on users' feedback, Epicflow was named High Performer by G2 Crowd and put in the Crozdesk list of top resource planning software in 2019.
5. eResource Scheduler
Pricing: From $5.00 per user per month
Trial: Free Trial available
Mobile App: iOS and Android
eResource Scheduler is a cloud-based system to manage various types of resources, including manpower, equipment, and facilities. It's suited for task-level scheduling, project planning, and employee collaboration and includes custom resource types, multiple working calendars, drag-and-drop scheduling, and MS Excel import/export.
eResource Scheduler is tailored for planning and managing resources on projects, jobs, events, and other activities. This people management solution includes features for employee scoring, project and financial reporting, workflow approvals, and cost screening.
6. Forecast
Pricing: From $19 per user per month
Trial: Free Trial available
Mobile App: iOS and Android
Forecast ERP software lets you see who's working on what and view tasks, make allocations and meet deadlines. The system offers automatic project tracking, clear priorities, resource allocation, and other features.  Forecast resource management tool works for companies of different sizes and can integrate with various third-party applications.
Forecast functionality includes Kanban boards, rate cards, budget and forecasting tools, and issue tracking. The system allows you to draw up reports which can be automatically shared with clients and external employees.
7. Twproject
Pricing: From $15 per user per month
Trial: Free Trial available
Mobile App: iOS and Android
Twproject is web-based project management and time tracking software for businesses of all sizes. It helps you plan projects, track time, collaborate with teams and organize and prioritize issues. Twproject also offers cost and document management.
This PM tool allows you to monitor your processes and lets you track task costs, assign expenses, analyze, and create reports. Dashboards and the notification system show you the progress of your tasks and identify bottlenecks.  
If you deal with multi-project environments and complex processes that demand various kinds of resources, then you need to find the best resource scheduling and planning tool.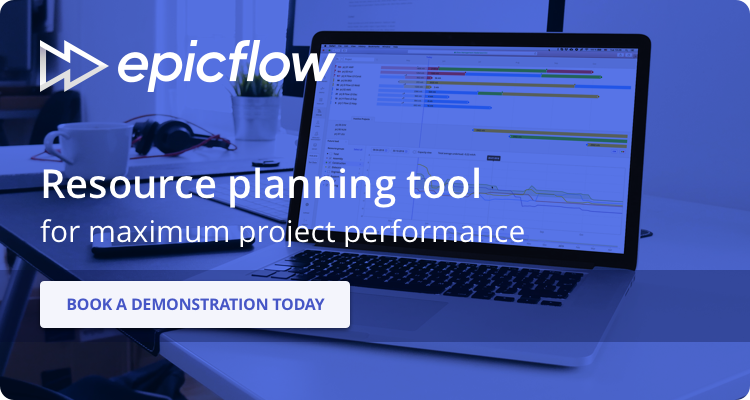 Editor's note: We focus on basic and advanced functionality of resource management tools based on data from Crozdesk and in-house research.