Boosting team productivity should be among the top priorities for industrial manufacturers if they want to meet current technological and organizational challenges. Knowing good ways to increase productivity also gives you a competitive advantage. Have you ever considered resource planning software as a way to increase the productivity of your employees? One of the tried and tested 21st-century methods of gaining productivity is adopting an effective project management tool like Epicflow. Here's a detailed analysis of how Epicflow will help you get more output from your plants with the same number of employees.
Maximizes Resource Scheduling Effectiveness
You probably know how hard it is to get a bird's-eye view of hundreds of employees working at your production facilities worldwide. With Epicflow, you can get a real-time overview from the global portfolio level all the way down to individual tasks. Epicflow is very flexible with organizing resource groups: you can create geographical groups based on people's location and functional groups based on people's role in the company. Resource load versus availability can be viewed per group and per individual resource. Real-time resource allocation helps you stay in control and be aware of what's going on 24/7.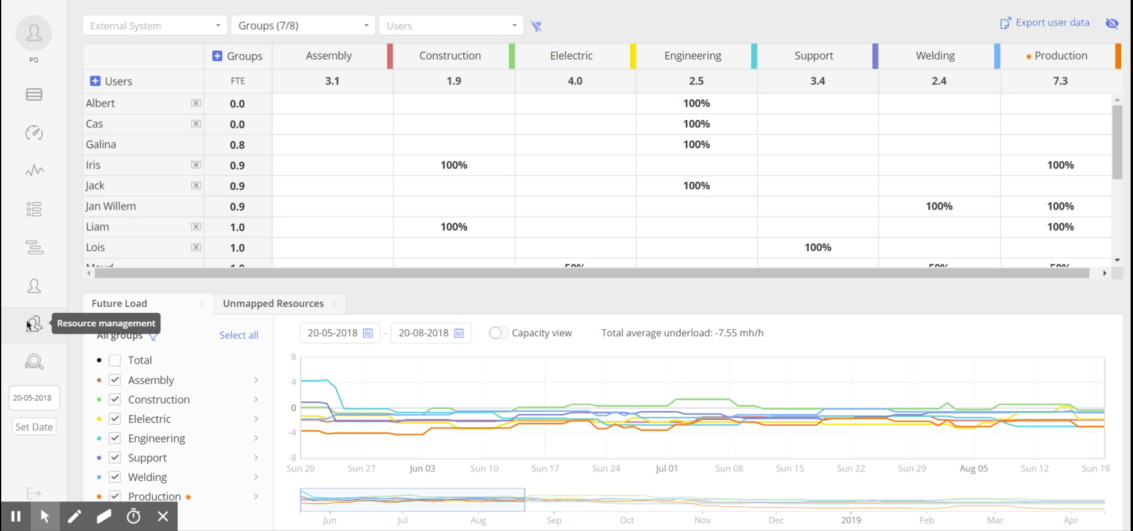 Resource Management Feature
Epicflow can help you boost productivity and get higher output with the same number of employees. This is because the Epicflow software is based on an algorithm that optimizes project scheduling and prioritization. You can generate several scenarios for resource allocation and see the potential impact to find the best solution.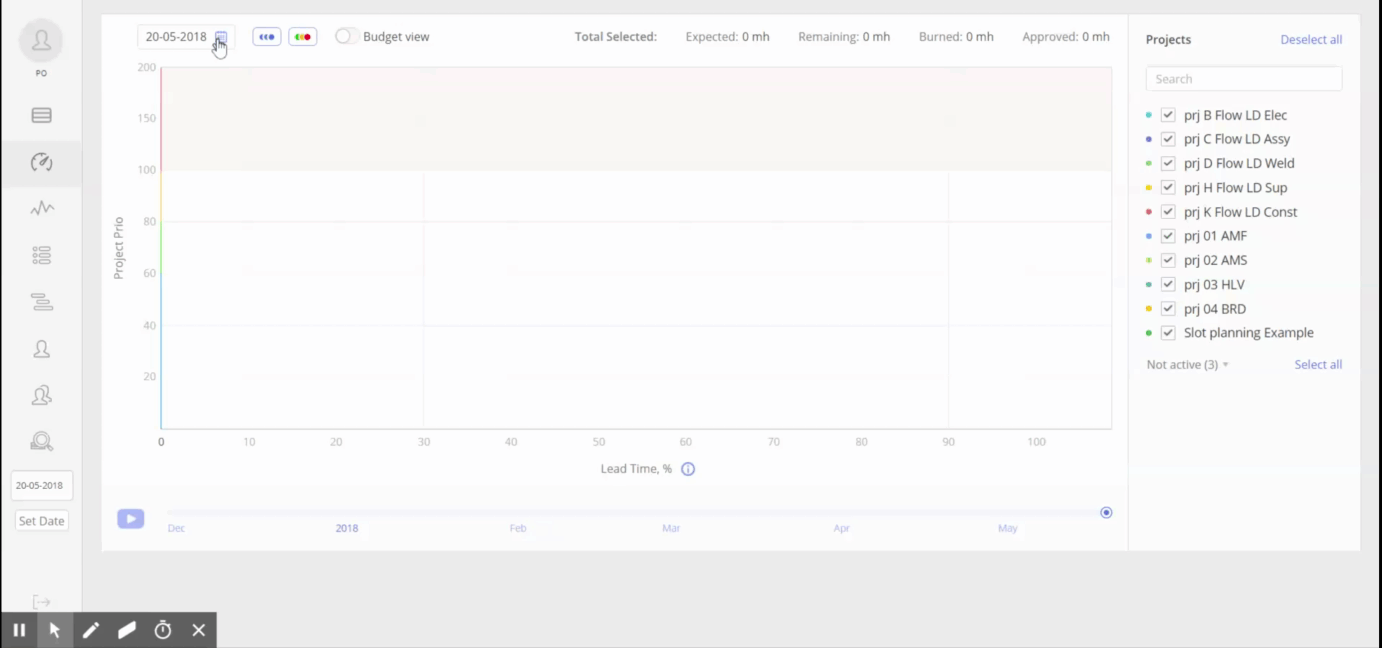 Bubble Graph (gives an overview of project progress)
Bubble graph is a modern dynamic Fever Chart, which shows you project status and progress. Epicflow will alert you before your project is in trouble: for example, in the event of a resource allocation conflict. Furthermore, it has Pipeline graphs, which also gives you an overview of multiple projects and their progress, making multi-project scheduling as effective as possible. With Epicflow, your organization is more flexible, your workflow is more durable, and your time to market is faster.
Eliminates Excess Work
Pushing people to be more productive whatever it takes is not a good idea, since it leads to the opposite outcome: a performance drop. Epicflow helps you make sure everyone in your electric engineering, assembly, construction, support, welding, and production enterprise has an optimal workload which, in our experience, often helps increase team productivity and leads to maximum output. Such features as a Historical Load graph (see below) show you the causality between the workload in resource groups and the output, giving information to help you better manage future team performance. Finding the golden middle is crucial for making employees happy with their work and avoiding complaints about missing deadlines because of excessive workloads.
Historical Load Graph (shows causality between workload and output)
Our experience proves that overload leads to decreased output. This happens not only in the overloaded group but also in many other groups because of dependencies. Jan Willem Tromp, a PM researcher and a co-founder of Epicflow, says that "an overloaded employee is the most dangerous threat PMs can experience, as one person can delay all projects due to cascading dependencies between tasks and resources." So if you want to get maximum performance from your teams, be sure to have an adequate workload and clear focus. Epicflow brings high-priority tasks to the top and makes sure each of your employees knows what to do next. When a team member marks a task as done, the system immediately notices that change and keeps everyone up to date in real time.
Read on: How Epicflow Helps Drive Project Success
Effectively Delegates Responsibility
Creating an effective resource schedule for complex environments is next to impossible if you don't have resource planning software. If you're thinking about how to increase productivity, consider testing Epicflow, which visualizes all of your employees, their availability and workload, as well as their skills and experience so you can choose the best person for the project.
Epicflow is the best project management system, as it aims to efficiently allocate resources and improve productivity. It includes a skills matrix that can be shared among all departments and managed from a central database. This makes it easy to find the most appropriate employee for a task based on skills and availability. The system offers a best-fit resource for open project tasks as well as next-best options.
Epicflow is the perfect solution for a multi-project environment where project leaders manage parallel projects with task dependencies, a shared pool of resources, and strict due dates. Furthermore, it lets you easily find out who is over- or under-allocated.
Read on: How to Overcome 3 Major Challenges in Managing Multiple Projects
Prevents Employee Burnout
Nowadays, as many as 46% of people suffer from stress because of excessive workloads. Having too many tasks and not knowing which to do first reduces productivity. To be more efficient at work and not face physical and psychological burnout, everyone needs a pace to follow and a work structure to stick to. However, when your project is massive and hectic, the situation can get out of your control.
You've probably already stopped yourself and wondered how to prioritize when everything is important. Epicflow software prioritizes tasks for you and your teams, letting each team member know which task they should do first and why. Epicflow can show you the benefits of project management software by setting a clear pace for your employees with the help of its Task List.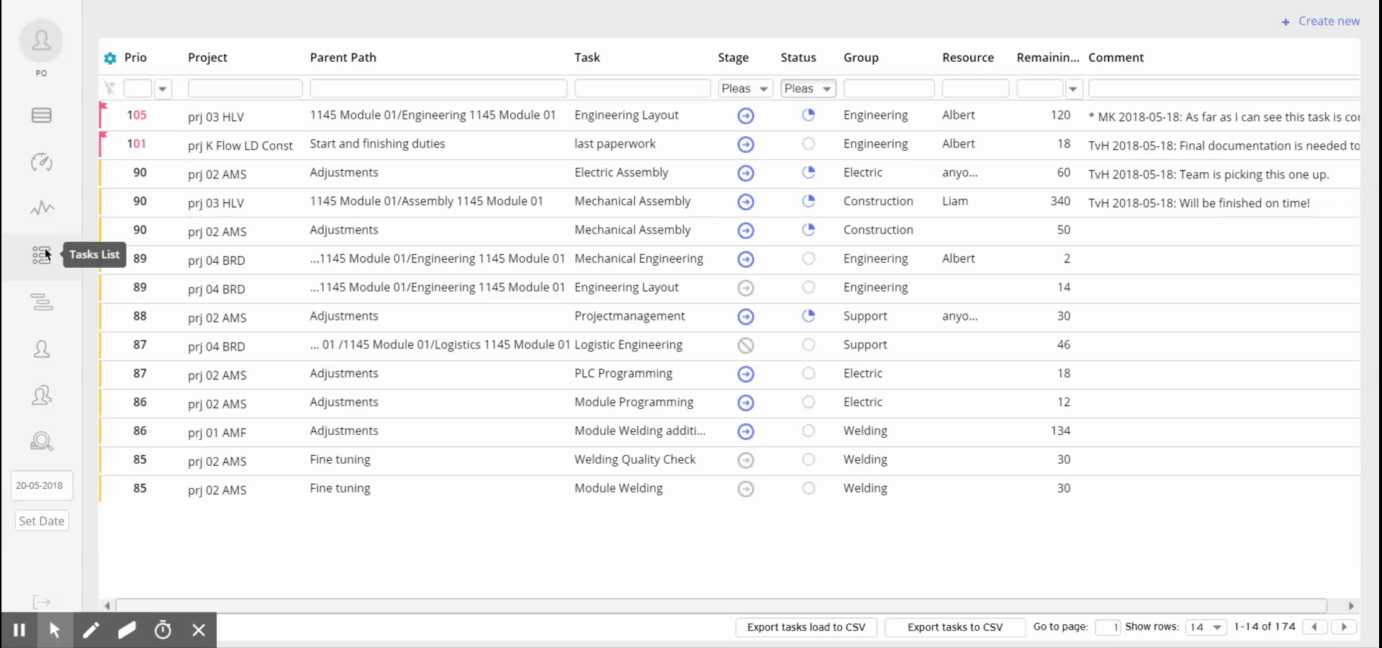 Task List 
The Future Load graph, another great feature of Epicflow, shows the causality between the workload in resource groups and the output, providing information to help you manage teams better in the future. The system replans projects automatically in real time after each data update. The visualization below shows resource group load and the availability of other groups.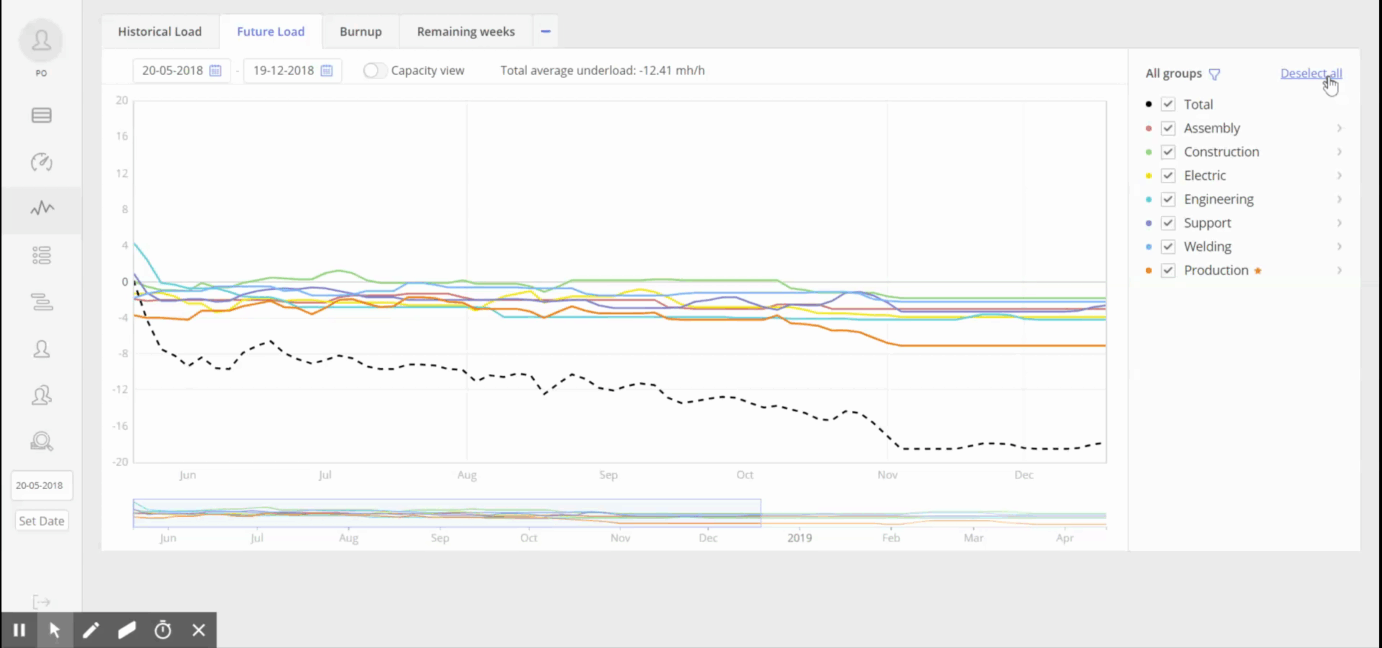 Future Load Graph
You might think that this sounds good, but what can I do when demand is higher than capacity? What are the options? To deal with such cases, Epicflow provides different ways to manage risks with deadlines and lack of capacity. For example, you can put a parallel project on hold, shift resources, or do cross-training. The system will suggest the right candidate for cross-training or part-time assistance based on their capacity, skills, and profile.
Read on: Why Your Team Will Fall in Love with Epicflow Project Management Software
Sets Realistic Goals
When trying to maximize employee productivity, leaders often go too far, expecting too much and setting unrealistic goals. As a result, simultaneous projects fail like dominos, one after another. Unrealistic goals ruin projects even if employees are qualified enough to make them successful. In combination with tight deadlines, a large scope of work is by no means a good way to increase productivity. On the contrary, it lets everyone understand that the project will fail as soon as it starts. In such cases, an online resource planning tool is a life saver. It can set clear, achievable goals and give people a path to successful project completion. With Epicflow, the Pipeline gives you real-time control of all projects in your portfolio, sorted by priority. You can also conduct an impact analysis on the demand plan with Epicflow's What-if analysis, and can include both opportunities and projects in simulations, offering great flexibility to meet customer demands and see realistic delivery dates for new projects.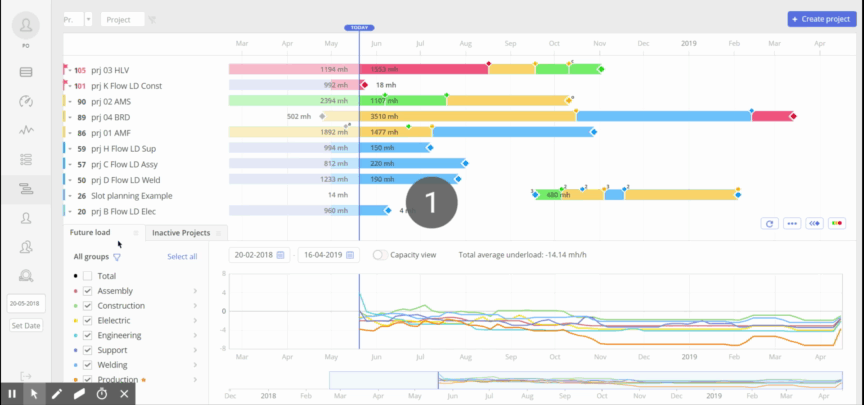 What-If Analysis Feature 
Epicflow integrates data from MS Project, Primavera, and Jira, and can read CSV files to improve resource scheduling efficiency and add analytical value. The system allows project managers to import and consolidate resource pools from multiple departments using different Jira and MS Project instances. Epicflow resource planning software enables your company to improve your current workflow and develop new planning processes. Our clients see over 10% efficiency gains with the help of real-time insights on resource loads and the ability to use resources flexibly to resolve bottlenecks. They also see ROI gains of 2%. 
Are you interested in increasing team productivity and maximizing your product output? Provide your contact information in the form below to request an Epicflow demonstration. Our PM consultants will contact you to arrange a meeting and show you how to achieve the best results with Epicflow.