When a company becomes bigger and gets more and more projects to complete, manual management or tools tailored for single-project management turn out to be inefficient. Both situations can result in your projects' failure and lead to the loss of clients. The statistics prove it by the following figures: 34.4% of the projects are never finished on time, and 40% of projects go beyond the budget. Proper project management can save a lot of money for a company.  
Multi-Project Management Software Features
So what makes a tool for managing several projects in parallel powerful? And what's the difference between single and multi-project management solutions?
To answer these questions, let's comprehend the heart of a multi-project environment. Multi-tasking makes multi-project management so different and difficult as compared to the traditional PM. And it's not a problem in itself, but the prioritization is. Besides, in such an environment, adequate communication and necessary data kept in one place become a must. When you have a bunch of interrelated issues, it's hard to predict the way they'll be tackled and the final result. That's why proper risk management and thorough analysis of project decisions come to the foreground. Summing up, a multi-project management tool should have the following features: 
real-time progress tracking

task prioritization

resource allocation

outcomes prediction 

risk management
We've compiled a collection of multi-project management tools for you to keep an eye on in 2020. 
Epicflow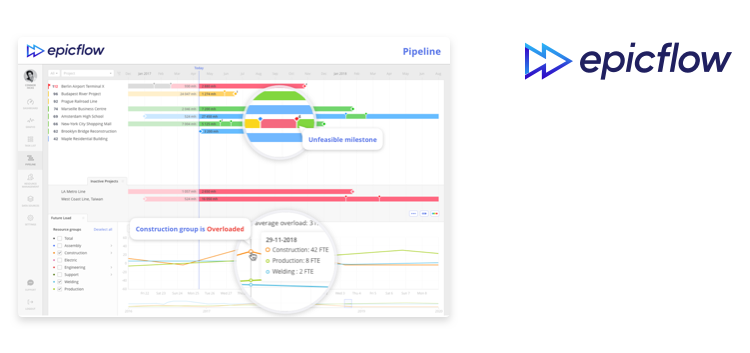 Mobile App: iOS and Android
Epicflow is a software solution that acts as a virtual project manager to administer multiple projects. It has been designed to work in a multi-project environment. A lot of companies operating in different business segments such as automotive, construction, engineering, IT companies, as well as healthcare industry successfully apply this tool to allocate resources; prioritize tasks; track the past, current, and future workload; analyze decisions and predict their consequences, and many other things. Among its new features, there are multi-project relations, where you can share milestones between your projects, the ability to make fast changes in Quick Edit Mode, administer risks using buffer time, collaborate with your team using the comment function, analyze the previous output and improve things in the future using Timesheet. Epicflow integrates with Jira, MS Excel, MS Project, and Primavera. Besides, you can order integration with any other tool if needed.
Asana 
Mobile App: iOS and Android
Asana is a multi-project management tool with a great number of functions for various business areas, from fashion to manufacturing. Its main features are task visualization with boards, scheduling with timeline, real-time workflow tracking with portfolios, prevention or elimination of bottlenecks with the automation function, and resource management as well. It can be integrated with 130 applications including Jira, Slack, Twist, Newton, Google forms.   
Backlog
Mobile App: iOS and Android
Backlog is a software solution utilized to manage several projects at the same time. Its functions involve task and project prioritization and management; team and client communication and collaboration; bug, task, and progress tracking; integration with many standard programs (Jira, Redmine, Slack, Cacoo, Jenkins, etc.). The tool is tailored to satisfy the demands of many industries: IT, Electronics, Transportation and Logistics, and retailing needs. 
ClickUp
Mobile App: iOS and Android
ClickUp is a process, task, and time management program that helps you to run your multiple projects successfully. Its features and functions involve the ability of team collaboration, time and task tracking, resource allocation, templates selection, task prioritization, different variations of the workflow display, bulk rescheduling, and others. Integrations: Google Calendar, Slack, Gitlab, API Docs, Hubspot, Webhooks, and many other tools. 
Monday.com
Mobile App: iOS and Android
Monday.com is a business process, task, team, and project management software solution that can be applied in various fields of business such as advertising, production, consulting companies and more. Monday.com makes it possible to manage your projects using either Kanban, calendar, timeline, or table view. It has shareable boards where your clients can track the progress of their projects. You can use different templates available in Monday.com for client projects, customer tickets, and sales pipeline. It integrates with Slack, Outlook, Zendesk, Jira, Trello, Asana, and many other tools.
Runrun.It
Mobile App: iOS and Android
Runrun.It is a project, task, and team management instrument. It is enriched with the following features: time tracking, making reports, team collaboration, calculating costs, real-time data tracking with the help of Dashboard, and the ability to use project templates. Predicting is performed by the Predictive Burnup chart and RR-Board. It's perfect for IT and consultancy companies, digital marketing and advertising needs. Runrun.It can be integrated with 750 tools. 
Scoro
Mobile App: iOS and Android 
Scoro is a software solution that can help to schedule projects execution, manage resources' time and allocate them, manage clients, and control business outcomes. Among its features, the ability to manage all projects-related data just on a single page is very convenient. You can get a general overview of your total progress and things your team is working on at a certain moment of time. Users also have an opportunity to compare the estimated and real budgets, resolve invoicing issues, get an overview of the sales funnel, and get detailed automatic reports on current results. It integrates with a lot of programs including  Jira, Asana, Trello, Harvest, Xero Accounting, Mailchimp, HubSpot, and many others. 
All software tools described above are worth your attention and have their own peculiarities. So, to choose the right one for yourself, carefully analyze your business needs taking every detail into account. If you want to know more about Epicflow or want to get a free trial, you can book a demonstration.