You'll probably agree that 2020 was tough and challenging, won't you? But despite it, we kept our pace and launched some really useful features and made some great improvements. Besides, our family has grown and we're still looking for talents. Let's have a closer look at what happened to Epicflow in 2020.
2020 Dictates Its Terms: Now We All Work from Home
As the year started with pandemic restrictions, the Epicflow team followed other companies' examples and continued working on the product right from our homes. 
We were concerned about our productivity with regard to new working conditions but in reality, they haven't affected the results of our work thanks to our product. We know that we work on the right tasks as they are automatically sorted out according to priorities, we can check and update task statuses any time we need it so that every team member stays on track. 
The new work arrangements have just changed the way we communicate. We've switched to online and now every working day starts with an online meeting where we discuss all problems, challenges, and daily goals. When our team members have some urgent topics to address, they get in touch with the workmates by messaging or a call. 
Of course, we miss our daily real-life face-to-face interactions but we all must be conscious and responsible and adhere to the new rules. 
This new way of working doesn't mean we're not growing and aren't looking for talents.
Epicflow Team is Growing Day by Day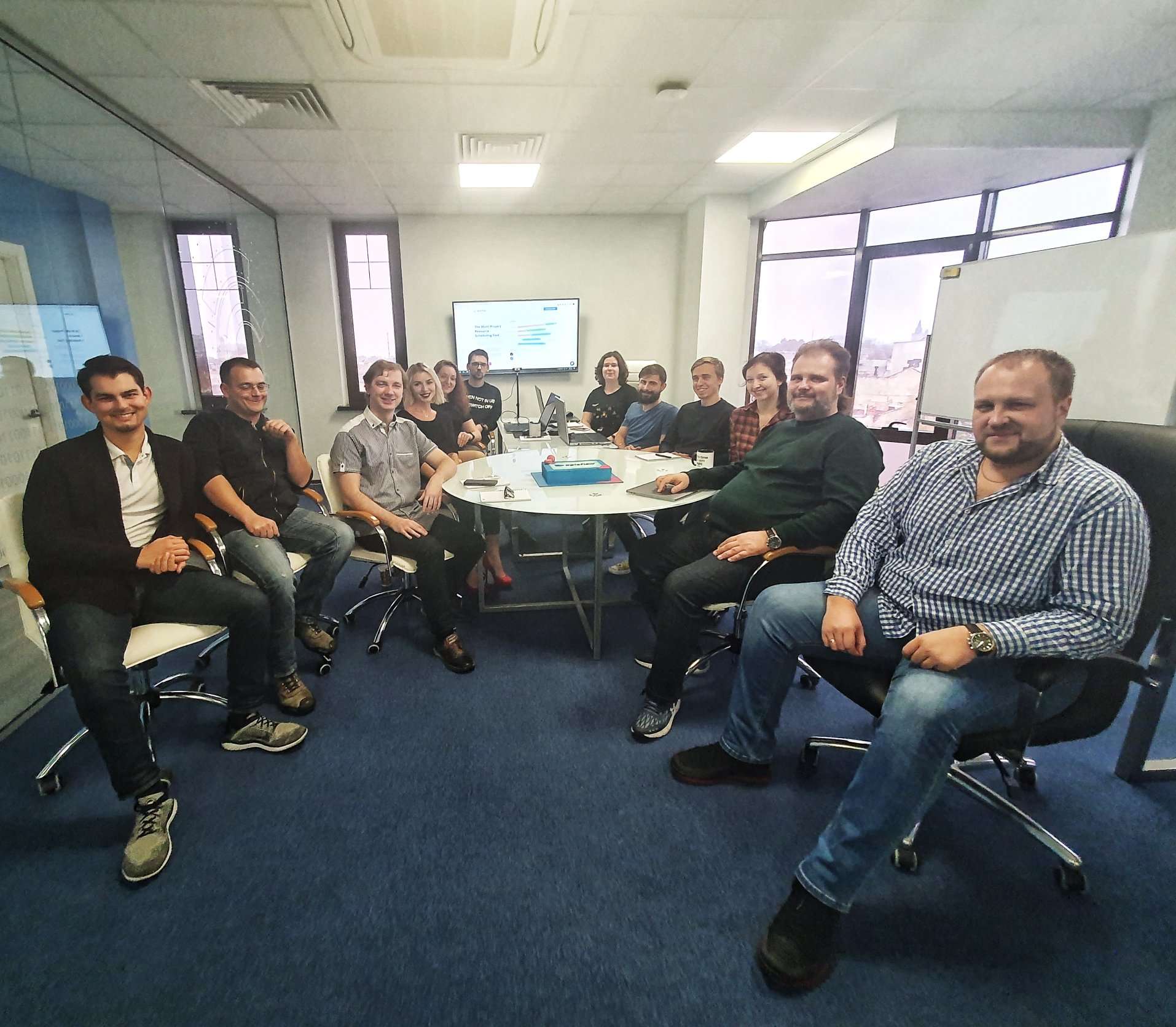 In 2020, the Epicflow family became bigger. As we got more new clients, we needed more talented guys to work on new projects. Apart from 4 senior management experts, our team numbered 10 experts at the beginning of 2020. Today, the Epicflow team consists of 20 highly-qualified specialists. 
We're Hiring
At the moment, we have 6 relevant vacancies:
2 Back-End Experts
Requirements:
Solid understanding of object-oriented programming (OOP)

Strong knowledge and experience with C#, .NET Framework, ASP.NET, ADO.NET

Strong knowledge and experience with SQL and MS SQL

Experience with JavaScript, HTML, CSS

Upper Intermediate level of English
2 Front-End Specialists
Requirements:
2+ years of experience in Front-End Development

Strong knowledge and experience with JavaScript, HTML5/CSS3

Strong knowledge and experience with Angular 2+

Good communication skills

Upper-intermediate level of English 
1 Technical Support Engineer
Requirements:
WindowsLinux installation

Understanding of Firewall configuration, web servers concept (IIS), TCP and other IP protocols

Understanding of Deployment Process flow and SDLC

Technical problem solving and analytical skills

 Communication skills joint with the stress resistance

 Excellent English writing & verbal skills

 Ability to learn, to self-organize and act proactively.
1 Quality Assurance Expert
Requirements:
1+ year of work experience as a QA Engineer

Good knowledge of testing theory

Requirements analysis and test cases development experience

Knowledge of Bug tracking systems(JIRA) (issue tracking systems, build servers)

Experience in web-testing

Experience in regression testing

Experience with Chrome dev-tools

Logics

Upper-Intermediate level of English (both written and spoken).
If you'd like to join the Epicflow family and work on the development of an innovative multi-project management software solution, please go to the Contacts section of our website and don't hesitate to tell us a little about yourself, send us your CV, or ask any additional questions for more information.
Epicflow Demo Tour: Try Our Best Features in an Interactive Way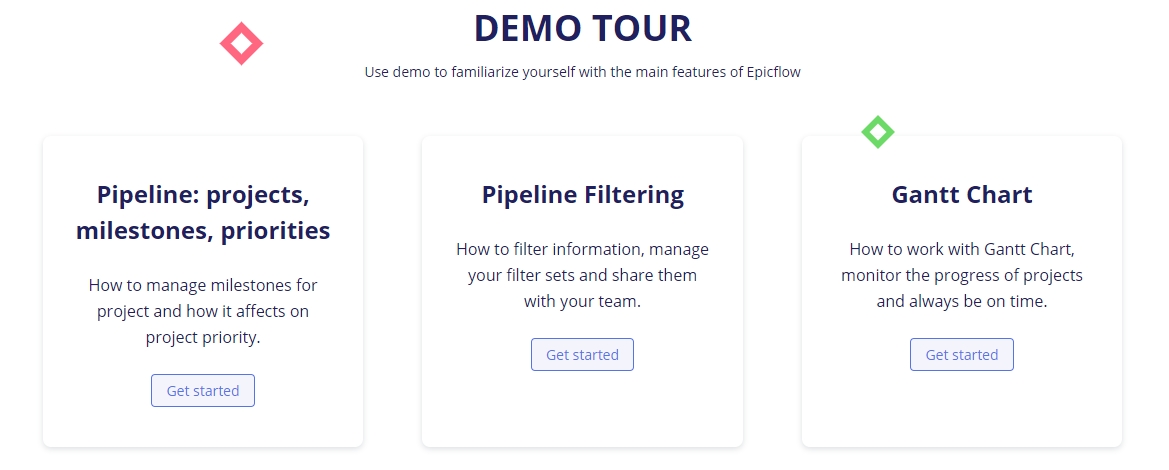 Last year we launched our first Demo Tour. It's an interactive user guide that will make you dive into multi-project management in an entertaining way.  It helps to understand the operation principles of Epicflow's main features and will let you understand the benefits of our tool for working in multi-project environments.
The tour covers the following 10 sections:
Pipeline: projects, milestones, priorities

Pipeline Filtering

Gantt Chart

Project Creation

Dashboard

Historical Load Graph

Future Load Graph

Task List

Task Card

Material Resources 
Just push the "get started" button and the system will suggest pop-up prompts that will guide you through the whole project journey. You'll be able to test almost all available features of Epicflow. 
Epicflow PM Challenge: Try Your Project Management Skills with Our Game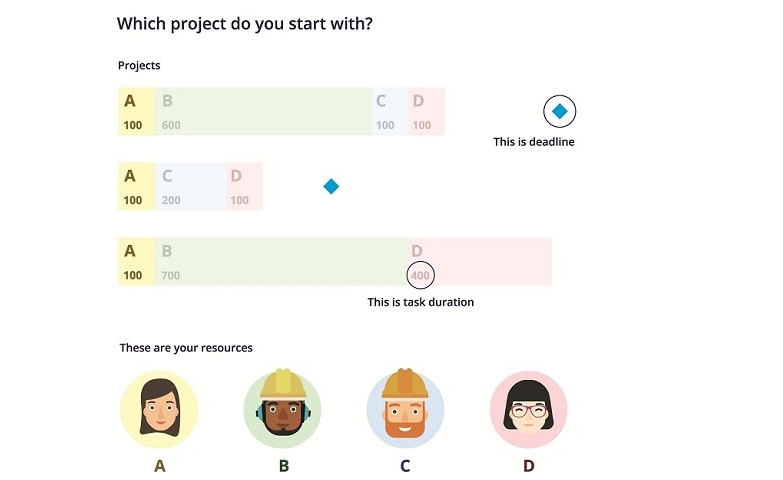 Last year the Epicflow team also designed and released a game which can help you check your project management skills in a funny way. Try to beat our challenge. 
It's a project management simulator that lets you immerse yourself into a multi-project environment and solve resource allocation issues. The goal is to finish all the projects before the deadline by assigning resources to the corresponding tasks.
When you finish a game session, you'll see the results page with the following data:
– the general percentage of winners and losers;
– a graph that shows how many days people spend on completing projects;
– a diagram with general statistics demonstrating what projects people start the game with.
Epicflow and HRM System Integration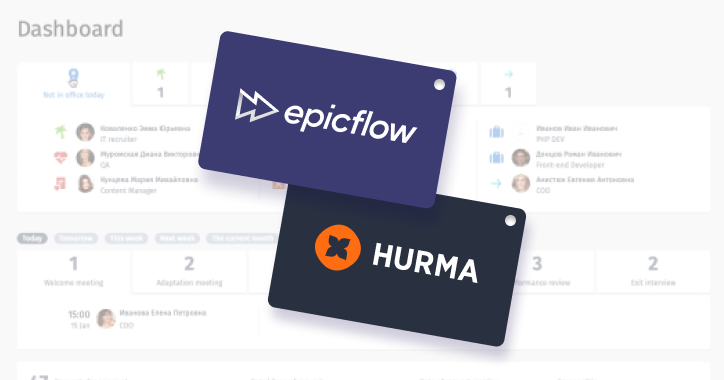 In 2020, our team has also developed an integration with Hurma HRM system for HYS Enterprise software development company that operates in a multi-project environment with more than 150 employees working on different projects. Integration with an HRM system lets you track employees' progress, conduct progress reviews, manage payrolls and vacations, and provides you with a clear view of resource availability. As a result of the integration of an HRM system and Epicflow, you'll stay informed about any resource changes.
From now on, Epicflow can be integrated with any HRM system for more efficient resource management. With its help, you'll get automatically updated information about resource availability in the system based on data in the HRM platform.   
Read more: Making Your Project Management Tool Super-Productive with Human Resource Management System Integration
New Features 2020: How Epicflow Makes Your Project Management More Efficient and Handy 
As we mentioned at the beginning, 2020 has been fruitful for our team. We've launched some features that have been highly appreciated by our current clients. We'd like to introduce them to you so probably you'll find them helpful for your project management. 
Skill Management Feature: Find the Most Competent Expert to Complete a Task 
As one of the main peculiarities of multi-project environments is a shared resource pool where hundreds or even thousands of employees can be engaged, efficient resource management is a must. In most cases, resource management belongs to the set of project managers' duties, but sometimes large companies hire a resource manager. In any case, when we're dealing with multiple projects and lots of teams, the process of assigning resources is challenging: how can a manager choose a perfect resource for a certain task? He or she should probably keep all their skills in mind to compare them with those required for completing the task and assign it to the expert based on this data. 
Epicflow experts have developed a feature that helps you manage your resources. A PM attributes skills to tasks and every resource and specifies their levels. Then the system analyses this data and suggests the most perfect match: the most competent expert to accomplish the task. 
Types of Match
There are the following variants of matching: 
If the skills and their levels are the same, i.e. a resource has the skills that are necessary for completing the task, the match becomes green, which means this employee is the best expert to perform this task.
If an employee owns the necessary skills but their level isn't enough, the match will be marked with the orange color.
If a resource doesn't have the necessary skills or their level is too low for the task, it's highlighted with red.
If an employee is too experienced and has a much higher level than that required for the task accomplishment, you'll see the blue color.
Filtering
You can also use filters to find the best match:
All required (shows the users' skills that match the skills and levels required for the task completion),

Matched (shows only the skills that coincide with required (even if the skill level doesn't correspond)),

Mismatched (shows the skills that don't match or their level doesn't correspond to the required ones), and

Hide skills.
Prioritization 
The system sorts out resources in a smart way. If a task that requires certain skills is assigned to a group, Epicflow will create a hierarchy of resources starting from the best match and finishing with the most unsuitable one. The users with the same skills and their levels are sorted alphabetically.
Batteries = Capacity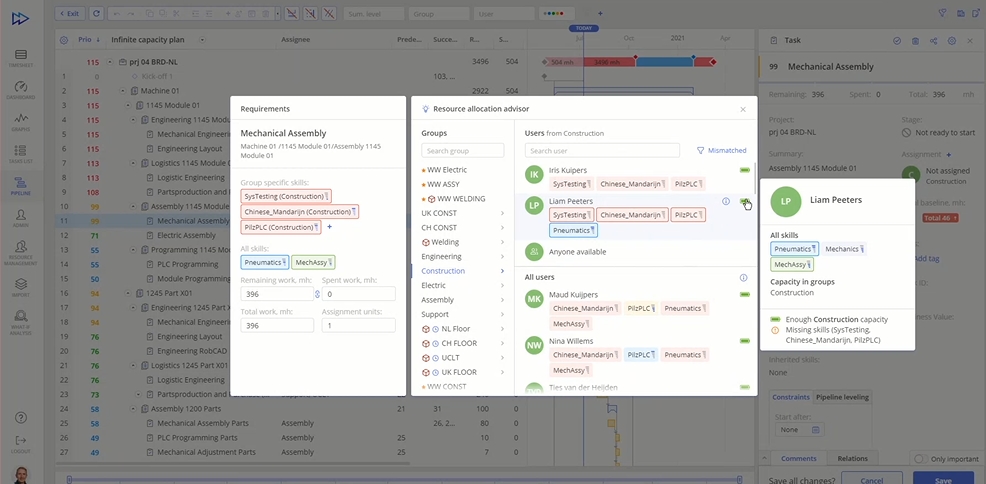 In the scope of the Skill Management feature, you can also check users' capacity with the help of a battery sign. It can be of different colors:
The green battery sign means the resource is available and can complete the task.

The Yellow color shows that the employee has some capacity but in another group.

Red indicates that the user has no capacity for the dates when the task has to be completed.
If a user doesn't have any capacity in the target group but has some in another one, a  project manager can borrow it and assign the task to them. 
Batteries are also available on the Future Load graph.
Consider Employees from Micro to Macro Levels with Multigroup Feature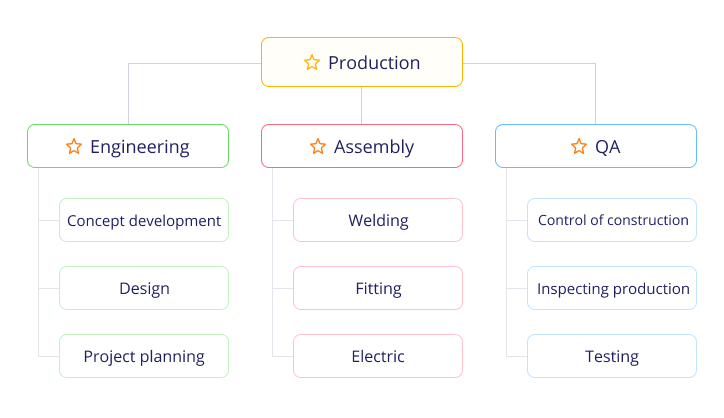 In a multi-project environment with a lot of employees working on different projects, an opportunity to consider them at different levels is handy. Epicflow has created a Multigroup feature, which is a large group that contains other groups with employees belonging to them. 
You can navigate through the multigroups going from level to level and examine subgroups, group members, and their activities. Multigroups are also available on the Future Load graph where you can check their upcoming capacity and any changes that take place in a real-time environment. 
Unit Pool: Use and Administer Different Types of Equipment in Your Projects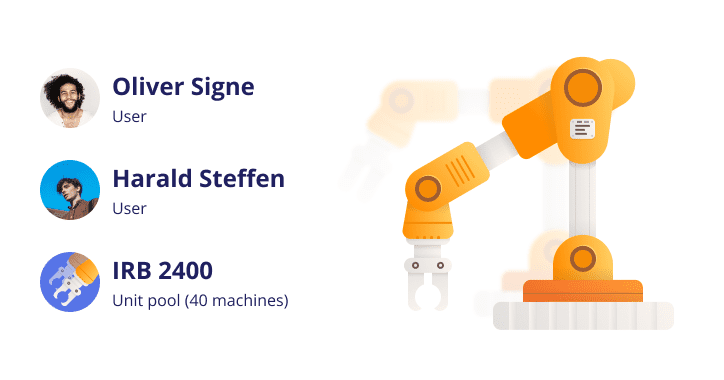 The unit pool is the set of equipment required for certain tasks as part of the work on a project. You can add a unit pool in the system or convert an existing user to it. 
Assigning a task to a machine from the pool or a resource to the machine helps you save your time and budget. Earlier, you had to engage all the equipment to resolve an issue, and now you can apply just one unit from the collection. You can also add working hours per day and the number of machines in the calendar. In this way, you can schedule their maintenance and reduce the number temporarily thereby.
Project Levelling & Business Value: Have All Tasks Prioritized Based on Business Goals
Levelling is another new feature of Epicflow applied for setting up task execution sequences depending on the priority and business value.
Business value is the assessment system that evaluates the significance of tasks for your business goals. You can set it up for a project, summary, and task in the card.
A PM can set a levelling parameter based on priority and business value. Epicflow will automatically calculate the dates for the task execution and create a corresponding Gantt chart.
Project Manager Role Settings 
In Epicflow, a project manager is a user who has created an internal project. The name and corresponding information about a PM can be changed in the Project Card in the project manager column. 
When working with an external system, for example, MSP or Jira, keep in mind that if the PM isn't specified there, it won't be shown in the Epicflow system either. And you'll see the PM's name if it's specified on the external platform. At the same time, you can add and delete information about a project manager in a project card in Epicflow. 
Other Minor Updates
Timesheet: Task Search Coloring, New Columns and Other Changes
When typing a word to search for a certain task in Personal Timesheet, all coincidences will be marked with a blue color.  
All information in Timesheet is divided into the following three groups: 

Personal, 

Group, and 

Project.
A group section is a new functionality that is especially helpful for team leaders. With its help, they can easily check out the group tasks and consider their statuses. 
In Personal Timesheet, you'll see dots instead of zeros in the user's time table. They show that an employee isn't working on the tasks with the 'in progress' status during these hours/days. It's easier and more comfortable to check the task execution and the working hours when only the active time is shown in the table without any redundant data. 
Task List: All Task Tags
In Task List, you can search for parent summaries, tasks, and subtasks by using the "All Task Tags" filter. When hovering over the line you can see all task tags in the popup. 
Date of the Last Synchronization with the External System
In Project Card, you can check the date of the last synchronization if you work with any external system. 
Resource Management
We've added an option to show filtered groups on Graphs on the Resource Management page. 
Pipeline: Extra Time Based on Availability  
If there are some pieces of work that haven't been previously assessed and were added then, users will see "Extra time based on availability" parameter in the Gantt tooltip. 
Quick Edit Mode: Fixed Order of Project Tasks
Every task of any project has its own order number depending on the date when it was created. Now Epicflow users can see the project task numbers in the column next to the priority column by switching on a special toggle.
Get More Info on the Gantt Chart
Now you can check information about releases and assignments right on the Gantt chart. Just hover over a task and check out who has been assigned to it.
User Management: Extended Permissions
An administrator can define permissions to view individual groups or groups with tags. Besides, (s)he can switch access to view all groups on graphs, so users will see 'no access' or 'view all groups' options if they have corresponding permission.
Thank you for being with us! We have a lot of plans for 2021 to improve your performance and make multi-project management as comfortable and effective as possible with our software solution. Stay up to date with Epicflow!
If you have any questions or would like to learn more about Epicflow, please contact our team at epicflow@epicflow.com or book a demo by our manager Anna here.