Integration with HRM systems
All projects, no matter how well planned are prone to risk and changes, especially with people involved.
It is impossible for a project manager to account for sick leaves, unplanned day-offs, and sometimes even vacations to properly balance load and capacity.
Following a personal schedule of each resource to update the system when someone requests a day off or gets ill is not an easy task, especially with hundreds or thousands of people being involved in multiple projects simultaneously.
Epicflow solves this problem by integrating with your HRM system.
This integration is quite simple, it takes user's information from an HRM system and updates the information about the same user in Epicflow accordingly.
For example:
1. Engineer requests two days off on June 15th and 16th through an HRM system
2. The request is approved by the management which is displayed in an HRM system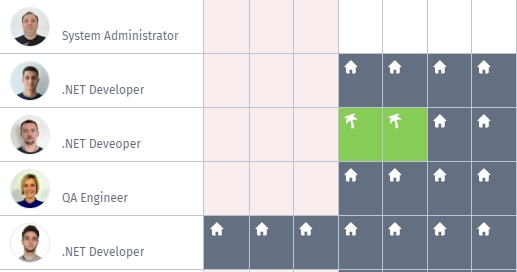 3. Epicflow sends a request to HRM system's API for updates
4. Epicflow sets the engineers availability to 0 for June 15th and 16th

5. The project manager can see that capacity for June 15th and 16th is changed and can react accordingly
How HYS Enterprise is using the Epicflow / Hurma integration.
HYS Enterprise is a software development company with 150+ employees working on dozens of projects.
The integrations in this case is between Epicflow and Hurma HRM System. Among its other features, Hurma allows to track sick leaves and vacations, which gives us an option to update resource availability inside Epicflow.
Without this integration, updating the system accordingly was a cumbersome process. To update one project I had to talk with team leads, check who on their team will be temporarily unavailable and when, check if it was approved by the management, and then update profiles manually. With multiple projects running simultaneously this task takes too much time but it's too important to ignore since changes in resource availability affect several things:
time necessary to complete the project
tasks prioritization and relations between tasks
load on other team members
With Epicflow and Hurma integration this information is updated automatically. 
This integration allows me to keep track of my projects and act accordingly without having to spend hours on updating resource availability.