Our researchers have spent years making project management simple and efficient. At the Project Management Congress 2019 on April 12 in Delft, the Netherlands, Jan Willem Tromp, a PM researcher and co-founder of Epicflow, gave a presentation on ways to reduce the complexity of managing multi-project environments. The congress was a meeting point for the most experienced project researchers from around the world. Here's what Jan Willem told us about his experience at the congress:
Q: You've just returned from PM Congress in Delft. What was the focus of the conference?
Jan Willem: The name of the event was Project Management 2019: Adapt or Die, which means that the conference aimed to help attendees put research into practice and learn how to take their project management skills to the next level. This congress was organized by the Technical University of Delft in cooperation with PMI [the Project Management Institute]. Dr. Hans Bakker, professor of Management of Engineering Projects at Delft University of Technology, was the chair of the conference. As for the audience, there were professors from different countries.
Q: Sounds interesting! What was the topic of your talk?
Jan Willem: I shared my experience dealing with challenges of managing multiple projects simultaneously, so the title of my presentation was "How to Reduce the Complexity of Multi-Project Environments. Where to Focus."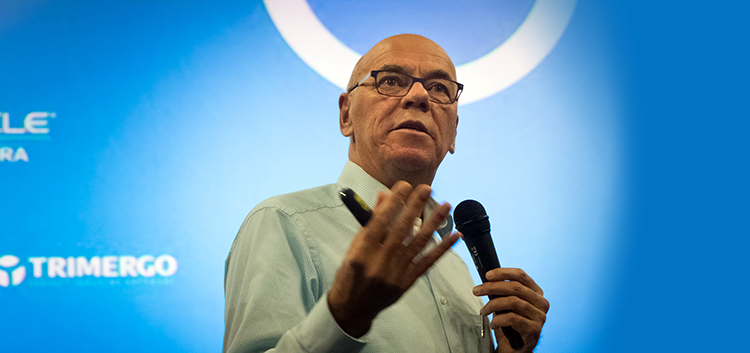 Jan Willem Tromp, a project management researcher and co-founder of Epicflow
Q: That topic is very important in the world of project management today. What was your goal as a speaker?
Jan Willem: I had several goals. First, to present the results of research done by the Epicflow team. And second, to meet fellow researchers and companies that are interested in multi-project management. The focus of the presentation was the Epicflow Body of Knowledge, with three themes: protect your employees against overload, know your output, and prioritize tasks. I also used information from other co-founders of Epicflow. Albert Ponsteen's research and Yuri Warczynski's studies prove that human beings fail to prioritize efficiently. To engage the audience, I challenged them with multi-project management related questions based on our case studies. Interestingly, it was very difficult for them to find the right answer, even though these people are possibly the most experienced professionals in the project management world.
Q: I assume that was quite surprising. What were the other topics discussed at the congress?
Jan Willem: There were interesting presentations about project management in yacht building, communicative risk management, implementation of agile project management systems in the development of building projects, digitalization in construction, project predictability, and more.
Read more: How to Blend Agile Principles into Your Methodology
Q: Did you meet some fellow researchers?
Jan Willem: I met the core of the PM world and had the opportunity to speak with some of them. I met Professor Lynn Crawford, the Director of the Project Management Program at The University of Sydney, quite possibly the most experienced researcher in this field. She gave a keynote speech on changing trends in the PM world. I also met Professor Jonas Söderlund from Sweden. He presented his Yin Yang model, aimed at creating balance between hard and soft skills.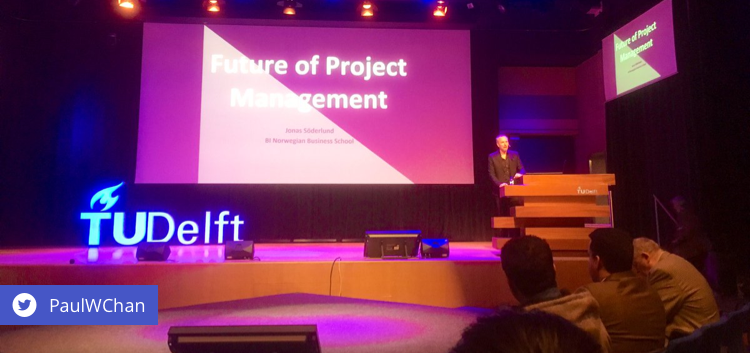 Prof. Jonas Söderlund gives a keynote about the future of project management
I also met Professor Hans Georg Gemünden from Germany. We discussed the effectiveness of waiting time theory in the prioritization of Epicflow. Gemünden mentioned the importance of resource management in a multi-project environment and referred to Epicflow as a good example of a tool that can help to manage it. It was also great to meet representatives from one of our clients, Lightyear, a self-charging solar car producer whose story is truly inspiring. They use technology to help solve the world's biggest problems like climate change.
Read more: 5 Inspiring Lessons from Lightyear, a Young Solar Car Startup
Q: Seems like the meeting was also good for your own research.
Jan Willem: Oh, definitely! I gained a lot of food for thought, which I will use for our own research. For example, Professor Irem Dikmen from Turkey and I discussed the use of risk management in prioritization and stimulating project outcomes. Professor Emeritus Lex van Gunsteren showed me a way to use risk calculation to improve our prioritization calculation, while PM practitioner Marco Eykelenboom, Project Director at Fluor Corporation, shared some insights on teambuilding and monitoring project results. I was also delighted to talk to Gerard Scheffrahn, Program Director at Metro en Tram. He used to be the project manager at the North–South underground line in Amsterdam. He told us about the benefits of changing your team's mindset from reactive to proactive. It was also my pleasure to see Bruce Gay, Senior Project Manager at UPMC Enterprises. I appreciated Bruce's recommendations on creating a strong team and the benefit it brought to his projects. It was also nice to see his tweet about my presentation:
Q: Looks like it was a great event!
Jan Willem: Yes, it's great to see that the academic world acknowledges our findings and sees Epicflow as a prototypical example of science meeting practice. It was also great to discuss PM ideas with fellow researchers. The results presented show that we're on the right track, and I believe this experience can take Epicflow to the next level. I'm sure all my colleagues will work hard to show the world how project management can drastically improve with Epicflow.
Featured image credit: Jiawen Wang