This autumn has turned out to be super-productive for us and full of good news for our users. Our team has been working like a well-oiled machine to improve the software functionality and make the process of managing multiple projects as comfortable as possible. So, let's examine what's new Epicflow crew has prepared for your safe and pleasant PM voyage this time. 
Read more: 2019 Epicflow Multi-Project Management Features
Material Resources
When running a project, you know that a particular number of resources are working on the completion of its tasks. You have accurate data regarding the amount of time each team member needs to solve a certain problem. But until today you didn't have any material-related information in the system. Aiming to provide you with an opportunity to control the consumption of your materials, we've added a "Material resources" function.  Fill in the corresponding blanks, add the material name and all related information to control the way your employees are utilizing it. Just go to the Resource Management page and choose a corresponding item.  
Besides, you can create groups by using your keyboard and choose a necessary color for it. 
Baseline & Difference 
Baseline is the initial data about your project that is needed for its initiation and further flow tracking. It usually involves schedule, cost, and scope values. As a rule, it's estimated by a project manager or other project team members depending on the company rules. 
The Difference parameter shows the way your input is changing over time against the baseline.
Now you can find a 'baseline' and 'difference' parameters in the following sections:
Timesheet

Task Card

Quick Edit mode
That's the way these parameters look in personal timesheet.

And take a look at the graph view: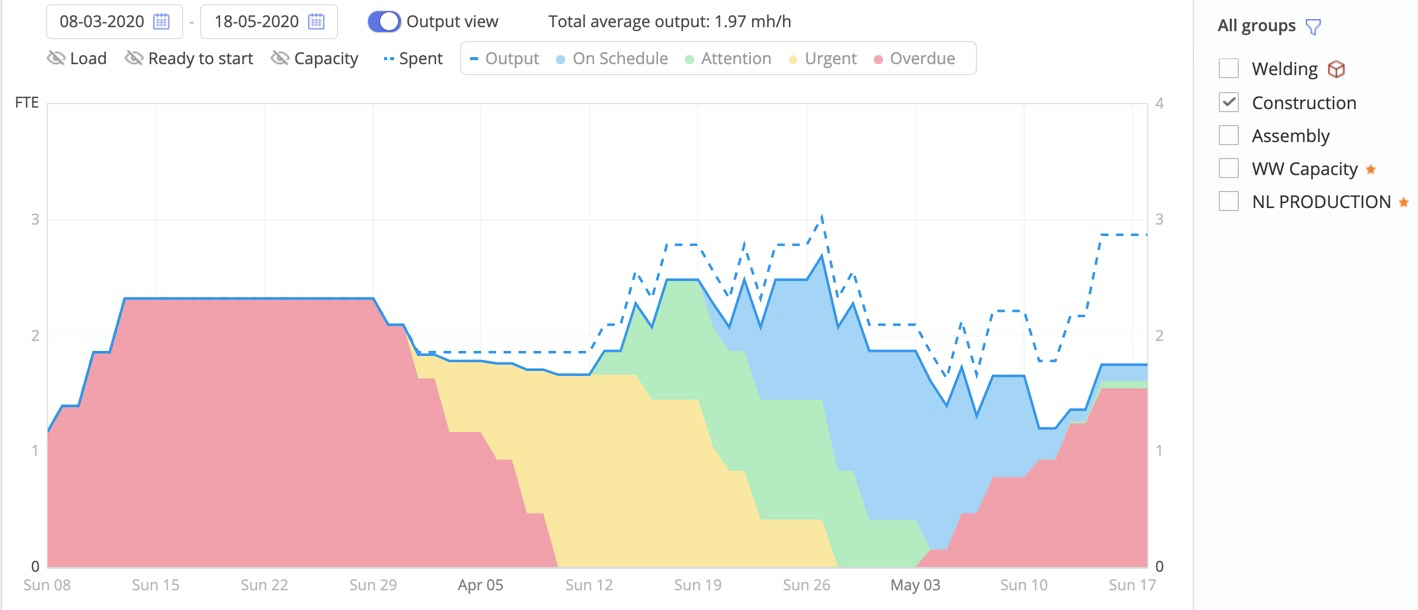 Pipeline Updates
Pipeline is a tool that visualizes your projects' flow. We've added some parameters into the Pipeline filter, so now you can focus on what's significant for you at a certain moment. 
Sort your data using the following newly added characteristics: 
Priority

Project name

Project manager's name

Project tag

Text filter

Date range

Assigned groups \ resources

Stage

Tag

Summary level depiction

Item Color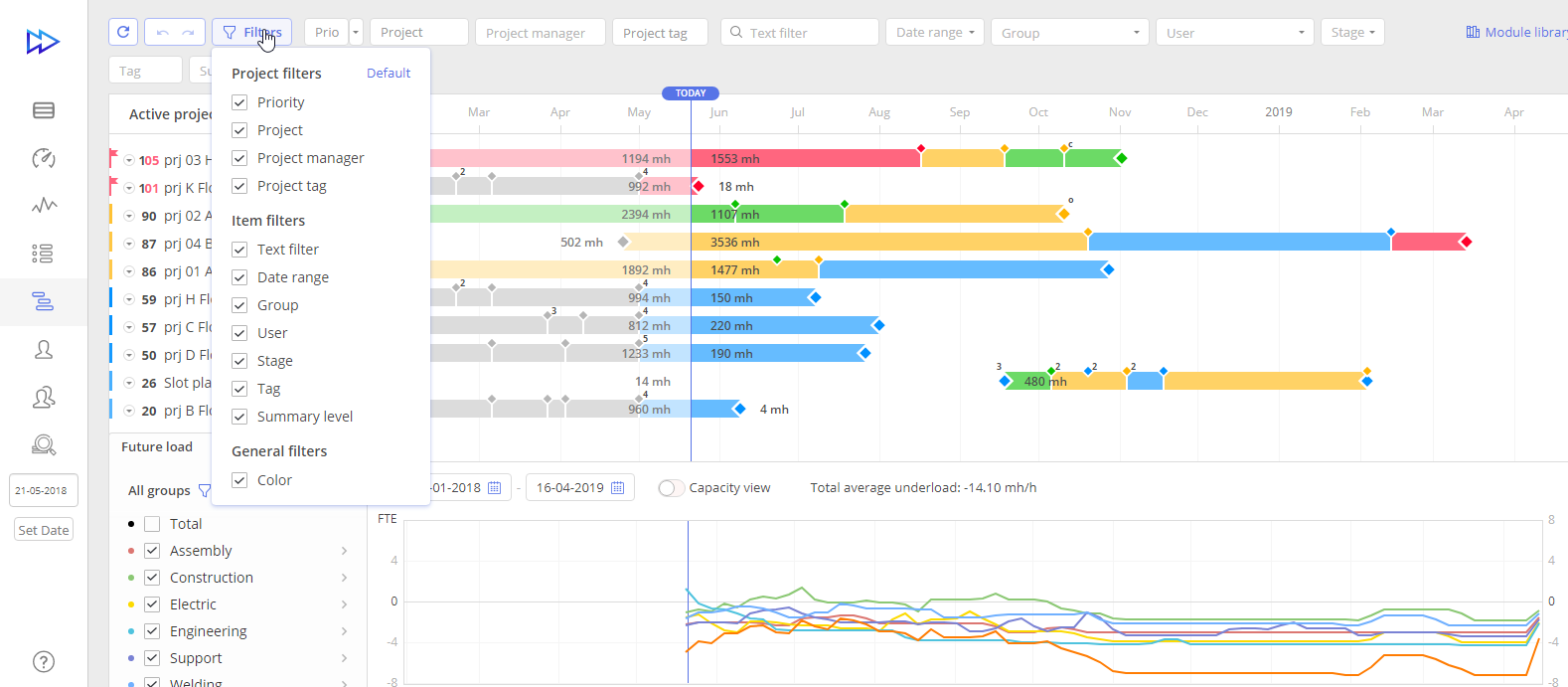 Using an Undo-Redo function, go back and move on up to 10 steps to manage the changes. 
Click a "Today" button in Pipeline and get Gantt chart back to the current date.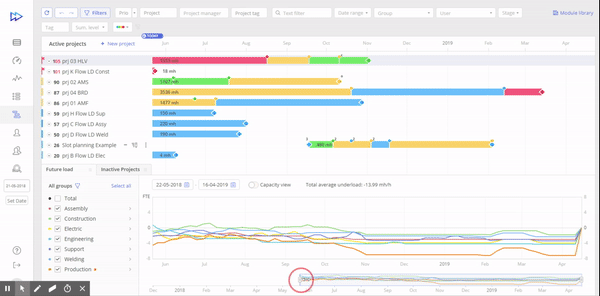 Apply a color filter in Gannt view to see the projects with particular priorities (blue, green, yellow, and red).   
Read more: Pipeline Overview
Gantt Chart
Being a significant part of Pipeline, Gantt chart provides you with necessary information about your projects' flow, inter-project relations, and milestones. Take a look at the opportunities our updates give you:
Use a click-and-drag function to add or change inter-project relations in Gantt chart by moving milestones between your projects.

To let you see the necessary information in an easy way, we've added a new icon that shows Summary right in Gantt chart just in a click. 

Check out information about the assignee in a tooltip just by hovering over a task in Gantt chart. 
Read more: Gantt Chart Overview
Quick Edit Mode
Striving to make your project's data editing process easier, quicker and more comfortable, we've designed a QE mode. 
Open the QE mode in Pipeline just by clicking a "pencil sign".

Change the size of each field and focus on a certain part which is more significant for you at the moment using a splitter between the Gantt chart field and the main project area.  
Read more: Quick Edit Mode Overview
Timesheet
A detailed overview of individually produced output in view of the historical timeline is an indispensable function for a project manager. In Epicflow, it's realized by Timesheet.
This functionality has become even more convenient thanks to the new updates. 
Filter the column items by hiding unnecessary ones and making only some of them visible. 

Drag the column items and change the order of their display. 

Click  "Default" to go back to the initial settings.

Your team can correct the registered work hours. 

Control whether your employees are dealing with their tasks and see the progress.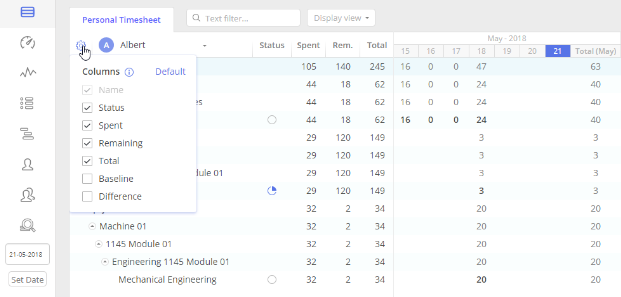 Task List
Task List displays project tasks in the most optimal order for their accomplishment. It's a start point of resources' working day. This function's updates involve:
Material Resources parameter for controlling the material consumption,

an opportunity to change a priority coefficient manually. 
Task Card
This function presents full information related to a particular task with an opportunity to manage it. Now, team collaboration has become more productive. When you and your team add comments, they are displayed in chronological order. So, you won't have to waste your time scrolling them. 
Read more: Task Management Overview
Performance Update
We've improved the appearance of a drag cursor for Pipeline, QE mode, and Resource Management page. 

We've eliminated unnecessary information from the date slider in QE mode.

Some advancements have been made for a "Three Dots" menu. Now it has become more distinct and convenient to use.
Would you like to try new features? Which of the updates do you find most beneficial?