Agile has become the most popular methodology in recent years and has proven its efficiency for millions of companies already, so nobody has any doubts about it today. Being agile means being flexible enough to adequately and timely react to any alterations of your project environment and any external changes that may happen at any time. Sprint-based work has become a common way of organizing business activities as an optimal tool that helps reach short-term objectives. In this article, we'd like to show you how a resource management solution can improve your sprint planning sessions and organize your work on multiple projects according to sprints. Read further to learn the details.
The Role of Sprints in Project Management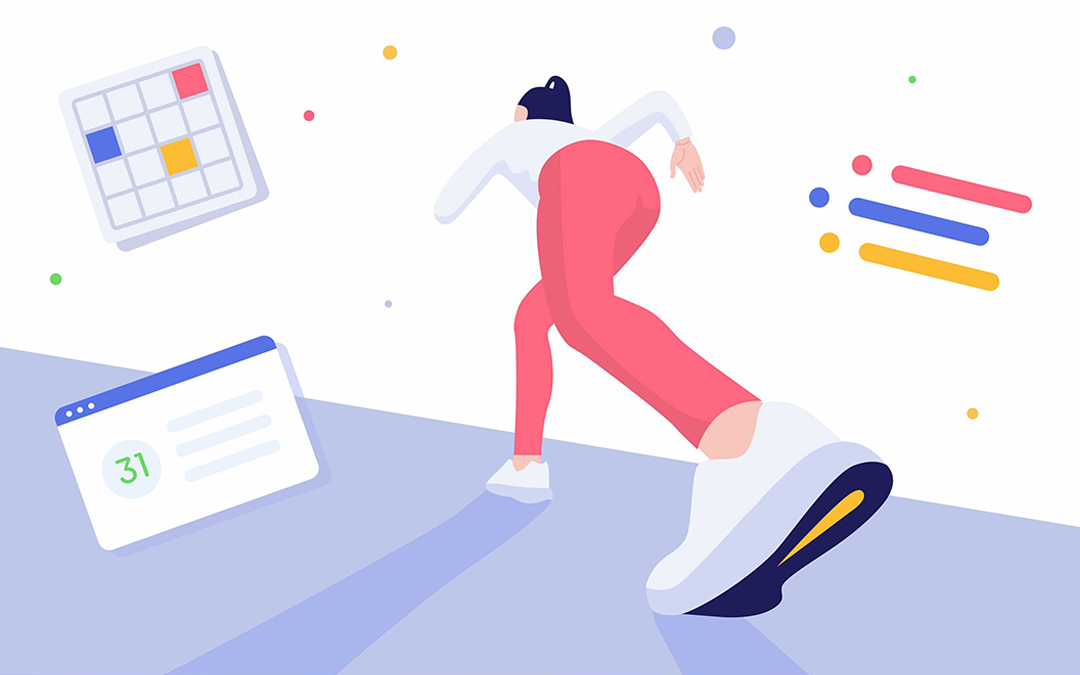 The most popular and widely used Agile methodology is Scrum. The work on a product or service in a company that follows Scrum principles is based on sprints. A sprint is usually a two-week period during which a project team works on a certain scope of tasks that should lead to a certain result. The scope of work and this final result are usually discussed and defined at sprint planning meetings attended by all team members together and of course a project manager. The popularity of sprints can be easily explained by their convenience. Every big goal is easier to achieve if there's a roadmap with smaller objectives, isn't it? 
Read more: The Scrum Framework: Advantages, Disadvantages and Ways of Handling Possible Issues
Let's dive into some statistics. According to the 15th State of Agile Report, 83% of companies do sprint planning and base their work on them. 83% and 81% conduct spring planning and review sessions, correspondingly. These figures show that for most modern companies, sprints are a common way of organizing their work on projects.
Having Project Work Done: Planning and Reviewing Sprints
What is the best length of the sprint? How to run sprint planning? What should be included in it? How and when should performance be reviewed? What is the main purpose of a sprint review? Let's consider these and other questions below. 
Most companies use a 14-day period for a sprint, during which a project team strives to bring the desired result. Traditionally, a typical sprint in the Scrum methodology covers a period of 30 days, but companies choose the number of days that works better for them depending on the products or services they deliver and the company's rules or traditions: from one week to one month.
A spring planning meeting agenda is to choose the tasks from the product backlog to create a sprint backlog, prioritize them, and assign employees to these tasks. It's usually attended by a product owner, Scrum Master, and of course a project team.
The tasks are taken to the sprint according to every employee's capacity and the amount of work that should be done to reach the sprint's goal. They are prioritized according to existing constraints and a company's goals.
Usually, a team's performance is reviewed at the end of each sprint, but today many companies carry out daily standups to discuss their current updates and evaluate progress. In fact, 87% use daily standups to share their updates and keep all the project team members in the know of what's going on. The purpose of sprint review sessions is to make sure that the work is being done according to the plan and to discuss arising issues or blocks if any. 
How an RM Solution Can Help Plan Sprints and Complete Work on Time: Example of Epicflow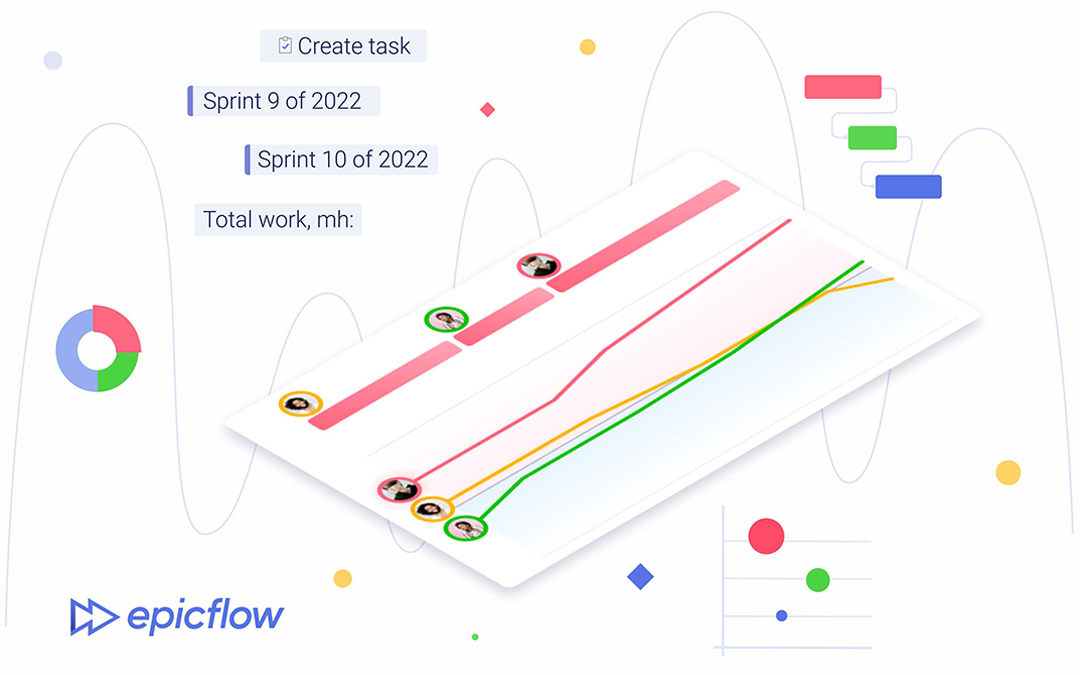 According to the above-mentioned State of Agile research, the most widely used sprint planning software is Atlassian Jira, which is utilized by 81% of companies. It's a convenient solution that is used by millions of companies worldwide. But on the other hand, its functionality is not enough if you have more than one project running simultaneously. In one of our previous blog posts, we wrote about the benefits of integrating Jira with Epicflow in terms of the additional functionality our solution can provide to Jira users. Let's now review how a multi-project resource management solution can contribute to the sprint-based project work through the example of Epicflow.
Sprint-Based Work in Multi-Project Environment
Working in a traditional single-project environment significantly differs from the situation when several projects are running simultaneously and resources from a shared pool are working on them. Let's see how exactly it complicates all the processes and how an RM solution can help organize this work.
Resource management solution helps organize work on multiple projects 
If you've ever run multiple projects with a shared resource pool, you probably know about project dependencies. If they aren't taken into account, any project in the portfolio may fail, because when one employee is required for several projects and can't timely switch to another project, it will create a bottleneck. 
Read more: Managing Project Dependencies In a Multi-Project Environment
In Epicflow, this won't ever happen because of its numerous features developed especially for multi-project environments. But as we're talking about sprints, there are the two features that should be mentioned here:
The opportunity to share milestones between projects.
You can clone any milestone and share it between different projects. This makes it possible to define and track dependencies between projects: when one project's task can't be initiated before another project's task isn't completed. 
The connection links are used to show relationships between summaries, tasks, and milestones, e.g., 
finish to start (FS): a task cannot be started before its predecessor is not completed.

Start to start (SS): a task cannot be initiated until a predecessor is started (but it may be started later). 

Finish to finish (FF): a task cannot be completed before a predecessor is finished (but it may be completed later).

Start to finish (SF): a task cannot be completed before a predecessor is started (although it may be completed later). 
Resource management solution can assist in sprint planning
Epicflow's project and resource management capabilities also come into play during sprint planning sessions:
You always have automatically prioritized tasks across the multi-project environment, so you always know the right sequence of tasks to complete in a sprint.

Competence management feature makes it possible to assign the right tasks to the right resources based on their capacity, availability, and skill

Historical Load Graph helps analyze the workload and use this information during sprint planning to make more accurate work estimates.

You can use the Future Load graph to see if your resources will cope with their tasks in the current sprint. If they won't, you can implement changes and check them in the What-if analysis mode, and only then make final resource allocation decisions.
Resource management solution can help track progress and remaining work in every sprint 
Epicflow has the following features that can assist in assessing progress according to sprints or the whole project: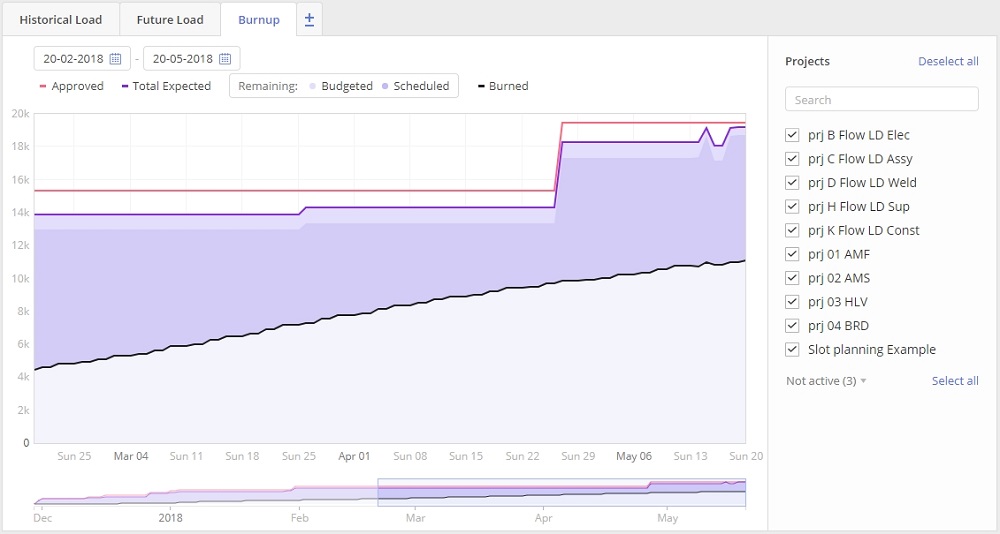 This graph shows how much work has been done and how much is left according to the approved timeline and budget. 
The graph shows the amount of work left for each resource group.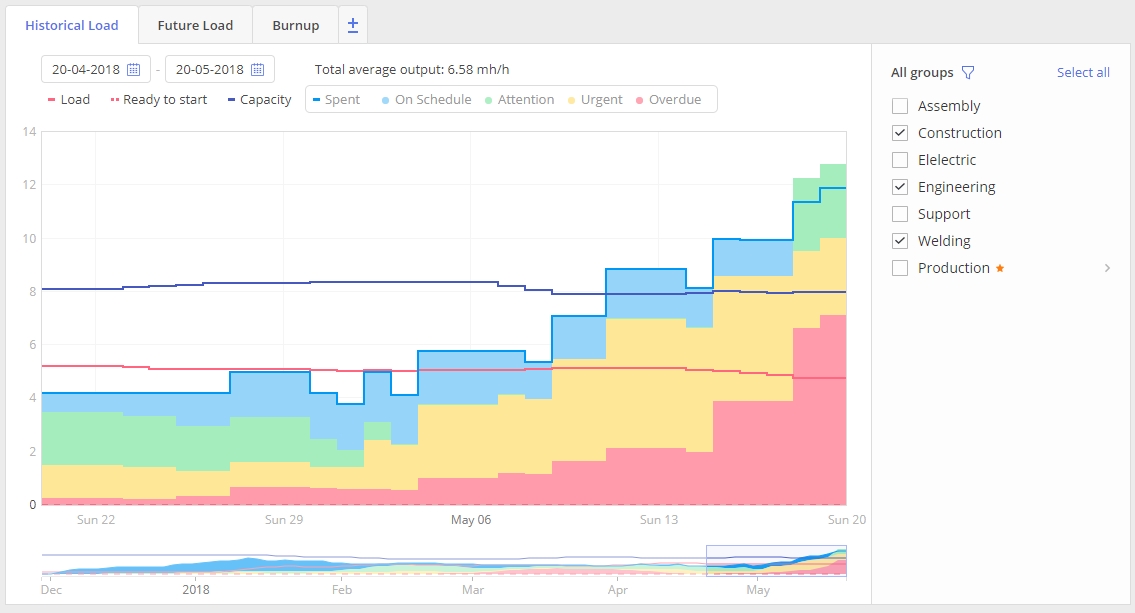 It shows group performance, capacity, load, and output over time.
This table provides exhaustive information about current tasks and their progress: total, spent, and remaining hours according to each day of the chosen period.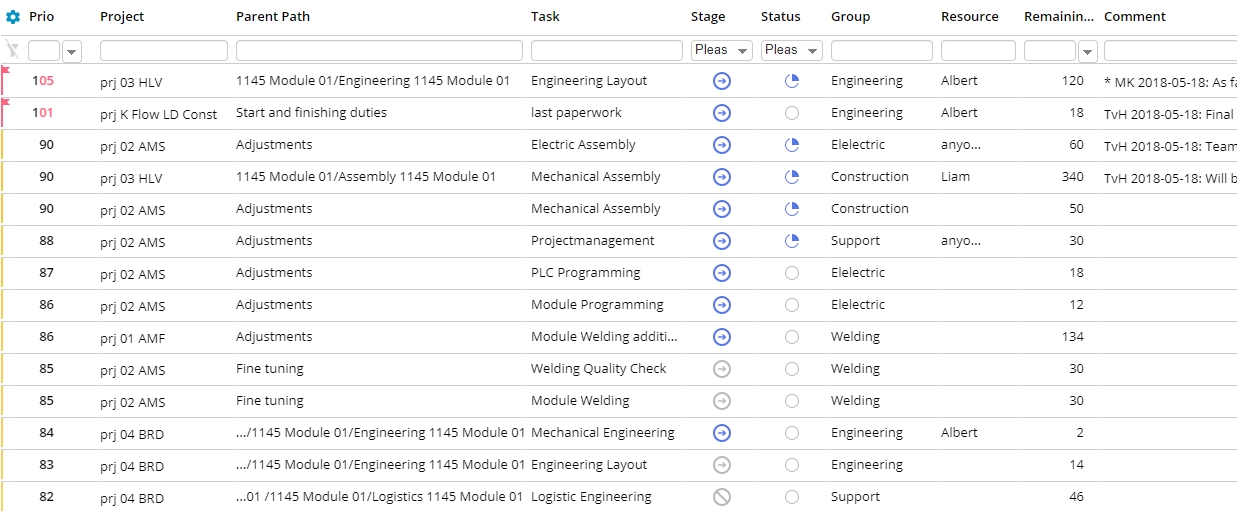 The list is automatically compiled according to priorities and shows all task-related data: the project, summary, and phase a task belongs to; stage, status, assignees and their groups, remaining time, as well as the remaining buffer or the number of days the tasks is delayed.
Resource management solution helps conduct sprint reviews  
The main purpose of a sprint review is to evaluate the current progress of all team members. In Epicflow, you can use the Meeting View feature to conduct daily standups or sprint review sessions.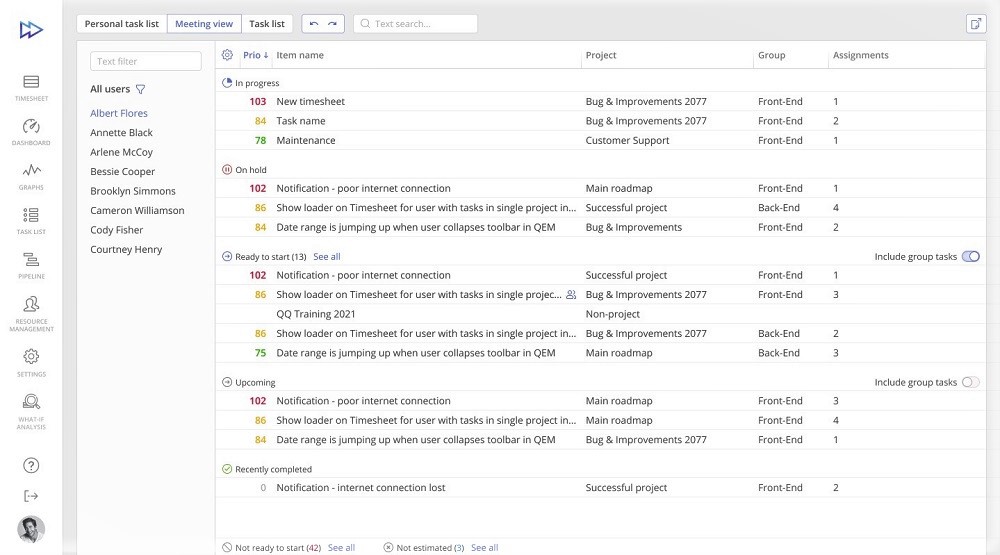 You can select users for the meeting and change their order according to your needs. Upon clicking on a user, his/her current, recently completed, upcoming tasks, as well as task-related information (hours spent and left, the projects these tasks belong to, assignments, etc.), are displayed. The tasks are sorted by priority by default, but you can also sort them by name.
You can also jump to other sections in Epicflow during the meetings to take a closer look at the load on graphs or check the figures in Timesheet and discuss it with the team and then get back to the Meeting view mode.
To learn more about other features of Epicflow or Jira integration, book a call with our experts at your convenience.