This is the tenth year that PMI's Pulse of the Profession has offered an overview of project management trends and classified what distinguishes project champions from underperformers. This year's report indicates the top drivers of project success and clarifies what initiatives must be taken for companies to perform better, faster, and more efficiently in the world of disruptive technology.
PMI President and CEO Mark A. Langley says his main concern is that 9.9% of every dollar is wasted due to poor project performance — that's $99 million for every $1 billion invested ($2 million more than in 2017) — and encourages C-levels to use proven project management practices. Here are key highlights from the survey to help you stay in control of the projects you run.
1. Project champions invest in their talent
The survey indicates that companies get a lot of mileage out of supporting and developing project talent, project capabilities, and culture within their departments. Investing in skills and opportunities for their workers, companies get spectacular results: higher project success rates (92% versus 32%) and 21 times less money wasted due to poor project performance. The following table shows the effects of talent development in project management:
Figure 1: Investments in Project Management Talent.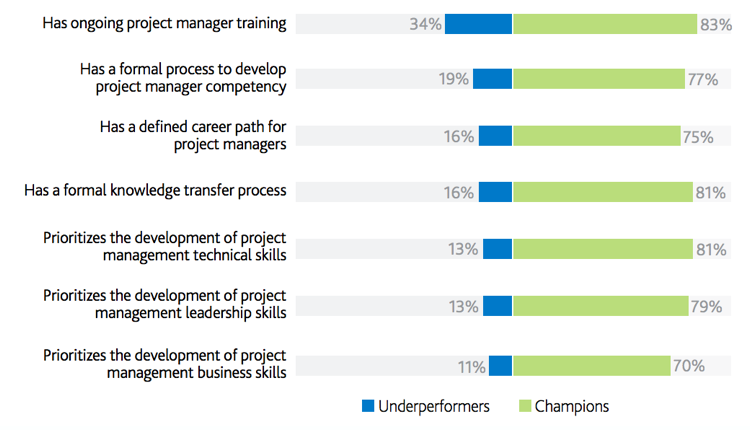 Credit: Pulse of the Profession 2018
A project manager can also skyrocket a business by developing knowledge of high-end digital transformation trends and tools that have prediction and prioritization capabilities. Chintan Oza, a PMO director at a major telecommunications company who responded to the survey, is convinced that a project manager is no longer just a cheerleader. "The project manager brings strategy, brings customer insights, and brings some opposition insights," says Oza.
Read on: 5 New Books to Succeed as a Digital Project Manager
2. The top driver of project success is an actively engaged sponsor
According to the survey, "a higher percentage of projects with actively engaged executive sponsors (more than 80% of their projects) report 40% more successful projects than those with a lower percentage of projects with sponsors (less than 50% of their projects)."
Over the last six years, this trend has grown into the biggest challenge in project management and is considered a primary cause of project failure. Researchers admit that having a project sponsor is priceless — and not only to maintain the necessary cash flow. From the experience of outperforming organizations, an actively engaged executive sponsor is able to
use influence within an organization to actively overcome challenges;

mitigate project risks;

communicate the project's alignment with strategies;

remove roadblocks;

drive organizational change.
3. Champions devote effort to controlling project scope
Every uncontrolled change can turn into a sweeping disaster that eats up resources and the budget. Not being able to check the progress of a project at every level and lacking knowledge of who's doing what indicates low project maturity, which leads to project failure in the end.
We see that 52% of the projects completed in the past 12 months experienced scope creep or uncontrolled changes to the project's scope, which is a significant increase from 43% reported five years ago. — The Pulse of the Profession
The researchers behind PMI's Global Project Management Survey report that a change in an organization's priorities is one of the top reasons for project failure.  But based on the experience of Epicflow researchers Jan Willem Tromp and Albert Ponsteen, a change isn't what project managers should be afraid of. Even though changes always presuppose lengthy replanning, there are efficient ways to cope with uncertainty.
To be able to predict what will block your projects and define the origins of threats, just concentrate on resource management. For this, you'll need a better overview of what your employees are doing at any given moment — where they're overloaded and underloaded. Epicflow does this well.

To automate rescheduling and replanning if a change appears from nowhere, analytical tools like Epicflow have been developed.
It's just simple math for proper risk mitigation — doing the right calculations at the right time. But don't you agree that it would be better if a project management application could do this for you?
4. Champions are choosing formal project management
Formal project management is a style of management that anticipates the presence of a professional project expert who ensures that the project follows the plan. For this purpose, analytical and predictive project management tools like Epicflow are used. A well-defined methodology — Agile, waterfall, or both — is also an essential factor in the success of formal project management.
Figure 2: Project Success is Better With Formal Project Management.

Credit: Pulse of the Profession 2018
Agile is the new black for business experts who want to remain flexible and keep up with the latest trends in their industry. According to estimates in the Pulse of the Profession, 30% of project champions use an Agile methodology to implement innovative practices in their companies. If you intend to deliver projects that offer innovation and quality in a volatile business environment, you shouldn't disregard what lies at the heart of the Agile Manifesto. This ultimate guide to Agile will help you intelligently blend it with your existing methodology.
5. Companies that focus steadily on realizing project benefits win
Realizing project benefits means turning your initial ideas and plans into reality with maximum quality at the project level but also at the strategic company level. PMI's report suggests that more than just traditional measures of time, scope, and budget should be taken into account when planning, running, and delivering a project. We have to be driven by a higher strategic goal and "benefits, tangible or intangible, should be considered in the equation."
Read on: How PM Software Helps You Realize Project Benefits
6. Investments in value delivery capabilities pay off
When was the last time you asked yourself what project management practices impacted project delivery most efficiently? Was it a turn to Agile or did you use a predictive approach? What could you do better based on your team's work experience and capacity? 
Analyzing and improving project management competencies to develop a culture receptive to innovation proved to be a challenge for respondents to PMI's Global Survey. As stated in the research results, "fewer than one in 10 organizations report having very high maturity with their value delivery capabilities."
It appears from this year's Pulse of the Profession that companies have to invest more energy to increase project management maturity by developing project management talent, engaging active sponsors, and controlling project scope. These actions should go together with the best-fit PM methodology and align strategically with the company's goals. To stay in control, though, we highly recommend that you monitor the progress of your projects and collect valuable analytical data to make confident resource management decisions. Want to know more about the way to perform better? Leave your contact information in the form below to schedule a one-on-one session with our experts.