One of the major concerns of project managers is delivering projects on time. But changes and contingencies can significantly affect the initial project timeline. 
How can you be sure that the project timeline hasn't (or has) significantly deviated from the initial schedule? That's where schedule baseline comes into play. 
Read further to know more about its functions and how to create it.   
Schedule Baseline as a Performance Baseline Component 
A schedule baseline, aka baseline schedule, is a copy of a planned project schedule approved by stakeholders. It's a component of a performance measurement baseline that consists of scope, schedule, and cost baselines and is included into a project plan. The basic schedule baseline function is to make sure that the project won't miss the deadline and to capture the changes made to a project schedule. Also, with a schedule baseline you can monitor the project's progress as long as you can compare the delivered work over a certain period of time with what has been planned. 
Let's look at the difference between a schedule baseline vs project schedule:
a project schedule is updated throughout the project workflow, while a schedule baseline can be changed only after approved change requests,

a schedule baseline is a snapshot of a project schedule,

schedule performance is assessed by means of comparing the actual project schedule with the planned one, i.e. a schedule baseline. 
Thus, a schedule baseline is the same as a project schedule at the beginning, but as the project progresses, it turns into a reference point for monitoring the project timeline. It can be referred to at any time of project workflow, but it's better to do that every time the current project schedule is updated. 
So, the importance of establishing a baseline schedule comes down to following points.   
It allows you to keep a project on track: having compared your project schedule to a schedule baseline, you can identify scope or resource constraints that affect timelines and take corresponding measures to get the project back on track. 

A schedule baseline, similarly to other types of baselines, is used to assess project performance: project management success often depends on keeping it on schedule.  

This information can be used to improve project time estimates in the future. 
Let's consider the example: according to the current workflow, an important milestone is going to be delivered in a month, but according to the schedule baseline, it must be delivered in three weeks to avoid a project delay. In this case, you can take some actions, e.g. reallocate resources or involve those from other teams to deliver this milestone on time.     
How to Make a Baseline Schedule?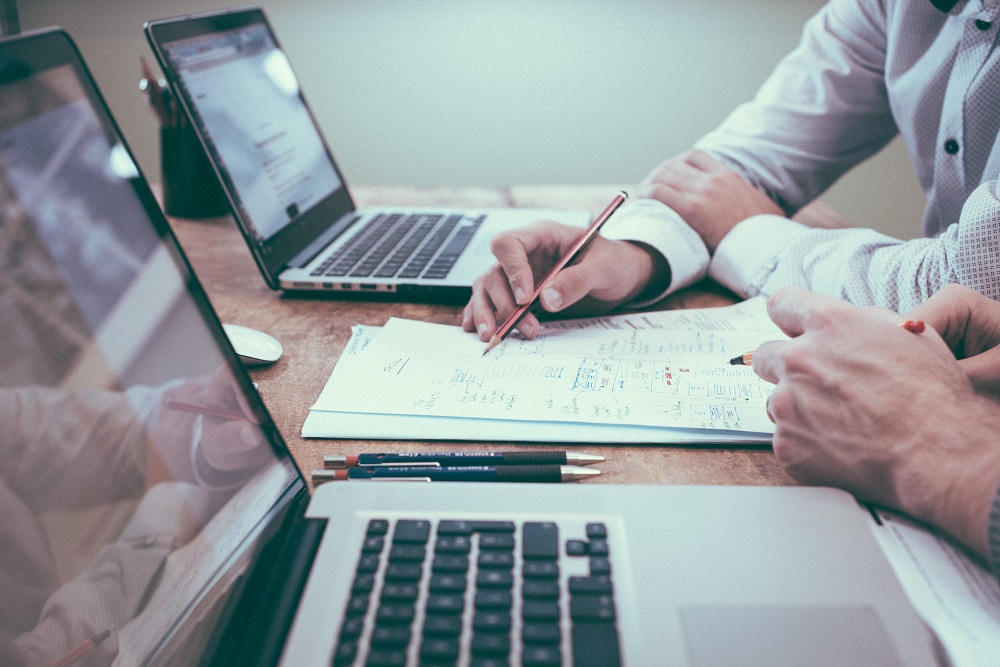 As we've noted before, a baseline schedule is the same as a project schedule at the beginning. To create a project schedule that will be used as a schedule baseline document, you should collect the following information. 
What are the tasks to be delivered? 
Creating a work breakdown structure and identifying every task that must be completed on the way to the final deliverable is the basic step for creating a project schedule. It's a good idea to discuss them with your team and stakeholders to be sure that none of the important tasks is missed. 
How much time will it take to complete the tasks? 
There are several ways of determining the time required for delivering the tasks:
team members' estimation: you can discuss it with a critical employee or the whole team,

using historical data and previous experience (for similar projects and/or tasks),

applying

three point estimate

.
You can set a task's start and finish dates or estimate the time required for task completion in hours or man-hours. However, establishing task deadlines can negatively affect employees' productivity: people tend to procrastinate and make their greatest efforts before the deadline. This phenomenon is called student syndrome. Instead, you can ask employees to deliver their most important tasks as soon as possible – this will increase the team members' efficiency and contribute to timely project delivery.    
Whatever approach you choose, proper time/effort estimation is necessary to prevent the team members from being overloaded or idle. 
What are the dependencies between the tasks? 
It often happens that some tasks depend on each other in terms of time or resources. If it's a multi-project environment, there can be more complex dependencies between projects and their tasks. All these dependencies shouldn't be overlooked when creating a project schedule. 
What are the milestones? 
Milestones are usually set between project phases or indicate any important points throughout the project flow. It's a good idea to add a time buffer to significant milestones – in such a way, you'll be able to protect a project's delivery date in case of any contingencies.  
Read more: Managing Project Dependencies In a Multi-Project Environment
What resources do you need for completing the tasks?
Assign people to the tasks you've identified based on their capacity. Don't forget to take into account all the planned days off, vacations, national holidays, etc. Material resources required for task completion must also be included in the schedule – some of them may be shared with other teams, so they need to be scheduled as well. 
Establishing a baseline schedule
All the previous steps have led you to creating a project schedule. Now, it should be approved by the stakeholders and "frozen" to become a schedule baseline. Developing a schedule baseline as accurately as possible will make it a reliable reference point.   
Software Baselining and Scheduling Opportunities
Modern project and resource management software solutions make scheduling and baseline measurement much faster and easier. Let's consider how it works in Epicflow, a multi-project resource management tool.   
Project scheduling 
Gantt Chart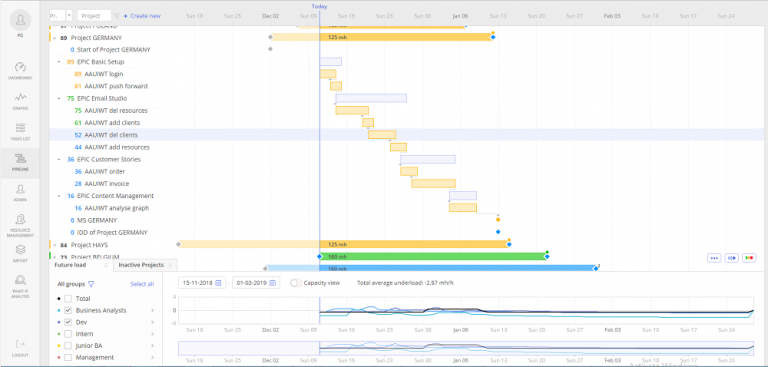 This is one of the most familiar scheduling tools that presents a project as a set of tasks with visually illustrated dependencies. So, creating a project schedule becomes as easy as ABC: having created necessary tasks in the Epicflow system and assigned resources to them, it will automatically create a project schedule in the form of a Gantt Chart. In addition, it's interactive – you can edit the schedule or its milestones, set dependencies between tasks, and more.      
Competence Management
One more feature that can significantly improve the scheduling process, namely allocating resources to the identified tasks, involves managing team members' skills. After you've added the information about employees' competences and their levels to the system, it works like your resource allocation advisor and suggests an employee whose skills and capacity perfectly match a task.  
Integration with human resource management systems
This integration makes it much easier to schedule human resources required for the tasks: you'll have all the necessary information on their days off, vacations, and sick leaves, so that you won't have to spend time requesting it from the human resources department. 
Therefore, due to Epicflow, all the required information on employees' skills and capacity is kept in one place.  
Module Library
This feature has been developed for projects that are similar by structure to decrease the time spent for planning and scheduling. So, starting a new project you can just copy necessary elements (tasks or their groups) from a previous similar project or store them in the library and use later when necessary.   
Baselining
You can set baselines for tasks, groups of tasks (estimated total man-hours for completing a task), and milestones (the delivery date); as well as review baselines in the system. By default, the right for setting and changing baselines is granted to an administrator only (a project manager), while it's anyway visible to all users. 
Also, the following features will help you to monitor the project performance against the baseline.  
Timesheet

presents a detailed overview of output produced by the team or a single user on the historical timeline.

 

Burnup Chart

provides information on the amount of work that has been completed and how much is left.

Bubble Graph

(a project view) demonstrates the workflow regarding time constraints: it shows the number of remaining man-hours required to complete the project along with the types of related tasks.  
So, with Epicflow, you'll have more control over a project schedule and its resources, which in turn will lead you to its timely and successful delivery. 
Let us know, if you'd like to learn more about our software solution.