Gartner suggests that focusing on digital transformation is the best way to retain a competitive advantage and increase opportunities for growth. When digitizing production and investing in digital factories, companies expect a considerable increase in efficiency. In the defence and aerospace sector, companies digitize to challenge the reach of conventional manufacturing and create new engine designs and types of aircraft. At present, nine out of ten companies are investing in digital disruption, including nearly all that are successfully implementing Industry 4.0 strategies. An overwhelming number of business leaders say that implementing digital business practices is their priority and that they expect it to bring new revenue streams. A recent study by MIT found that digitally savvy companies have 38% higher revenue growth than those that have not yet recognized the power of digital transformation in business. Although the idea of digital transformation is catching on, digitalization has been slow and insufficient. What are the pain points that come along with digital transformation and how do market leaders manage them?
Digital Transformation Pain Points
According to a survey by PwC, 91% of industrial companies in the EU are investing in digital factories, yet so far only 6% of factories are "fully digitized." While any kind of company transformation is a challenge, according to McKinsey, more than one-third of companies are unsuccessful in their digitalization endeavors.
On average, industrial companies plan on investing 6% of their annual revenue on digitalization over the next five years. However, anticipated levels of investment vary depending on the industry. Companies that specialize in consumer goods seem to be at the high point of the scale, while those working with metals, mining, and electronics seem to be lagging:

Investment in digitalization across industries as a percentage of annual company revenue 
A digital transformation strategy takes two to five years to bring considerable results; digital factories are strategic investments, and one shouldn't expect a quick payback. All the same, at least 3% of companies expect to see ROI within a year.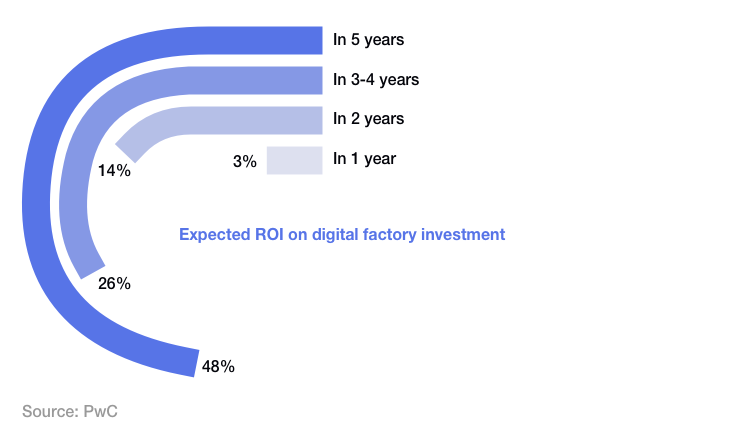 Expected ROI of Digitalization in Manufacturing 
One of the major challenges is that despite claiming to love innovation, people still resist change. For instance, while striving for change and a more progressive future in the world of digital project management, many companies still stick to old-fashioned MS Project. Going digital is not only about bringing innovation but also about changing the culture, being flexible and ready to introduce new programs. The only way to succeed in the present fast-growing environment is by being open to experimentation and embracing the opportunity to create a new culture.
Read more: How to Achieve Top Digital Transformation Results with Epicflow Software
Digitalization takes time. At the MIT Sloan CIO Symposium, Dr. Jeanne W. Ross, the principal research scientist at the MIT Sloan Center for Information Systems Research, said: "Even though digital is supposed to be all about speed, it takes a really long time… Success is about being able to execute [a] constantly changing strategy."
Another challenge companies face is the need to reconsider their attitude toward collaboration around various technical solutions. With the digital age, such collaboration is the new norm. Hoping that everything can be built in-house and that complex large-scale production can be managed with the help of tools already in use will only hinder company growth and successful digital transformation. It's possible to leave the days of conservative management behind by creating a powerful ecosystem of technical solutions. Nowadays, success doesn't come to enterprises that aren't willing to build and follow a strategy that undergoes constant adjustments.
Trying to bring about digitalization might also be problematic if a company isn't ready for it. For instance, if there are scarce resources or poor resource management. Poor resource management results in companies not knowing how to allocate work properly and manage a shared pool of resources across multiple projects.
Digital Transformation Experience: Been There, Done That
The experience of top companies says it all: digitalization helps them become more agile, teaches them how to adapt to constant changes in customer demand, and teaches them to be more flexible. Many of these companies have managed to considerably increase their production efficiency, react to fluctuations faster, and become more sustainable. To get to such a point, it's crucial to be open to digitalization. According to PwC, 49% of employees surveyed in Europe are still not open to change, while 52% believe their company doesn't have the necessary digital culture.
You can foster this digital culture at your own company by following the example of those who have already succeeded:
1. Fujitsu: Digitalization brings factories from around the world to a single campus
With the help of innovative technology, Fujitsu, a Japanese multinational information technology equipment and services company, brought together their whole value chain on a single campus. Information goes from development all the way down to interactions with the end customer. At the very heart of the factory, they installed cutting-edge technology that drives logistics and production. Furthermore, there's a self-driving vehicle at the factory to ensure that all production units receive all the materials they need on time and in the proper sequence. The trends and practices of Fujitsu were discussed at the Fujitsu Forum 2018.
If you also need to make your production more efficient, you can use a resource planning tool like Epicflow. This software can create a simulated scenario, letting you predict what your production will be like in several months or years given the current state of affairs. Continue reading how to increase team productivity and maximize your production output with this software.   
    2. Kuka: Digitalization empowers connectivity and efficient resource management
Kuka is a manufacturer of industrial robotics that has achieved great connectivity with the help of digital transformation. The Kuka plant is highly automated, connecting 60,000 devices into a single management system. This approach has empowered Kuka to organize an automated manufacturing process that can produce one of eight different Jeep Wrangler bodies every 77 seconds using a single production line and without interrupting the overall production flow. What's more, the central interface panel can be used to control all tasks and diagnostic processes. The company expects this approach to automation to secure continuous uptime and 24 hours of production a day for more than eight years.
Read more: 5 Books to Succeed as a Digital Project Manager
    3. Adidas: Digitalization makes production faster at the expense of automation
Using 3D printing and robotics, Adidas, a leading manufacturer of sportswear, managed to create two fully automated plants, one of which is referred to as "The Speedfactory." The company has a well-structured digital business platform that secures its success in digitalization. See more details about this in the video below.
At The Speedfactory, the biggest share of work is automated, yet there are 150 in-house employees monitoring it. Some production phases are conducted by robots, while others are conducted by humans or a combination of robots and humans. Adidas representatives mention that this solution helps them respond to customer demand faster. It's also the hope that in the future, this digital transformation will help the company produce custom sneakers to meet the demands of each individual customer.
4. Hirotec: Digitalization raises revenue by reducing waste
Global auto parts manufacturer Hirotec was looking for ways to reduce its unplanned downtime, which cost $361 per second. Hirotec introduced industrial IoT gadgets that collect and transmit data to the cloud, while machine learning tools predict system failures. With this change, Hirotec managed to reduce manual inspection time by 100%.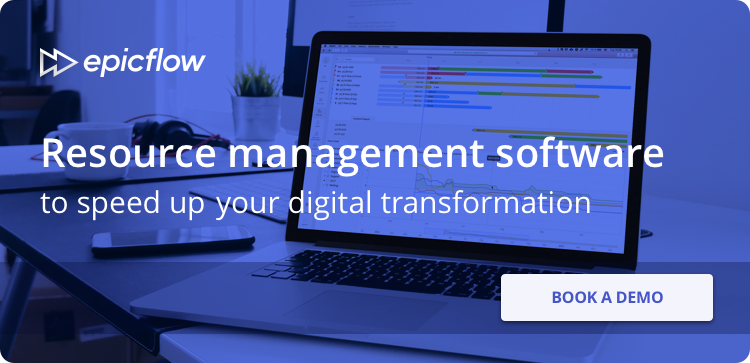 5. Enel: Digitalization helps to manage multiple tasks with a limited number of resources
Enel, a global energy company, installed sound sensors on their machine production lines at hydroelectric plants in Spain and Italy. These sensors record and analyze even the slightest changes in machine sounds, revealing issues with equipment early on. The sensors can also evaluate the state of equipment and detect deviations. This means that technicians can save time, since they don't need to schedule visits to the trouble site but can review data collected by sensors and decide what further steps should be taken. The company's digital transformation strategy is already planned for the next several years, further securing Enel's success. Watch the video below to learn more details.
Make sure you have the tools to optimize production. Our researchers have designed Epicflow, multi-project management software that includes the latest innovations in the world of project management, to help you do just that. If you're interested in software that can empower you in your digital transformation journey, make sure to request a demonstration in the form below, or email us at epicflow@epicflow.com.