When your project is in progress, you as a project manager or business leader will definitely want to know how things are going and have an opportunity to check it at any moment. But in a multi-project environment, when more than two projects run in parallel, being focused on a project performance only can be harmful for your organization. Read further to understand why.
Examining Project Progress and Performance: Essence and Key Techniques
Progress and performance measurements are used to control the way project tasks are completed and make sure everything is accomplished according to the plan and within existing constraints.
Measurement methods vary but the most common ways to assess project progress are as follows: cost-, deliverable-, milestone-, hour-based, manual, and the ones performed with special tools.
Besides, together with project measurement methods, different kinds of reports are used to compare an actual project performance to the baseline. Let's take a quick look at the most common ones: 
A status report provides information about the current state of a project against the scope, time, and cost.
A progress report is used to show the completed tasks since the last report or since a certain moment in the past.
A forecasting report is used to predict future project performance and allocate resources accordingly.
A trend report is used to compare a project's current performance and the last performance of the project during the same period. 
A variance report compares a project's planned progress and the progress made in reality.
An earned value report combines project performance on scope, schedule, and cost measures applying earned value management methods [1].
Project reports are used to keep stakeholders updated regarding the state of things in your project environment, while you as a project or resource manager, or a business leader need to see your workflow in real time to make sure everything is under control.
As this article is dedicated to the difference between tracking performance at a project and a resource level, we won't focus on measurement techniques and proceed with the description of these two levels.
What Progress Should Be Tracked in Multi-Project Environment: Project vs. Resource Performance 
Everybody keeps track of project progress and it seems to be quite logical. How do I know that my projects have any flow issues if I don't examine the progress, you would say.
You're right, but what is happening on the project level is just an effect of that at the resource level.
For example, when a resource group is overloaded or its members don't work at their full capacity, their performance will be reduced, and this effect will be reflected in the project's progress too. But the most important thing is that this gap will become visible long after this problem appears. It may happen that management finds out about a bottleneck several months after its occurrence. And as a rule, it's too late to improve things. This is why if you keep track of your people's performance in real time, you won't ever miss any bottlenecks and resolve them as soon as they occur. 
Tracking performance at the resource level implies getting relevant information about the way project team members cope with their tasks: how many of them are successfully completed and when, if there are any issues that hinder the flow, if a resource's workload is balanced, if the produce the expected output, etc. 
If a bottleneck occurs, it becomes immediately apparent if you're focused on the resource level. Thus, you can take urgent measures not to let it affect your projects: e.g., move a milestone, reassign a task, etc. When your attention is at the project level only, this bottleneck will burden your people and as a result, their performance will be significantly reduced. This may result in missed milestones, prolonged due dates, cost overrun, and even a project failure.
Read more: Top 5 Reasons for Project Failure in a Multi-Project Environment
Keeping track of resources' performance is especially important for multi-project environments because of the resource dependency between projects. Even one inefficient team member can become a bottleneck that will hamper the whole workflow. Therefore, you should be sure that all your resources have optimal workloads: they're neither idle nor overwhelmed.  
To have an opportunity to see how your teams work and the output they produce, you need a resource management solution which will show you these indicators at different levels. 
How to Track Resource Progress with a Resource Management Solution
Let's take a look at how this works in Epicflow — a multi-project resource management solution. One of the main ideas behind Epicflow is that resource efficiency and the absence of bottlenecks is the key to achieving perfect project outcomes. So, a great part of the solution's functionality is created to track and analyze resource performance to facilitate timely detection of bottlenecks and ensure the successful delivery of multiple projects. Epicflow manipulates data into information, which is then used by management to make conclusions and decisions. 
See your teams' output and assess their productivity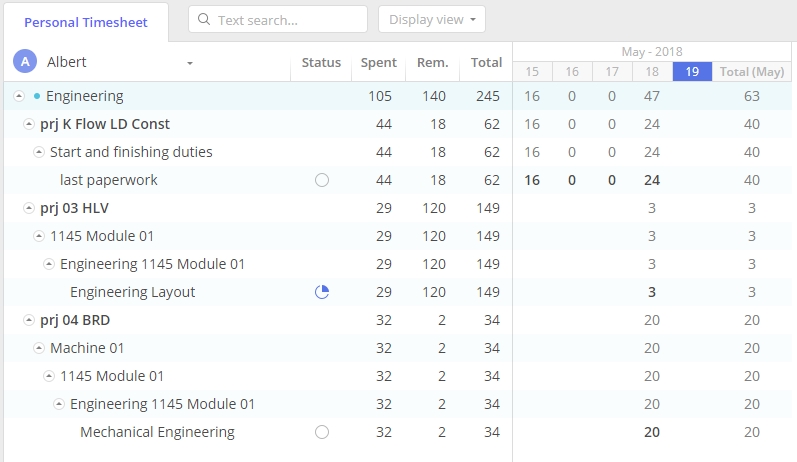 Examine the output delivered by the team (or individual team members) over a certain period of time in a handy table format with the help of Timesheet which is automatically filled in when the team members mark their tasks as completed. 

Compare the number of planned and spent hours to understand how productive the team has been.
Check how much work is left to do against the approved budget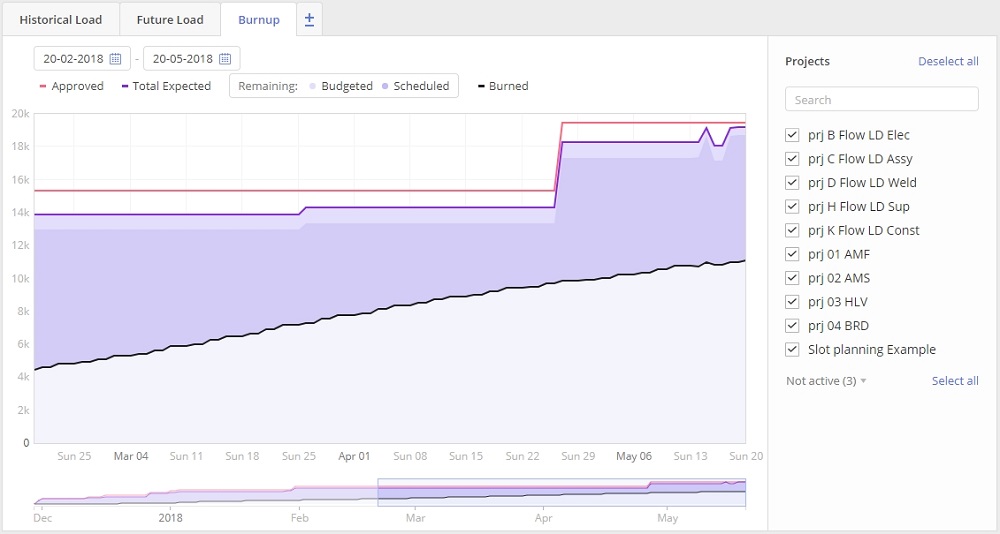 Check your team's progress towards completing the project they're working on.

On the Burnup Chart, you can see the amount of work that was completed and how much has to be done alongside the approved budget.
Forecast your resources' output to make sure they'll cope with their work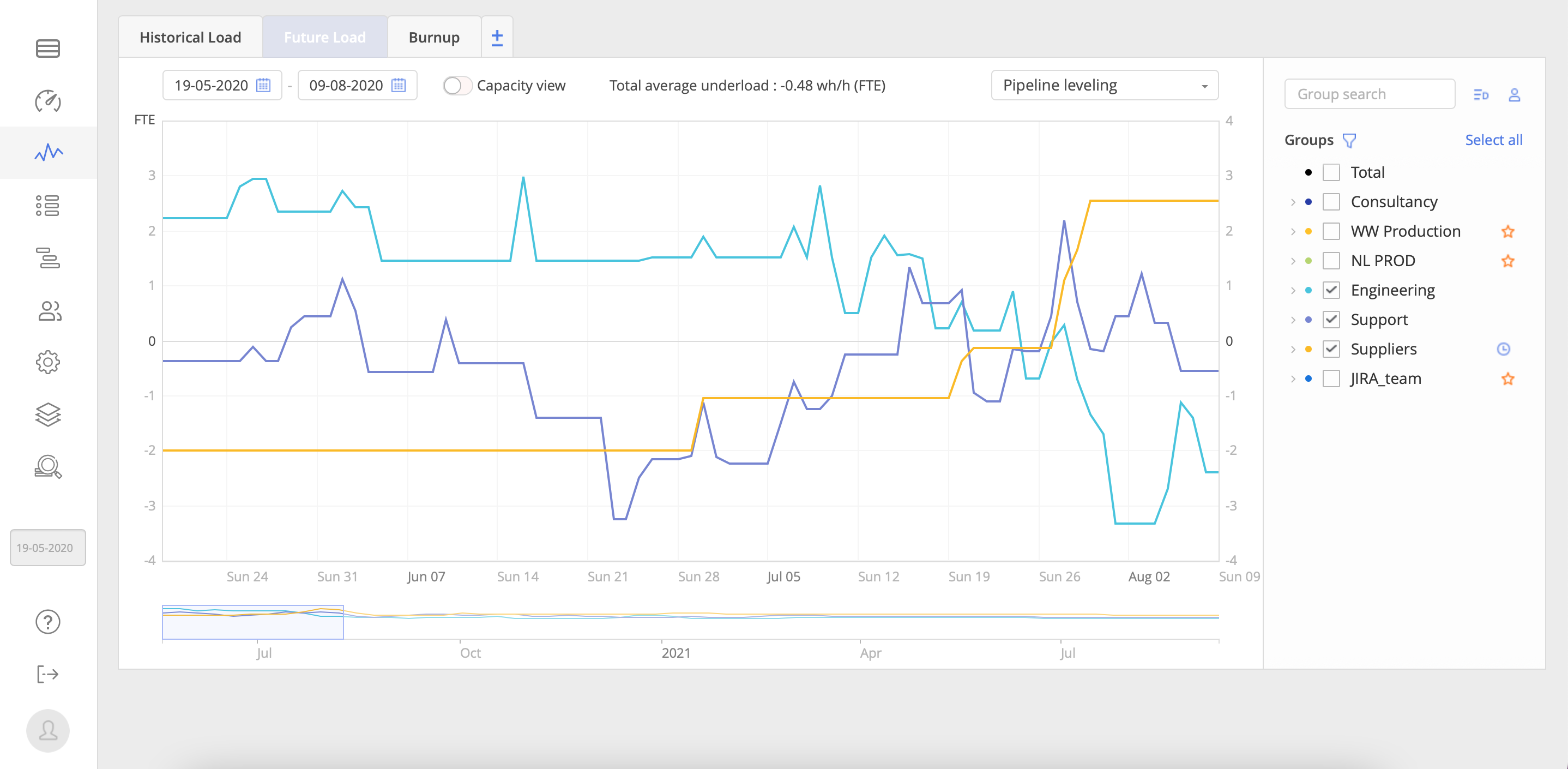 Check whether a certain group can fulfill the demand with the help of the Future Load Graph. 

Protect your teams from improper workload in the future: eliminate both overload and idleness and avoid it in the future with the Future Load Graph. Its work is based on predictive analytics that uses historical information, real-time requirements, and future data to make predictions.

Find out what tasks and projects overwhelm your resources with the Load Analysis feature: this will become the first essential step to resolving a bottleneck.
Read more: Improving Multi-Project Resource Management: Workload Analysis and Bottleneck Elimination Features
Examine output and load changes over time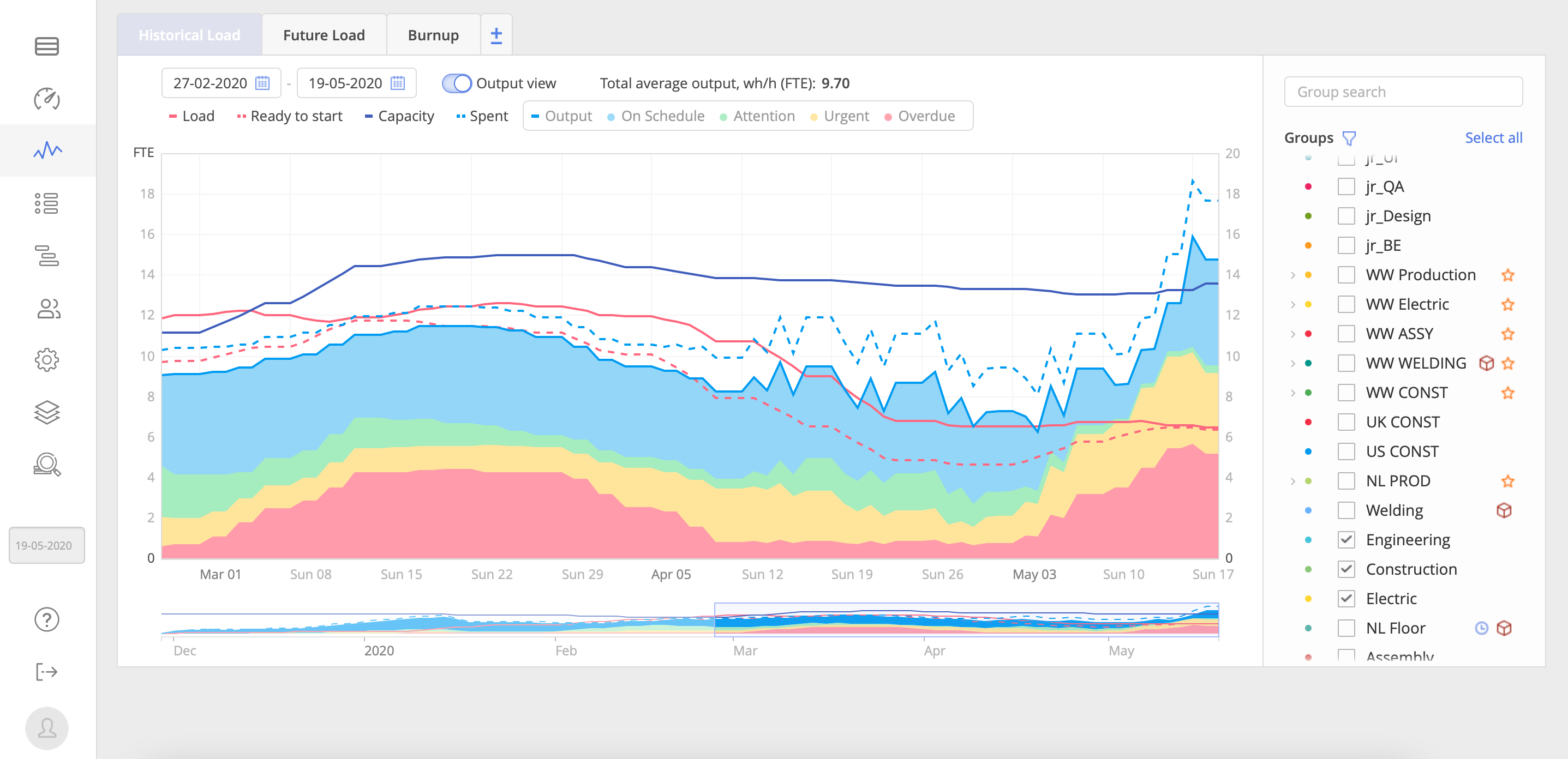 Examine the output produced by the team members with the Historical Load Graph. 

Compare completed work with employees' capacity within a certain timeframe.

Check the output divided into categories indicating the amount of work that has been completed on schedule and with a delay.
Monitoring this data will allow a project/resource manager to assess the fruitfulness of work on a project: whether there are any difficulties that have to be addressed to ensure a high level of employee productivity. Besides, resource management software can also increase your resources' efficiency, so adopting the right tool will help your organization on different levels. 
To learn more about efficient resource management and the way a robust resource management solution can help reach your project and business goals, book a call with our experts.
References
Simplilearn (2022). Performance Reporting in the Project Management.