Software as a service is a tool usually maintained by a third party. It's not installed on your PC but stored in a cloud. You apply its services by means of an internet browser. 
If you want to prevent capital investments on independent tool development and fully concentrate on your core business activities but at the same time have high-quality service, consider purchasing a SaaS product. 
Like any other solution, SaaS tools have some benefits and disadvantages. Their main disadvantage is its dependence on the internet connection, but today this might not be a problem at all. Among the main advantages, the following are worth your attention: 
the ability to use it regardless of the operating system, 

the opportunity to get updates automatically without any need to invite specialists to provide service or waste time on installing a new version, 

the ability to get real-time data and be sure your information is reliably stored in the cloud and can't be lost,

beneficial storage opportunities.
But there's the question: regarding the number of tools being offered in the modern market, how to choose an appropriate one for your company?
Let's consider this case through the example of project management software solutions. PM is a comprehensive field that all businesses one way or another deal with, as for a business to exist, there must be at least one product, and it requires project management efforts. Therefore, the guidelines for choosing a SaaS for project management can be absolutely suitable for any other tool you may need to adopt.
Selection Criteria: Essential Characteristics of SaaS Product for Project Management
We suggest an approach to choosing the right solution for your business based on 5 selection criteria resting on the reseach by Manish Godse and Shrikant Mulik, recommendations for ranking them, and a scheme of making the best purchasing decision possible.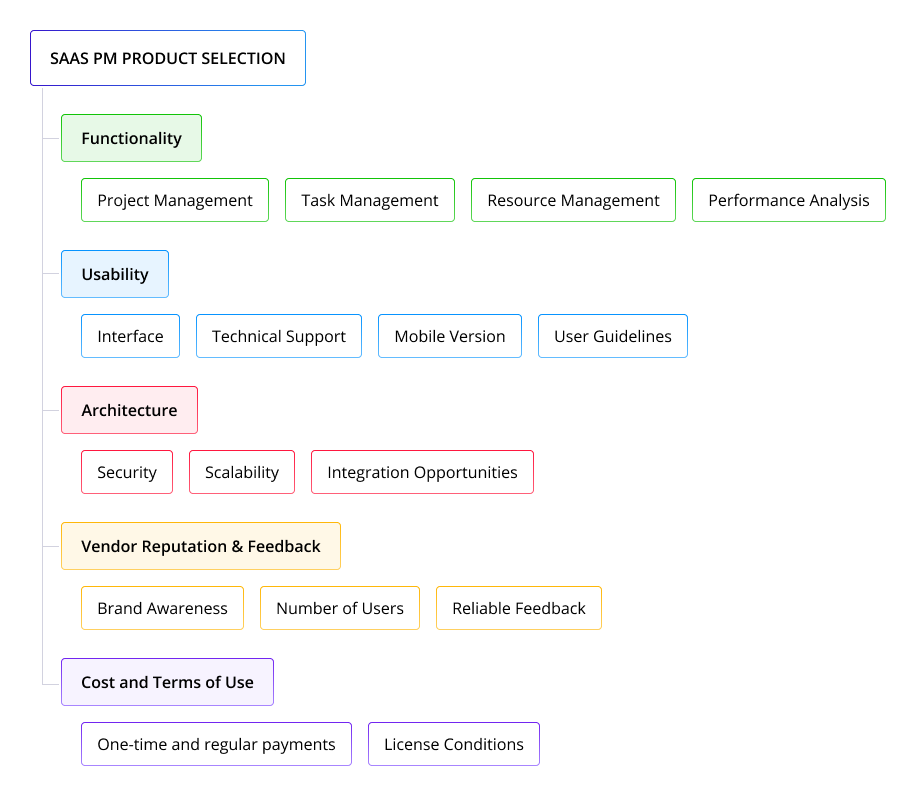 Criterion 1: Functionality 
This criterion covers the product's main features that distinguish it from others in the segment. Based on our case, we've chosen the most essential elements that make a PM solution more attractive and beneficial to its potential customers. 
We divide them into the following levels: project, task, resource management, and performance analysis. 
NB: Different companies suggest different solutions and approaches, but we distinguish the most efficient and comfortable features for your consideration based on our experience.
Project Management Level
The project management level primarily covers data accessibility and the ability to control the workflow. Here you have to focus on the main features that provide this information:
Pipeline, Dashboard, and Kanban boards are visual boards that show your projects with all related information.
Pic. 1. Pipeline
Gantt chart is a pipeline graph that demonstrates project workflow with deadlines, milestones, and task statuses.
Pic. 2. Gantt Chart
Read more: 8 Gantt Chart Tools to Test 
Fever Chart is a graph

with three colors (green, yellow, and red) that shows projects' progress over time against buffer time and project constraints.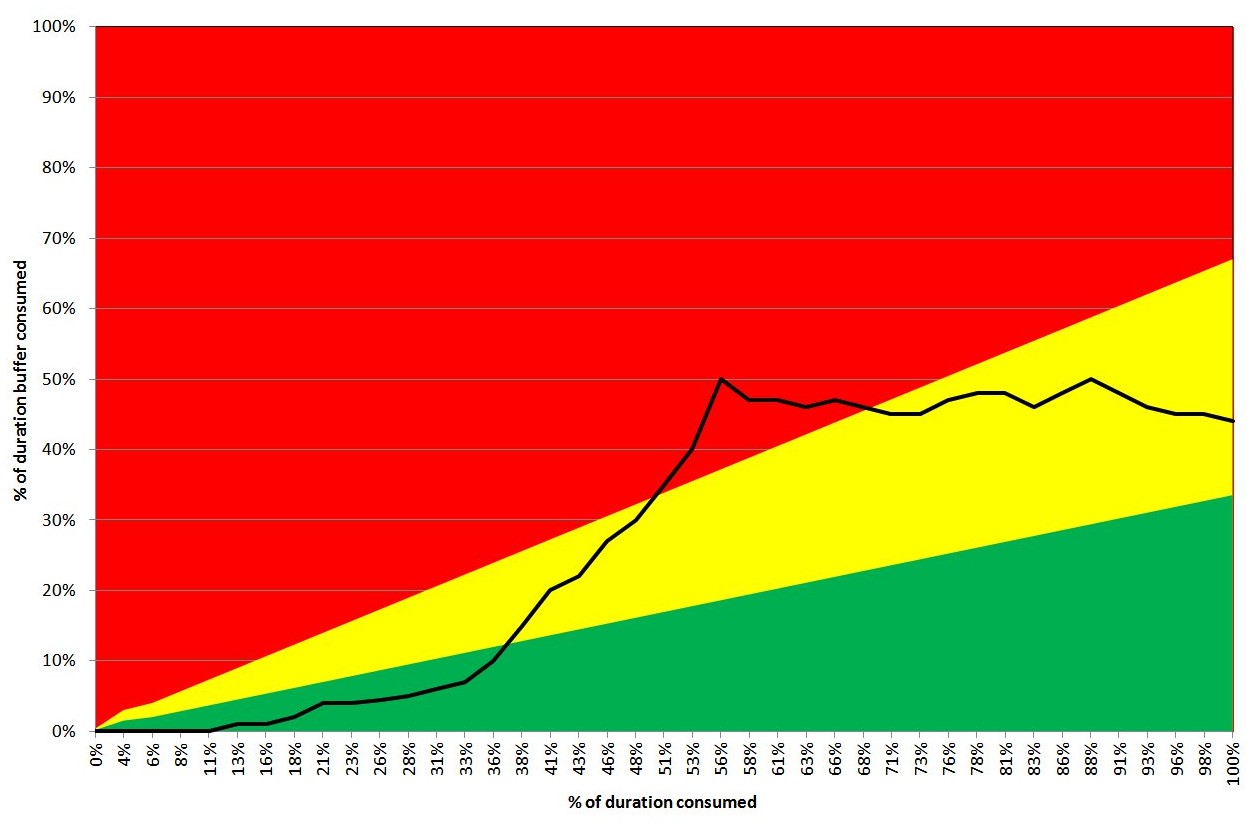 Pic. 3. Fever Chart
Read more: Bubble Graph: Critical Chain Fever Chart Re-Imagined
When looking for a PM software pay attention to some additional opportunities these features can provide, such as filtering for easier navigation through data or the opportunity to apply either automatic or manual planning. 
Task Management Level
Managing project tasks is an essential part of project delivery. At this level, you should focus on the following features:
Task prioritization (making up a 'hierarchy' of tasks based on their significance for the project);

Task allocation (assigning tasks to project team members);

Project duration scheduling (setting up milestones, deadlines, calculating project duration, etc.).
When choosing a PM tool, concentrate on the opportunities it provides regarding project task consideration: you may need to overview all past, current, and ongoing activities, as well as to have access to more detailed information about a certain employee's progress on task completion.
Besides, the state of tasks is also the thing you should be able to examine at any time. You should be aware of the tasks that require your immediate attention, that are critical to the project, overdue ones, and those that are executed according to the schedule and don't need any extra focus.
Also, check if the software has the following options: 
adding comments, 

reporting on task completion, 

sharing files related to the task execution, 

applying filters to search for necessary data.
Resource Management Level
There are different types of resources in project management: resources as employees working on a project, resources as materials necessary for project delivery, and cost of project delivery, i.e. project budget. 
Human Resources
Hardly any project can exist without people. Human resources are the core force of any business, which makes the human resource management functionality one of the main tool's characteristics. By applying a resource management feature, you can easily control the workload, which is essential for the successful project flow. It entails monitoring and regulating the capacity and availability of employees and their allocation depending on task or project priority to deliver better results. 
Besides, you can control not only the availability and capacity of individual resources but also their groups. Check if a product you're considering has this functionality. 
Budget
The budget is a prerequisite for initiating any project. It covers the expected outcome, expenses, and profit. Working within budget limits is one of the keys to efficient project management. Controlling budget utilization and its allocation are the two things without which you can face project delivery fails. Not to let this happen, always put some efforts in examining budget management opportunities a PM product provides. 
First and foremost, a PM SaaS tool should have a graph that helps you track the way your budget is consumed over time during the project delivery. If you have this information, you can implement necessary budget management efforts to save your project by regulating the budget buffer.
Material Resources
Physical resources such as equipment, raw materials, and stuff like that are essential elements of the projects in construction, manufacturing, and fields alike. Therefore, in these industries, it's important to control their consumption. If you apply additional materials in your business, pay attention to the material resources management feature when considering a PM SaaS product. By using it, you can have all the necessary information about a material right in the system: its cost, amount, consumption rate, and other data. Therefore, you can easily manage its utilization to avoid some failures.
Performance Analysis
When orchestrating a project (or several projects), you should have all the project-related information collected in one place. A project manager should have access not only to the real-time data but also to the input and output in the historical timeline. These materials give you a clear idea of the project's health and provide an opportunity to analyze mistakes and improve things in the future. If a product you're considering for purchasing has this feature, focus on the type of data it supports. In an ideal scenario, it should inform you about: 
general output – your team's results, the amount of work performed, 

workload – your team members' tasks in hand over time,

capacity – the amount of work that is supposed to be performed by a certain resource.
Some PM SaaS products have functionality that lets you prognosticate the further output by automatic calculations. This feature is handy and allows you to test some potential decisions before making them. It helps you to predict resources' overload, and thus, avoid bottlenecks.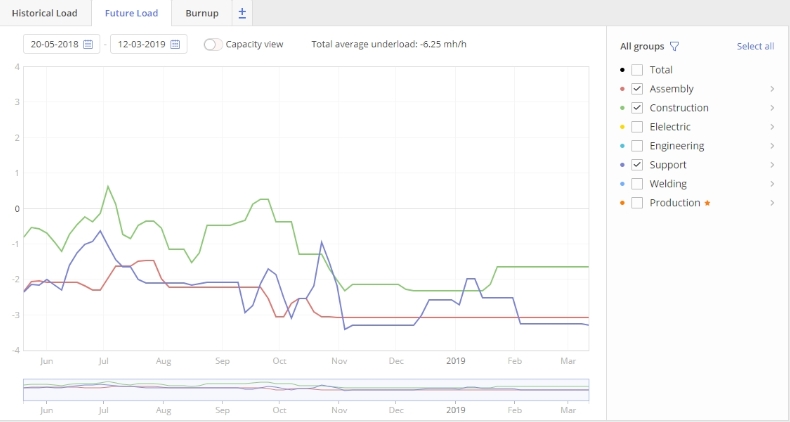 Pic. 4. Future Load Graph
Criterion 2: Usability 
Usability is what makes you feel comfortable when working with a tool. It's one of the paramount parameters that should be taken into account when assessing any SaaS product. This criterion is based on the interface friendliness, the availability of technical support, a mobile app, and user guidelines.  
Interface
When we say that an interface should be user-friendly, we mean that you shouldn't spend dozens of hours trying to figure out how to find a necessary parameter in the menu or apply a certain function. The tool's interface should be intuitively easy to use. Thus, the main rule when considering or testing the product is as follows: don't buy it if its interface makes you nervous and forces you to look for additional information to perform the simplest actions. 
Also, consider some other points when choosing a software interface:
Some products have pop-ups with prompts that facilitate your user experience.

Here you can also dwell upon the availability of languages the interface is available to operate. If you collaborate with different countries, some of your distant employees or partners may need some information or use the system themselves. So, check it out just in case.
Technical Support
Any product is prone to errors and any operation is not secure from failures. They will happen regardless of the solution you choose, so be ready to select the service where support is delivered at a high level.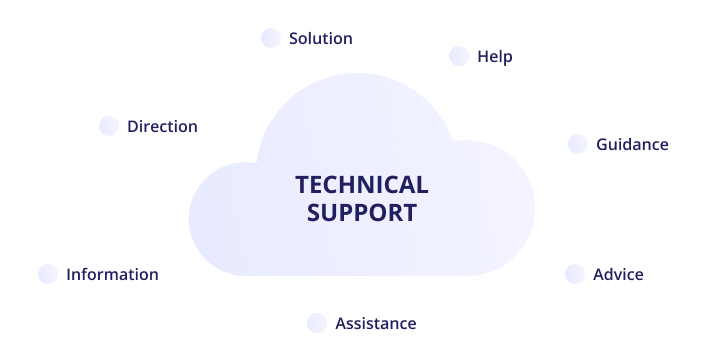 Technical support options usually entail several variants of service:
Email communication or ticket system implies that your issue will be addressed after you fill in a necessary form and submit it. As a rule, tickets are processed based on their priorities but sometimes support engineers resolve issues on the 'first in – first out' basis.

Live chat is the opportunity to get a quick response in case of any minor urgent issues.

Hotline or support over the telephone is usually used to resolve minor current or urgent issues or consult a support engineer regarding request submission in the ticket system.
Support is an essential parameter for making a decision in favor of a product, and it's better for you to ask all support-related questions beforehand to avoid troubles in the future. For example, you may need to know:
the schedule the support team provides their services. It can be especially important regarding different time zones. 

the response time: in what time period you'll get a response after your request submission.

if the company provides technical webinars/training for clients, and whether they're paid-for or free of charge.
Speak to a support manager about organizational requirements, product updating conditions, a preferable way of communication if an issue occurs, etc. Prepare the list of questions in advance.
Besides, after fixing issues support engineers usually upload reports to a changelog, where users who submitted tickets can review them and start using the fixed feature. So check it up as well.
Mobile Application
Regarding today's speed of life and its pace, the mobile application of any SaaS product is a must. Indeed, you can use a mobile browser to reach your system but the properly developed mobile app is much more convenient and user-friendly. 
It shouldn't necessarily be completely analogous to its default version but it must have the main features, such as resource and task management functions, and the ability to access real-time project data. 
Don't forget to check if the SaaS product's mobile app is developed for both Android and iOS.
User Guide
User guide, or user manual, is a kind of documentation that provides a user with all technical information about the product. It involves the description of all available features with corresponding visualizations (graphs, schemes, screenshots, videos). As a rule, it's available on a separate website or a certain section of the product's main page. In other cases, you can be given individual access to the materials or get pdf files with guidelines via email. 
Criterion 3: Architecture
Security
Data safety is one of the most essential characteristics of any software. Examine security measures a product applies: single- and multi-factor authentication options, login access control, end-to-end encryption, single sign-on, IP whitelist, and others. Besides, if a solution suggests a mobile version, don't forget to consider its security opportunities as well.
Scalability
A SaaS product is vulnerable to loads. As all the facilities are located on one server, sometimes it gets overloaded. Scalability is the product's ability to operate adequately during the peak load and provide users with all necessary services without any lags at any time.
Scalability in the context of a project management SaaS product implies the following opportunities:
putting more projects in the system,

adding more resources,

interacting with a bigger number of clients.
Ask a software company representative about the product's scalability before making a purchasing decision.
Integration Opportunities
Integration may be necessary in two cases: if a company uses another product as a PM tool and wants to adopt a new more efficient system by transferring all project-related data to it without the need to do it manually, or if a company wants to apply an additional product to the PM tool. In such a way, integration opportunities have two different scenarios:
Integration with a current system that is used as a PM tool implies that you will have all your data from the software you're currently using transferred to the new solution. After the successful integration, you'll be able to use its features to the full without a need to deal with manual information processing. 

Integration with the software solutions of a different type can be applied to get better outcomes. For example, project management software can be integrated with a human resource management tool. In such a way, a project manager won't have to spend time and effort on managing resource availability data manually. 
Read more: Making Your Project Management Tool Super-Productive with Human Resource Management System Integration
Thus, before making the final decision, examine the product's integration opportunities and ask a company representative if they can develop a custom integration if there's no necessary solution in their integration list. 
Criterion 4: Vendor Reputation & Feedback
This criterion is of least significance as compared to others. Firstly, the quality of service a SaaS product provides doesn't necessarily depend on its popularity and existence period, as well as the number of users. Secondly, not all satisfied users give feedback. But anyway the following parameters should be also considered before making the purchase decision.
Brand Awareness
Brand awareness, or brand value, is the extent to which customers are familiar with the company providing services and distinguish it among other brands in the segment. It primarily depends on the age of the brand, the number of its customers, and the marketing efforts of the company. 
This parameter is quite controversial as for some people brand trust plays an ultimate role, while others are sure that the product's quality doesn't depend on brand visibility.
Anyway, a poor-known brand's product may be of the same quality as of the well-known one. If after examining all information about the tool you're quite content with it, this criterion shouldn't be decisive. 
Number of Users
The number of current users shows if the product is newly-appeared or a well-established one, as well as its recognition. But this parameter shouldn't be fundamental because if a product is new it doesn't mean it can't satisfy your needs. Always compare all criteria taken together.
Reliable Feedback
As a rule, there are some success cases on a product's website. You can get to know how the product has helped companies reach their goals with it. You will also find some information about the company's CEOs or other employees and contact them to ask some questions.
But also look for users' feedback on various independent platforms, don't focus on the tool's official website. You can check out if the brand has some badges or awards that speak of its functionality and reputation in general. 
When considering the user feedback stage, examine some unbiased platforms that specialize in SaaS product reviews and ranking: Capterra, Crozdesk, G2 Crowd, SoftwareWorld, Trustpilot. 
Criterion 5: Cost and Terms of Use
When analyzing cost issues take into account all possible variants of payments to choose the most convenient one. They can be based on: 
the term of collaboration (subscription-based pricing that can be monthly, semi-annual, annual), 

the number of users (it ranges from per-user to the whole-team payment), 

the number of features available (per feature payment or the whole set of features),

the one-time billing (you pay for a certain piece of service).
As a rule, the time-based subscription covers the ability to use the product itself and all related support services. But be aware that initial consulting, webinars, pieces of training, and workshops imply additional one-time billing.
Very often, the use of a SaaS product is based on a license that in turn depends on the conditions described above. 
You define the period during which you want to apply it: from a month up to 5 years, or even more. Companies suggest various variants of use, so just think which one is more comfortable and beneficial to your business. The user license can be prolonged but it's better to discuss the terms of use in advance and add some specific conditions into the documents.
Besides, user licenses differ by their types, for instance, basic, optimal, business, and premium. The kind of a license depends on the number of functions you will have and the number of users who will employ the tool. Correspondingly, a basic license includes one or several main functions, while a premium one provides a user with some unique functions and additional benefits, such as access to statistics, reports.
Ranking Project Management Tool Characteristics
After analyzing the SaaS products according to the above-mentioned criteria you should dwell upon the next stage of your journey: 
Prioritize these criteria based on your individual needs. You can use our hierarchy of criteria or make up your own if some parameters are more important for your business. For instance, you may find the availability of the mobile version more important than security options.

Compare several tools and eliminate those which are objectively worse (for example those ones that have fewer functionality options).
Making Purchasing Decision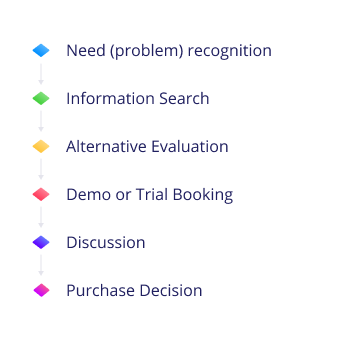 Making a purchasing decision is always difficult. You should not only immerse yourself in the topic, examine all available materials, make a list of vendors and their products, check out all their features and peculiarities according to the distinguished criteria, have a call, demo or meeting with SaaS product representatives, but also discuss it with your team, and finally, make a purchasing decision. 
We recommend you to engage your partners and competent team members to take part in the research and join your journey. You're not the only person who is going to use the tool, so everyone should feel comfortable with it. Besides, discussions will better help you decide on the best solution for your company.  
NB: You can employ the given criteria to choose the most suitable project management SaaS product if you run not more than one project at a time. If your company is in charge of more than 2 projects at once, we recommend you consider a little bit different kinds of tools, which are more adapted to working in a corresponding environment. Read further to know the details.
PM Tool Selection Step-by-Step Guide
Therefore, we suggest the following scheme of your SaaS product selection journey:
Start with determining your business goals.

Research all available resources about the solution you're curious about (not about the certain product but the category).

Examine the market of vendors who suggest this kind of tools.

Apply the criteria suggested in this paper to overview all essential characteristics of the ideal software (based on a project management SaaS product) or prioritize them according to your goals and preferences.

Make up a list of products that comply with the criteria.

Select the top 5 SaaS products and make appointments with their representatives (ask for a call/personal meeting/webinar/demo). Don't forget to make up a list of questions you may want to ask a company representative.

Engage partners and colleagues to compare the tools and discuss every detail together.

Make a final decision and reach your business goals.
References
Manish Godse, Shrikant Mulik (2009). An Approach for Selecting Software-as-a-Service (SaaS) Product. IEEE International Conference on Cloud Computing.
Rachael Ray (2019). 6 Essential Criteria to Consider While Selecting Project Management Software. Medium.